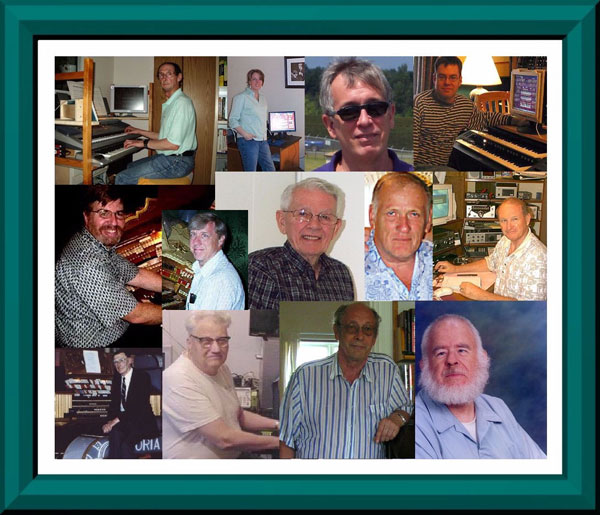 Top row; Russ Ashworth, Sue Smith, Charles Lynn Walls, Frank Vanaman:
middle row; Jim Henry, Gerhard Klechowitz; Jim Henry, Larry McLaughlin, Dan Rowland, Jim Reid;
bottom row; Bruce Miles, Clint Savage, Per Schultz, Fred Willis.
Not picured above ; Joe Barron, Vern Jones, Paul Kealy, Tom McNeely and Aaron Stayt.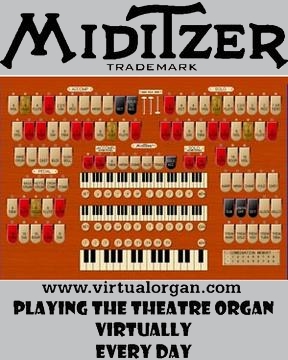 T-Shirt Artwork by Russ Ashworth
The Mighty MidiTzer now has over 17,500 users worldwide, far beyond what Jim Henry might have expected when he set out to create this great piece of software.
Some of these users are very proud of their Mighty MidiTzer installations, and they have uploaded pictures to various Yahoo! newsgroups related to the King of Instruments. Each has a story to tell.
Members inducted to the Wall of Fame
There are now eighteen inductees to the Walnut Hill Wall of Fame. We are very proud to feature each and every one of these pioneers of the virtual organ world.To visit a page, click on the page number to the left of each name. To visit a member's website, click on their name.
What follows are the stories and pictures of those Mighty MidiTzer players who have been inducted into the Walnut Hill Wall of Fame.
Getting inducted to the Wall of Fame is easy!
Who doesn't want recognition for their efforts with the Mighty MidiTzer? Now, you can get noticed on the Walnut Hill Wall of Fame! Folks will see your pictures and be able to go directly to your site by clicking on them. We hope to see many more inductees here in the days ahead as folks step out with their Mighty MidiTzers. So... Dust off those cameras and get snappin'. Also, if you have recordings or any other content you want featured, we can put those here as well.
Email The Bone Doctor to find out how you can be among the ranks of those who are pioneering this Mighty Virtual Theatre Pipe Organ. Join TOSF and Walnut Hill VTPO and make your intentions known to all the folks in VTPO land. We are always glad to recognize those who make the TPO kingdom a better place!