Tom McNeely is our eightinth Wall of Fame member. He is President of the Packerland Theatre Organ Society, a proud chapter of the American Theatre Organ Society. He is also a member of the Walnut Hill Virtual Theatre Pipe Organ newsgroup on Yahoo! Music Groups. We will let him tell you more about himself and his Mighty Hauptwerk installation below:
At the July meeting of our chapter, a silent film event debuted the Virtual WurliTzer on July 22nd at the DePere Cinema to a large crowd. The organist accompanying the movie, Frank Rippl, hailed the organ as a miracle in sound. The computer and software performed flawlessly. Not a note was missed.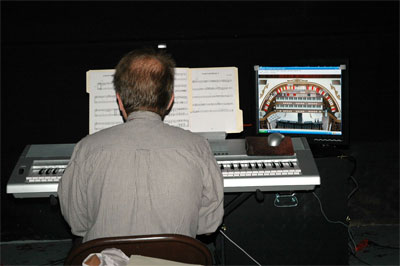 Frank Ripple at the console of Tom McNeely's
Virginia WurliTzer running in Hauptwerk 2.
This was phase one of the Virtual WurliTzer project because we used a Yamaha keyboard playing only the Solo manual stops. Phase Two will be ready for the next show which is a MIDI stack of two keyboards with 30 thumb pistons and a pedalboard with around 10 toe studs and a full-size crescendo pedal. All MIDI electronics are from Classic Organ Works and the organ software is Crumhorn Labs' Hauptwerk 2 running Brett Milan's Virginia WurliTzer sample set. Having the sounds of the Mighty WurliTzer Theatre Pipe Organ has given a new realism to our movie productions.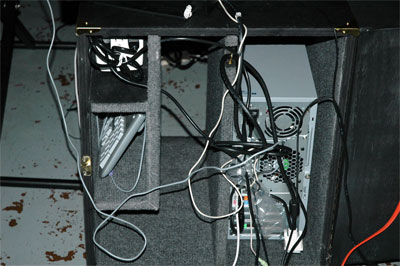 Tom McNeely's Virtual Theatre Pipe Organ computer.
When phase two is complete, I will forward more photographs. We are running the sound through two top-end Behringer 300-watt loudspeakers and the sound is incredable. I sat near the back and could swear we had pipes in the chambers. This new virtual organ on the scene is portable and can travel in the back of a van. Everything is on wheels. It can be rolled into the theatre and set up in less than 15 minutes. Frank Rippl is shown in the photos as is the computer, 19-inch LCD monitor and cables which are installed in a special box.

LCD screen showing the virtual organ stop sweep.
Below are some photos from our silent movie event using the completed system, you can also go to my website at http://packerlandtos.tripod.com and get my story. Once inside the site, go to the page that says Virtual WurliTzerThe Virtual WurliTzer.
We have the performance in DVD recorded professionally. That performance is going to the inventor of the Virginia WurliTzer sample set, Brett Milan, who will post some of the performance at the Milan Digital Audio website. Hopefully, we can get Frank to record some tracks which we can post at Walnut Hill. I just got in all the new samples from Brett which will be released in a few weeks to the subscribers to the Virginia WurliTzer sample set. I was the test bed and the first to use the updates in concert.

Frank Ripple at the console of Tom McNeely's virtual organ.

Last year we were using a Rodgers organ to provide music for our silent films but it was large and needed a truck to take it to our venues. I started to do research into a more portable alternative. I found the Walnut Hill WurliTzer site and Virtual Theatre Organ site and learned about the virtual organs available. I started with the MidiTzer and a Yamaha keyboard and practiced in its use and programming.

Then I found the Milan Digital Audio site and ordered the Virginia WurliTzer Samples off of the site. The samples are from an 8 rank Style F WurliTzer complete with sound effects and Steinway concert grand piano.

Next I ordered the Hauptwerk 2 virtual organ program from Crumhorn Labs. A computer was purchased especially for the playing of the organ with lots of DDR-RAM memory.

Robert Hoppe made a 2 manual with pedal MIDI set up using electronics supplied by Classical Organ Works of Canada. It will have over 30 combination pistons and a MIDI expression pedal. Now completed, we have a total portable WurliTzer experience for our public shows.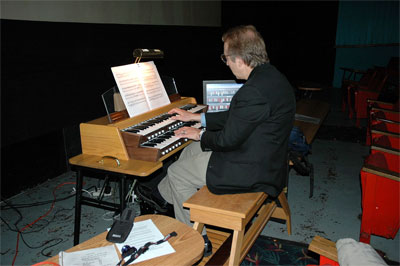 Frank Ripple at the console of Tom McNeely's virtual organ.
Since our recent show in August of 2006, Martin Dyde of Crumhorn Labs has learned about how we are using his Hauptwerk 2 program to control the sounds of a WurliTzer Pipe Organ. He has graciously offered, and we accepted, his donation of the concert version of this program which will enable us to voice the ranks note by note and have access to 500 channels of sound (if we need them) along with unlimited polyphony instead of the 1200 note limit we had with only 2 channels of sound. We can now voice the organ, adjust the tremulants, and adjust the volume of the 8 ranks plus percussions, just like a real pipe organ. With these capabilities we are going to be on par with a top-of-the-line Walker or Allen digital instrument without any cost to us.
The keyboards with pistons and the pedalboard were completed and delivered. With the assistance of Atilla at Classic Organ Works and Brett Milan of Milan Digital Audio, the system is now up and playing. The next phase was to upload some new samples from Brett and debut the instrument at the September 9th silent movie show. We did do some audio recording and videotaped the show in parts. I highly recommend this type of project for those on a budget and do not have room for pipes. The result is a very realistic organ with a lot of dynamic range and presence not found in the common electronic organ. It can be made portable like our project or built into a console with multiple speakers for a living room or practice room.
The updated software was loaded into the organ on September 7th and all programming was completed. We completed our first show on September 9th with the complete organ and it was a success. We programmed the 30 pistons with suggested registrations from Walt Strony's registration book and the organ sounded like the real thing.
Getting inducted to the Wall of Fame is easy!
Who doesn't want recognition for their efforts with the Mighty MidiTzer? Now, you can get noticed on the Walnut Hill Wall of Fame! Folks will see your pictures and be able to go directly to your site by clicking on them. We hope to see many more inductees here in the days ahead as folks step out with their Mighty MidiTzers. So... Dust off those cameras and get snappin'. Also, if you have recordings or any other content you want featured, we can put those here as well.
Email The Bone Doctor to find out how you can be among the ranks of those who are pioneering this Mighty Virtual Theatre Pipe Organ. Join TOSF and Walnut Hill VTPO and make your intentions known to all the folks in VTPO land. We are always glad to recognize those who make the TPO kingdom a better place!