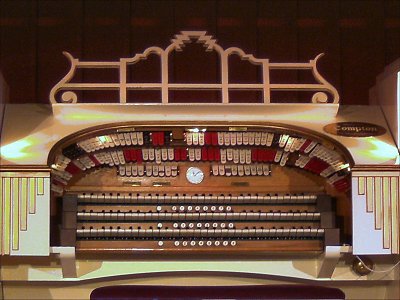 Mighty Compton installed at in , England.
Here is where we feature a different Theatre Organ each month. There were no features from January to May of 2004 because this section of the website did not go up until June of that year. Since then, we have placed a total of fifty-seven magnificent instruments on the list, each one having its own page, and in some cases, multiple pages. You will find many high resolution pictures and lots of music to download and enjoy here, all free. Also, there are links to some very interesting places throughout the body of the text. Be sure to visit them all.
As you hover your mouse over the thumbnails below, tooltips will pop up to tell you what they are and where they will take you when clicked. To see an installation, just click on the thumbnail for the month you want to visit. You will find organs from all over the world, both large and small. You can also click the big yellow arrows near the top of each page to go backward or forward to any given feature. Clicking the top title banner on each of the monthly feature pages will bring you back to this main selection page.
These pages are always changing as we learn more about the various intruments and locate new content such as pictures and music downloads. Come back often as we add this new material. If you would like to see your organ featured here, or if you have content you want added for the organs already featured, please email the Bone Doctor, or call our Walnut Hill Office of Operations at 1(727)230-2610 from 10AM until 6PM EDT Monday through Friday, to get started.
| | | |
| --- | --- | --- |
| January, 2009 | February, 2009 | March, 2009 |
| April, 2009 | May, 2009 | June, 2009 |
| July, 2009 | August, 2009 | September, 2009 |
| October, 2009 | November, 2009 | December, 2009 |
| | | |
| --- | --- | --- |
| January, 2008 | February, 2008 | March, 2008 |
| April, 2008 | May, 2008 | June, 2008 |
| July, 2008 | August, 2008 | September, 2008 |
| October, 2008 | November, 2008 | December, 2008 |
| | | |
| --- | --- | --- |
| January, 2007 | February, 2007 | March, 2007 |
| April, 2007 | May, 2007. | June, 2007 |
| July, 2007 | August, 2007 | September, 2007 |
| October, 2007 | November, 2007 | December, 2007 |
| | | |
| --- | --- | --- |
| January, 2006 | February, 2006 | March, 2006 |
| April, 2006 | May, 2006. | June, 2006 |
| July, 2006 | August, 2006 | September, 2006 |
| October, 2006 | November, 2006 | December, 2006 |
| | | |
| --- | --- | --- |
| January, 2005 | February, 2005 | March, 2005 |
| April, 2005 | May, 2005 | June, 2005 |
| July, 2005 | August, 2005 | September, 2005 |
| October, 2005 | November, 2005 | December, 2005 |
| | | |
| --- | --- | --- |
| | June, 2004 | |
| July, 2004 | August, 2004 | September, 2004 |
| October, 2004 | November, 2004 | December, 2004 |