Americus businessman Walter Rylander began construction of one of the South's premier performance theatres and movie palaces in 1919. After a year and a half, the Rylander Theatre opened the doors for its first live performance, the hit play Lightnin on January 21, 1921, and was called "The Finest Playhouse South of Atlanta." Three weeks later, the Rylander presented its first movie double feature with Mary Pickford's The Love Light and Harold Lloyd's Get Out and Get Under. Through most of the next 30 years, it hosted the finest in live entertainment and motion pictures and finally closed in 1951.

The balcony of the auditorium.
Designed by C.K. Howell of New York with interior design by William Saling, also of New York, the Rylander Theatre was a visual feast of ornate plaster work, beautiful stencil patterns, and painted murals. Closed for more than 40 years, the theatre still has much of its original grandeur intact. Having reopened after an extensive restoration (4.8 million dollars), the Rylander Theatre is nothing less than stunning and is once again reclaiming its title as "The Finest Playhouse South of Atlanta."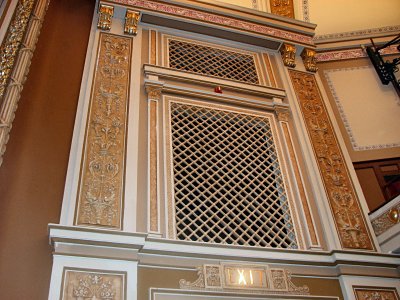 Main chamber grillwork.
The Rylander Theatre reopened October 1, 1999 in Celebration of President Carter's birthday. The Auditorium was named in his honor. Here, we see the Main chamber grillwork in the auditorium to the left of the stage.

Solo chamber grillwork.
This is a view of the Solo chamber grillwork in the auditorium to the right of the stage.

The stage of the auditorium.
Here, we see the restored auditorium, looking toward the stage. The Rylander Theatre seats over 600 on three levels, the orchestra, balcony, and the gallery. The restored Theater looks exactly as it did in 1921 but is equipped with comfortable new seats and state of the art theatrical equipment.