The console of Bill and Barbara Brown's famous 5/36 Mighty WurliTzer Theatre Pipe Organ.
This is the legendary 5/36 Mighty WurliTzer Theatre Pipe Organ installed in the home of Bill and Barbara Brown in Pheonix, Arizona. Bill constructed the huge instrument from parts he collected from many retired machines. The project was a labor of love, indeed.
This lovely organ is completely modern and has a computer controlled relay that responds to MIDI, evidenced by the PC visable to the left of the console. This allows full MIDI event recording and playback of all performances, including the registrations used.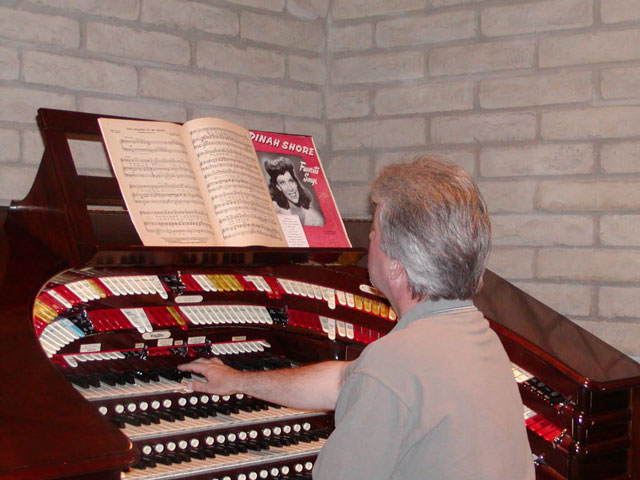 John Fields, having a joyful go at this gigantic instrument!
At the Theatreorgans.com Mailing List, a kind fellow by the name of Ken Fedorick had this to say about the second picture.
"I do not know how you got hold of it but the second picture of Bill Brown's organ shows John Fields of El Paso, Texas, volunteer organist on the Plaza Theatre Wurlitzer playing Bill's beautiful installation.
We stopped by Bill's to say hi and show John and his son the organ. As luck would have it, Lyn Larsen was visiting as well. We coaxed Lyn to play a song before he left. We had a go of the organ after Lyn left. It was a wonderful Sunday morning. I took the picture."
Thanks to Ken Fedorick for this information.
At the moment, we know very little about this grand instrument, but as we learn more, the info will be made available on this page. Currently, the site that features this organ is down. I have received many posts about it at the theatreorgans.com mailing list. As I sort through these posts, I will publish what I find out, including the credits for the pictures. Lately I have learned that the organ has thirty-six (not twenty-one) ranks of pipes.