We were able to capture many things that embodied the essence of a great time as everyone enjoyed this magnificent machine and the fine hospitality of Jim and Lucy Spohn.

The Bone Doctor at the console.
The Bone Doctor enjoyed his second time on the bench of the Mighty Robert Morton/WurliTzer. He played for a couple of hours total during the event and selected many tunes not normally heard on a Theatre Pipe Organ including some old timey mountain gospel music and a few modern songs.

Cyrus Roton at the console.
Here, we see Cyrus Roton at the console. Cyrus entertained us with a lot of great music including many standards and show pieces.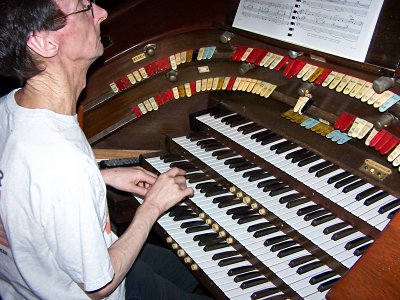 Russ Ashworth at the console.
Traveling down from Canada for the second time, Russ Ashworth enjoyed a great deal of time on the bench, playing his favourites such as One Fine Day and The Blue Danube.

Greg Rister at the console.
The real star of the convention appearing for his second time was Greg Rister, who played a silent movie and many great traditional theatre organ arrangements including songs like Speakeasy.