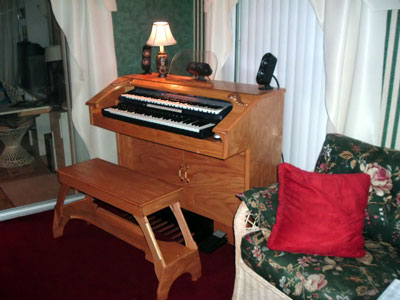 Dan Rowland's Mighty MidiTzer
Dan Rowland is a member of the Theatre Organ SoundFonts group and our Walnut Hill VTPO group at Yahoo!. Dan has a son named David who loves him and his music so much that he built a custom console for his father's Mighty MidiTzer.
Below, we tell Dan's story in an online interview and pictures he sent in to the Theatre Organ SoundFonts group on Yahoo!.
Dan Rowland the critter I am. I was born in Dearborn Michigan in 1937. My interest in theater organ was stoked at an early age whenever I listened weekly to the Amos and Andy radio program. The theme song was A Perfect Song played beautifully on the theater organ. That was the small thread I hung onto throughout many years.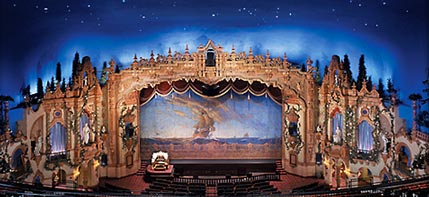 Civic Theatre in downtown Akron, Ohio
I didn't actually hear and see the real thing until after moving to Akron, Ohio in 1977. What a thrill it was to step into our 1929 Civic Theatre (formerly Lowe's) in downtown Akron. The lights dimmed in the Moorish Garden motif theatre as the white and gold 3/19 Mighty WurliTzer rose from the orchestra pit. I'm not sure who performed that evening, but I didn't miss a note.
I have enjoyed many concerts there since then and have heard some of the best artists, including Lynn Larsen, Hector Olivera and others. The theatre and the 3/19 Mighty WurliTzer have been restored to their original splendor. If anyone happens through Akron, Ohio and a concert is on the agenda, be sure to stop in.
I retired from the US Army with 21 years of service in 1977. My last assignment was as the Seargent Major of a computer operations center in Arlington, Virginia. Back then, computers were just beginning to take hold, but all these machines could do was print reports.
Desktop PC's, downloading programs from around the world, talking instantly to someone, listening to music, watching movies, sending or viewing pictures and playing a Miditzer was Buck Rogers stuff back then. If it wasn't on a punched card it couldn't be done. We have come a bunch of miles since 1977.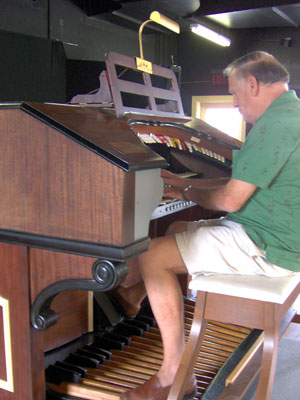 Dan Rowland at the console of the Pinellas Park Auditorium's
2/9 Mighty WurliTzer Theatre Pipe Organ
Speaking of Miles, thanks, Bruce, for your work with SoundFonts and thanks also to you, Jim Henry, for making them play. We are all indebted to you.
My four children wanted to settle down in 1977 to find friends they could stay with in high school, so I retired from the Army. I took a job at a local hospital as the Housekeeping Director until final retirement in 1999. Life is good now. I spend my summers in Ohio and winters in Saint Petersburg, Florida.
Dan's Mighty MidiTzer
Or
The Organ His Son Dave Built
I'm not sure how I stumbled upon the Mighty MidiTzer. Most likely, I was surfing for Theater Pipe Organ music. Wow, that sounded like just the thing for me.

The MidiTzer badge on Dan's console.
I made some silly mistakes in choosing components for the Mighty MidiTzer because I didn't do enough homework. I joined the Theater Organ SoundFont group on Yahoo! and can say I met some wonderful folks, all willing to answer my questions.
Russ Ashworth took me under his wing, giving me instructions almost daily on how to do a Mighty MidiTzer installation. Finally it all came together and I had a first class organ, save the console design.
My early attempts to build a console for my Mighty MidiTzer met with only patial success. I wouldn't have posted a picture of that contraption if my life depended on it. I threw it together in 30 minutes with nails and 2 X 4's in the garage. But, it worked and gave me many hours of enjoyment.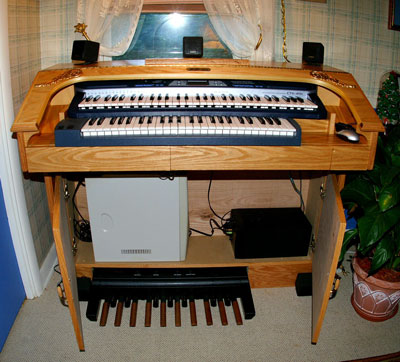 Wide shot of Dan's Mighty MidiTzer console.
My son David felt so sorry for me after my telling him and all the folks at Theater Organ SoundFonts all about it. He let it leak that he had planned an early Christmas present in the form of a new console for the Mighty MidiTzer. He was on a two week hiatus from his university studies until graduation and began the task of building this new console.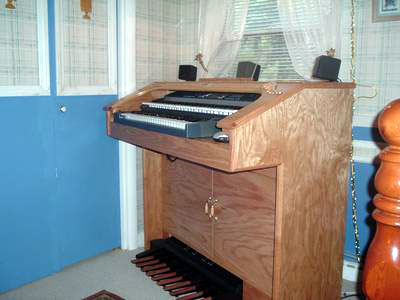 Dan's Mighty MidiTzer console, viewed from the side.
He cleared space in his garage and went shopping at Lowe's. He called me almost daily to come over to see the progress he was making. I was absulutely pleased at what I saw taking shape. The end product was a beauty in my eyes. I was satisfied that I couldn't have had a nicer console custom built by anyone else.

Dan's Mighty MidiTzer console with the drawers open.
I give him a hug every time I see him, but the day we brought this console home was extra special. Two days later he graduated Cum Laude with a Batchelor's Degree in Labor Economics and a scholarship for his Master's Degree. I am some proud dad, indeed.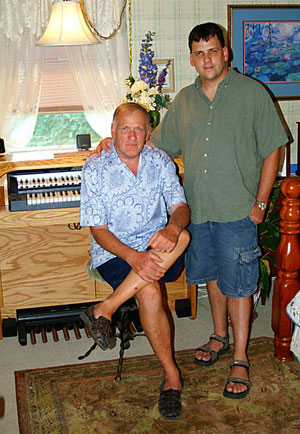 Dan Rowland and his son, David
All of the following songs were played from the William McMains Theater Organ songbooks other than Beautiful Isle of Somewhere.

As you listen, keep in mind that I don't think I am even a distant cousin of George Wright. I play for my own enjoyment. When someone enters the room or I turn on the recorder, enjoyment turns to jitters.

For all of the songs being played, I have Bruce Miles's corg_m110 and John Tay's Miditzer Main and Solo SoundFonts loaded into bank 25.

Happy playing everyone, this Miditzer is the Cat's Meow.
Dan's Comments About His Music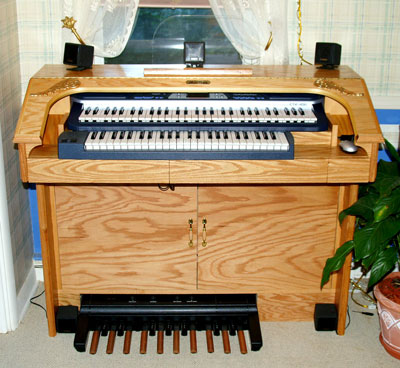 Dan's Mighty MidiTzer console with the doors closed.
I have read within the Theater Organ SoundFonts group in past discussions about the benefit of piano lessons toward playing the theater organ. I took four years of piano lessons at an early age, but didn't take it seriously.
If I practiced fifteen minutes a day it seemed like way too much for me. Mom harped and harped about my practicing and it was evident to my teacher on lesson day. She sounded like a broken record saying "count, count".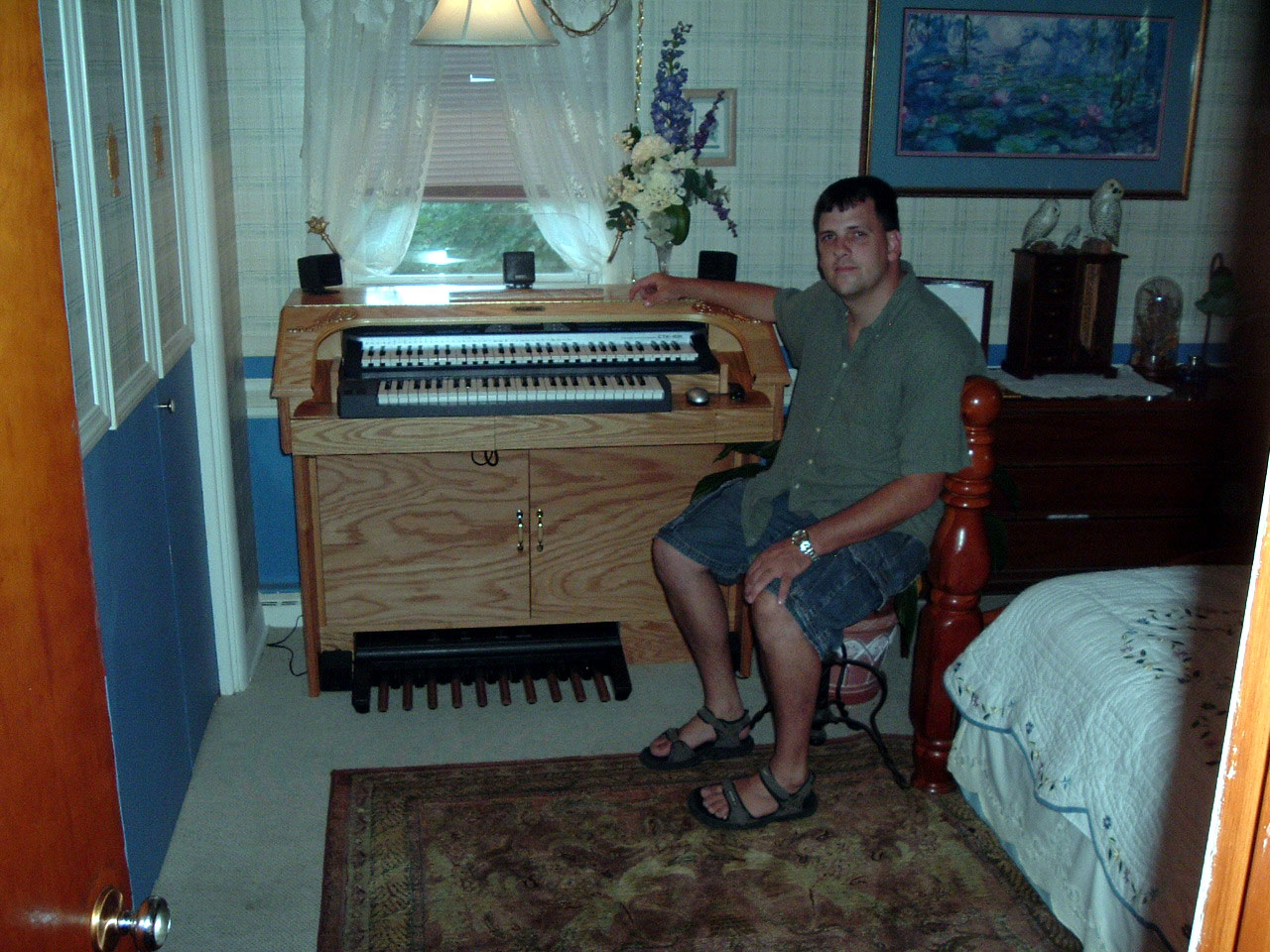 Dan's son, David posing next to his beautiful creation.
Looking back today (quite a bit too late,) I only wish that I had applied myself to learning timing and theory. About the only thing I have gleaned from those four years is the ability to read music, for which I am truly thankful.
My timing is always rough and the imagination for embellishments is non-existant. I play what I read. When I listen to Tom Hoehn or other theater organists, my ear is tuned to what is not printed.
That is the beauty in music. I wish I had that talent.

The Bone Doctor playing Dan Rowland's Mighty MidiTzer
Dan Rowland spends his winters in Saint Petersburg, just south of Clearwater, Florida. The Bone Doctor has been paying him visits of late to see and play his Mighty MidiTzer, one of the finest such installations in VTPO land.
Dan's sweet wife Janett and Doc's lady Kimmy have also hit it off with a friendship that knows no peer. Janett is an excellent cook and her hospitality is infinite. Dan is a very blessed man, indeed. Kimmy and the Doc are honored to know them and get to spend time at their wonderful residence.
Doc helped Dan straighten out some things in the setup and got to record some material on this neat organ. As the material is processed, we will be posting it below. This is what we have so far: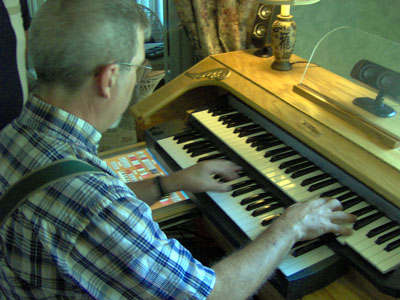 Tom Hoehn playing Dan Rowland's Mighty MidiTzer
Tom Hoehn went to see what all the fuss was about at Dan's place. He found a Mighty MidiTzer he could really go to town on, and go he did! Below are some gems from this very talented Theatre Pipe Organ player, one of Walnut Hill's Featured Artists.
Crazy
Playing time = 3:12, file size = 2.96MB, bit rate = 128KB/sec.
Medley 1
Playing time = 2:25, file size = 2.24MB, bit rate = 128KB/sec.
Medley 2
Playing time = 8:04, file size = 7.25MB, bit rate = 128KB/sec.

Tom Hoehn playing Dan Rowland's Mighty MidiTzer as Dan and Papa Bill look on.
Papa Bill, one of the founding fathers of the Walnut Hill Organ Club, went along to see the Mighty MidiTzer at Dan's house. It is rumored that after having saw it, Papa is going to build a simular one for Tom. Stay tuned...
Getting inducted to the Wall of Fame is easy!
Who doesn't want recognition for their efforts with the Mighty MidiTzer? Now, you can get noticed on the Walnut Hill Wall of Fame! Folks will see your pictures and be able to go directly to your site by clicking on them. We hope to see many more inductees here in the days ahead as folks step out with their Mighty MidiTzers. So... Dust off those cameras and get snappin'. Also, if you have recordings or any other content you want featured, we can put those here as well.
Email The Bone Doctor to find out how you can be among the ranks of those who are pioneering this Mighty Virtual Theatre Pipe Organ. Join TOSF and Walnut Hill VTPO and make your intentions known to all the folks in VTPO land. We are always glad to recognize those who make the TPO kingdom a better place!