Vern Jones is the owner of Sound Research, a company that makes MIDI interface kits for analogue instruments as retrofit hardware. This gear makes it possible to play the Mighty MidiTzer from a vintage instrument such as a Rodgers, Allen or Conn theatre organ.
A member of Walnut Hill VTPO and one of the regulars the group, he works hard to put the VTPO within the reach of most musicians who own these organs. We plan to use his services and goods to update our venerable Conn 640 in the near future.
We will quote Vern to let him describe the pictures below in his own words...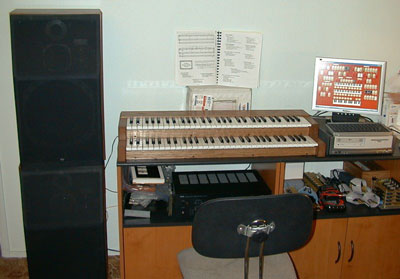 The keydesk of the test bed for the Mighty MidiTzer.
To get started with the Mighty MidiTzer, I built a small format Athalon 3000 System, with a small keyboard and LCD monitor. It was difficult to find a small form factor desktop case that could accept a PCI card. This case has a PCI riser card that I used for my Sound Blaster Live! 5.1 card.
For test purposes I used my Sound Research 2 Manual MIDI AGO stack with an outboard amplifier and speakers.
The system isn't complete yet. I plan to add the Sound Research Piston Control System, MIDI Swell Pedal, and for the SC-88, the MIDI channel expander/stops system that will provide 8 MIDI Stops per MIDI Channel. I will also reconnect my orchestra bells and maybe some other live percussions using the Sound Research MIDI Decoder Driver electronics.
Here, we see Vern Jone's Rodgers Trio Electronic Analogue
Theatre Organ hooked up to the Mighty MidiTzer.
The sound system, is the Rodgers internal speakers and amplifiers, an external Leslie (big speaker system) which also contains a non Leslie speaker system. The Leslie uses a Rodgers S-100 Amplifier. The Mighty MidiTzer and the Roland SC-88 use a Yamaha 100 Watt amplifier. The Mighty MidiTzer uses the mixing system built into the SC-88. Also in the system is the Alesis NanoVerb.
The next job was to MIDI the Rodgers. You can see the Sound Research 3 Manual MIDI System, Wiring Hookup, and MIDI Control panel pictures.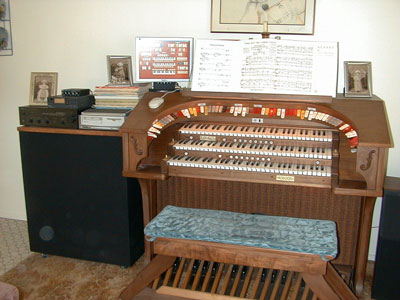 Here, we see Vern Jone's Rodgers Theatre Organ
and Mighty MidiTzer installation.
Then there are the pictures of the Complete MidiTzer/Rodgers installation. Either system is good, but the combined system is even better. For the solo manual, since the Mighty MidiTzer is a 2 manual system, I have the Roland SC-88 to add in other sounds.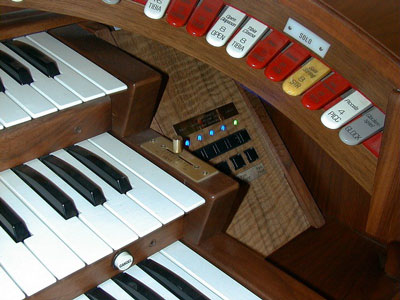 Here, we see the MIDI Control Panel installed on
Vern Jone's Rodgers Trio Electronic Analogue Theatre Organ.
Now I need to practice so I can play this thing with some super nice registrations.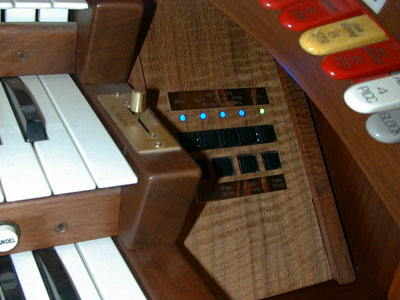 Here, we see a tight close-up of the Rodgers Trio Electronic Analogue
Theatre Organ MIDI controls on the right end block.
My website is: http://www.sound-research.net and my e-mail address is vern@sound-research.net.
The MIDI Products in my MidiTzer/Rodgers setup are by Sound Research, owned and operated by Vern Jones.
Getting inducted to the Wall of Fame is easy!
Who doesn't want recognition for their efforts with the Mighty MidiTzer? Now, you can get noticed on the Walnut Hill Wall of Fame! Folks will see your pictures and be able to go directly to your site by clicking on them. We hope to see many more inductees here in the days ahead as folks step out with their Mighty MidiTzers. So... Dust off those cameras and get snappin'. Also, if you have recordings or any other content you want featured, we can put those here as well.
Email The Bone Doctor to find out how you can be among the ranks of those who are pioneering this Mighty Virtual Theatre Pipe Organ. Join TOSF and Walnut Hill VTPO and make your intentions known to all the folks in VTPO land. We are always glad to recognize those who make the TPO kingdom a better place!