Larry McLaiughlin and his Mighty MidiTzer.
Larry McLaughlin is our ninth Wall of Fame member. We will let him tell you more about himself and his Mighty MidiTzer installation below:
Just a little background history follows.
I have been an Organ lover all my life. (I was born the year they discovered dirt!) I practically grew up in a roller rink, where we skated to music from a live WurliTzer Theatre Pipe Organ! It was an enormous place, and the organist really knew how to produce magic music from it. The organ console was suspended from a loft way above the skating floor and the pipes were on the opposite wall.
It was there that I met my wife of over 54 years. I still remember the first time I laid eyes on her. She was standing on the side right, under the organ!! What beautifull memories we have of that magical place, which unfortunately was torn down in 1953. After our children were grown and we had the free time, we went back to skating until about five years ago!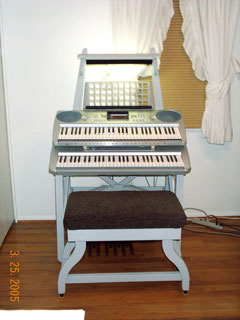 Larry McLaughlin's Mighty MidiTzer installation.
I have had a Hammond organ for a lot of years and play like a rank amatuer. I just discovered the Mighty MidiTzer last year and went nuts when I heard the music it coulld produce. So, I went out and bought two Yamaha keyboards and some pedals from e-bay.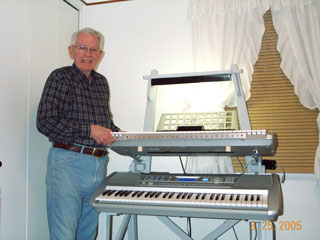 Larry installing the upper keyboard in his Mighty MidiTzer.
I had a hard time trying to figure out how to get it all together, but with the help from all the people on the Theatre Organ SoundFont group, (Jim, Bruce, Lynn and all the others,) I finally got it going O.K. I built a case for the pedals and had to rewire them and add a MIDI converter. I also built a stand for the keyboards, and an expression pedal of my own design.

The custom bass pedals in Larry McLaughlin's Mighty MidiTzer installation.
I just love playing the MidiTzer, and am S-L-O-W-L-Y improving. I have only had 10 lessons which came with the Hammonds some 35 years or so ago.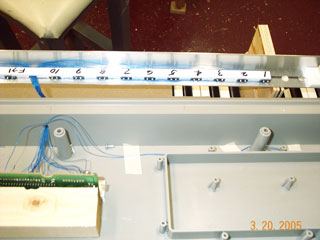 Some of the stop wiring in Larry McLaughlin's Mighty MidiTzer installation.
Getting inducted to the Wall of Fame is easy!
Who doesn't want recognition for their efforts with the Mighty MidiTzer? Now, you can get noticed on the Walnut Hill Wall of Fame! Folks will see your pictures and be able to go directly to your site by clicking on them. We hope to see many more inductees here in the days ahead as folks step out with their Mighty MidiTzers. So... Dust off those cameras and get snappin'. Also, if you have recordings or any other content you want featured, we can put those here as well.
Email The Bone Doctor to find out how you can be among the ranks of those who are pioneering this Mighty Virtual Theatre Pipe Organ. Join TOSF and Walnut Hill VTPO and make your intentions known to all the folks in VTPO land. We are always glad to recognize those who make the TPO kingdom a better place!