Meet Aaron Stayt, Virtual Theatre Organ Builder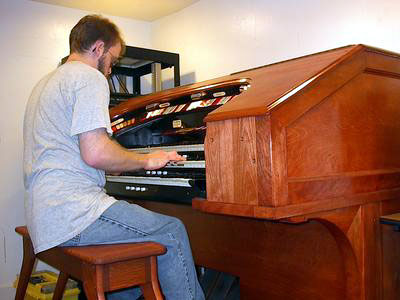 Here I am getting ready to test my new configuration of jOrgan.
We asked Aaron to tell us about himself and his massive Kilgen Theatre Pipe Organ conversion project. This is what he had to say:
I'll start with a bit of background on myself.
I'm 25 years old, and I was born 2.5 months premature with the disability of Cerebral Palsey. This makes my left side very hard to coordinate. I can't use my legs for bass pedals and the like, although I can drive just fine and walk fairly well except for long distances. I was also diagnosed as a bit mentally retarded. Despite my disability, I still got ahead of many of my peers growing up.
I learned to talk at a very young age, and my first word was "Light." Ever since I could use my hands I've had tools, and I was taking anything electronic apart I could to see how it worked.
By the time I was about 8 years old, I was soldering circuit boards and using power tools. I knew right from the start that I wanted a career in electronics. My current job is repairing arcade games, pinball machines and vending equipment. I also enjoy working on computers and home theatre equipment, or just about anything with a power cord or batteries.
I've been intrigued by organs and pianos since I was about 5 or 6 years old, starting with my Great Grandma's Hammond T-233 spinet organ, which now sits in my bedroom. I could never play it, but I always liked the sound. I later bought a fixer-upper Hammond B-3 as a step up from the small spinet. I also have had several Casio keyboards throughout the years, but the fun started with my first MIDI capable keyboard. I had lots of fun connecting it to my new Sound Blaster Live! card and experimenting with SoundFonts for a long time, but there was always that itch to get a huge pipe organ sound out of it.
Low and behold I discover the Jeux soundfont, probably sometime around 1999-2000. I was able to get some really cool sounding stops from it, but only layer two at a time. Ever since then I had been poking around the internet looking for a program that could give me a stop control panel so I could play many stops at once. I never found one and the keyboard went unused for a long time.
Now a few years later, I started looking around again for that "dream program" that would give me a pipe organ on my PC. A search on the internet turned up Hauptwerk, which I played with for quite some time, but it never really caught on for me. Mainly because it costed more than I could afford at the time, and because it took all my computer of the day had to run it. Another year or so went by with the keyboard collecting dust.
At that point, I somehow discovered the MidiTzer. I was very excited, but I thought it was too good to be true. A free program that was almost like Hauptwerk, with lower system requirements? Not to mention it looked really cool. This started me looking into real theatre organs, which got me absolutely absorbed, both in the organs and the old palacial theatres they were in.
Upon playing with the MidiTzer for some time, I was really getting anxious to try a second manual on it. This is the point I decided I could find a real organ console and convert it to MIDI use. My first attempt was an old Baldwin Model 5 organ, but it turned out to have some weird resistive switch contacts that wouldn't work to well with MIDI encoders. Not to mention the look didn't appeal to me much after seeing the unique and pleasing design of a theatre organ.
New Life For An Old Organ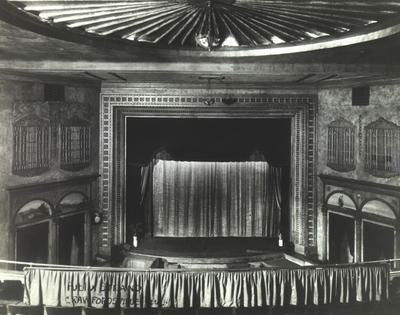 Strand Theatre, Crawfordsville, Indiana. The organ can be seen
covered with a sheet, on the left in front of the stage.
I'm looking for more history and pictures of
the theatre but have had little luck.
This got me looking around on eBay one day, and there it was - a real theatre organ console, and it had 3 manuals even! I knew this would be perfect for what I wanted in a MIDI keyboard, and it would also give me a good first-time woodworking project. But little did I know what I had gotten myself into. The console needed complete restoration, and I didn't know the first thing about how to do it. Nevertheless, I picked up the console and brought it home for a modest $500.

This is what the console looked like when I bought it.
It was worse than the photo shows...
Upon getting it home, the first thing I did was strip it down inside and out, starting with removing all the severely hacked and spliced wiring. I had to learn the technique to wiring an organ, and it was not easy. There were hundreds and hundreds of connections that had to be made. On top of that, I had very little woodworking experience. I had to learn how to do everything on this project on my own. Having stumbled upon MidiTzer, I also joined the Theatre Organ SoundFonts group on Yahoo!, which is where I got some of the advice on the project from time to time. I had also seen other people's setups and this inspired me to continue.

This is what the console looked like when I first set it up at home.
Notice the nasty broken ivories and the dirt on everything, along with the sloppy paint job
and the holes drilled in the back rail (and everywhere else for that matter.)
I started stripping the many layers of paint from the console, and filled a couple hundred holes in the wood, ranging from pin size, up to large cutouts for switches, outlet boxes, and other added on junk. For the finish, I had originally planned on using Tung Oil over the bare wood, but it turned out terrible. I ended up sanding it back down and starting over. I wanted a warm, rich color for the console, and decided on a Minwax stain called Sedona Red. I then used Tung Oil over the stain to add some shine and protect the finish.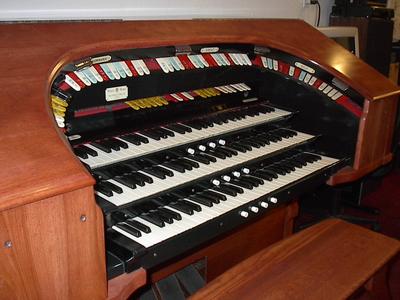 Here is a later view of the console during restoration, after a lot of work has been done.
The broken ivories were replaced with ones salvaged from an old Baldwin console.
Throughout the process of stripping the old paint I discovered the original color scheme, which was a sponged on type Green/Silver color, with the keydesk, pedalboard, and bench being black. I'm still not certain if that was the first color it was, though.
During the refinishing efforts I had also disassembled two of the three manuals and the stop rail to start repairing them. There were some broken ivories, which I replaced with ones salvaged from the Baldwin console I had before. The keyboards were also very dirty and needed new upstops and some felts. I made several mistakes here, one being that I cleaned the ivories with a rough pad and took the shine off, and also I had forgotten that I didn't know how to regulate manuals, so everything was out of adjustment afer it was put back together. But I wasn't going to worry yet, I wanted to play the organ for once.

Back of organ showing new wiring throughout. Wire used was standard CAT3,
8 conductor cables, all switch contacts are original 1927 phosphor bronze.
I then had to decide how I was going to outfit the console to operate on MIDI and do everything I wanted. I contacted Classic Organ Works and got some quotes, but the system I was looking at would have been at it's maximum capacity in the console with no room for expansion.
I then found Dave Milton who makes the Opus-Two series of control systems, and it had much more capability for the same price as the Classic Organ Works setup. After I got my initial configuration right in the control software, I started wiring the Solo manual. I was very surprised when it worked perfectly despite having the old phosphor bronze contacts. As time went on I completed almost all the wiring and everything was working.

Rewiring and repairing the upper staop rail.
Wiring on a curve like that is not too easy...
I had started using jOrgan since the MidiTzer only had two manuals, and I also wanted stop control on the console like it would have if there were still pipes attached. My dreams came true as I discovered jOrgan could be set up to control stops using any MIDI message, and all a I had to do was click the '...' button on each stop and flip each corresponding tab on the console.

Back view of console showing boards and wiring.
Everything is a mess, just installed for testing.
Wire loom will be installed later and wiring organised.
Also seen is the display board for the console controller,
later to be installed in a drawer.
After that time consuming and tedious project, I had a playable organ for the first time. As time progressed jOrgan got more and more powerful, and I was already experiencing major polyphony issues while playing lots of stops. This is the point I went back to eBay and bought four SoundBlaster Live! Value cards and an Audigy ES, and installed them into two computers, connected together with MIDI-OX. One computer was for Tibias only since they needed the most polyphony, and I installed two cards there, dividing the Tibia stops up evenly between the two cards. In the other computer, I installed the remaining 3 sound cards, with the Audigy being used exclusively for traps. This allowed me to play the organ with every stop tab down and still not drop notes.

Here is my latest photo of the organ, with the first coat of finish complete.
The next steps are to finish the cosmetic work on the cabinet, regulate the manuals, and repair the combination action, plus quite a few other things I can't think of at the moment. I'll probably still be working on it when I'm 50 years old.

Side view of the console. Some panels have one
coat of Tung Oil on them. The bench was just stained about 2 days ago
and I like how it turned out. Adding the Tung Oil will be fun.
Music Coming Soon!
Aaron Stayt and Lynn Walls will soon be getting together so Lynn can give the massive Kilgen a whirl. At that time, recordings of this wonderful installation are to be made.
When these recordings are submitted to Walnut Hill, they will be posted here. Stay tuned...
Getting inducted to the Wall of Fame is easy!
Who doesn't want recognition for their efforts with the Mighty MidiTzer? Now, you can get noticed on the Walnut Hill Wall of Fame! Folks will see your pictures and be able to go directly to your site by clicking on them. We hope to see many more inductees here in the days ahead as folks step out with their Mighty MidiTzers. So... Dust off those cameras and get snappin'. Also, if you have recordings or any other content you want featured, we can put those here as well.
Email The Bone Doctor to find out how you can be among the ranks of those who are pioneering this Mighty Virtual Theatre Pipe Organ. Join TOSF and Walnut Hill VTPO and make your intentions known to all the folks in VTPO land. We are always glad to recognize those who make the TPO kingdom a better place!