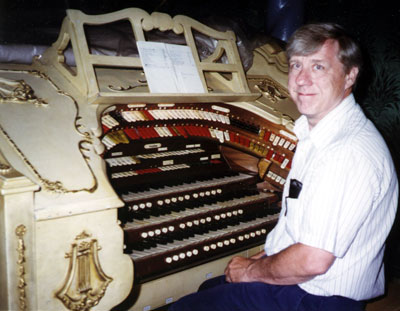 Gerhard Klechowitz at the Mighty WurliTzer installed at the
Avalon Theatre in Milwaukee, Wisconsin.
Gerhard Klechowitz, also known as Gary K. and Kilgen, is the fifteenth inductee to the Walnut Hill Wall of Fame. Gary is also a member of the Dairyland Theatre Organ Society. It is an honor to have him among the ranks of all the Mighty MidiTzer players featured here. We spoke with him online at the Walnut Hill VTPO group on Yahoo!, and this is what he had to say about himself, his installation, and his music:
I began playing organ as a child of 8 years old. I learned to play by ear with no formal training. However, through the years I did, by necessity, learn to read music.
I began a professional career in 1965 playing in lounges and in venues that once were incorrectly termed "supper clubs", when I landed my first weekend gig playing in a small lounge and restaurant. I eventually landed a five nighter in 1969 and played five and six nights per week gigs up to the early 1980s.
In the 1980s, organ lounge type music was fading away from the scene but I still played weekends up to 1991 when the curtain finally fell on the organ lounge scene and my musical career. The type of music I played was typical lounge and dance music such as pops, easy listening, old time, show tunes and light jazz. The instruments I played on were all Hammond organs such as the B-3, H-100 and X-66. The last 10 years of my career I played solely on the X-66 organ.
Gary Klechowitz Plays
The Avalon Mighty WurliTzer
Gary sent us some of his sessions on the Avalon Theatre's Mighty WurliTzer Theatre Pipe Organ in Milwaukee, Wisconsin. As he sends in more recordings of this fine instrument, we will post them on the list below.
Gary has this to say about the current state of affars surrounding this magnificent instrument:
The Avalon organ is unfortunately removed from the theatre as I mentioned before. The Avalon theatre is the last atmospheric theatre left intact in the city of Milwaukee. The previous owners left the theatre fall into sad disrepair and finally closed the house down in 1999. I played there from 1992 to 1998. The roof over the pipe chambers began to leak and the rain was doing considerable damage to the organ so the Dairyland Theatre Organ Society removed the instrument.
Most of the organ is in storage and some of the ranks and parts are on loan to DTOS members who have them installed in their home pipe organs. The console is being used in the Organ Piper Restaurant in Milwaukee, Wisconsin. The loan agreements on the parts are that the borrowers will surrender them back if the organ is to be re-installed either in the Avalon theatre or into some other venue. The club has looked into other places to put the organ.
The good news for the Avalon theatre is that it has new owners. The new owners are planning to repair the theater and open it back up as a historical movie house and are also working to put the building on the Historical Buildings registry. If the accomplish all this the theatre will be safe and secure. There as been no serious talk about the organ going back into the theatre but I suspect that if they do restore the building, the owners would probably want to have the organ put back in.
We have had several theatres restored here in Wisconsin within the past 15 or so years, and all of them have had pipe organs put back in so the picture for theatre organs and theatres here in Wisconsin is actually fairly bright. The only downfall I see on the horizon is the terrible rise in the price of natural gas. It costs a virtual fortune to heat those old theatres now but with all the prices of energy and transportation going up and up who can say what that future will be. The bottom line for any of this is "money" and who pays the bills.
Gary Talks About The Mighty WurliTzer
And His TPO Music
As far as Theatre Organ music is concerned, I consider myself to be a student in this style of music. When my lounge organ career ended in 1991, I took a volunteer job playing on the Avalon Wurlitzer Pipe organ in Milwaukee, Wisconsin. This was the first time in my life I had at playing a real Theatre Pipe Organ in a theatre. Going from playing a Hammond in a lounge to a Theatre Pipe Organ in a theatre was to me like going from driving a compact car to flying a plane without lessons.
I took the job to try to keep in musical condition, but I cringe when I listen to some of the recordings that were made of my playing on that instrument. I didn't even know that these recordings existed until I was told that my practice sessions were recorded. I requested a copy of the recordings from the person who made them and he finally sent me a CD. It took me several tries before I could play the CD all the way through without turning it off in absolute disgust. I nearly threw the CD out the car window when I was playing it on my car CD player.
I wish they would have recorded my playing much later in time when I had acquired much more command of the instrument than I had when those recordings were made. When I listen to my recordings I keep thinking about what I could have done better with registrations and such.
I will say that after some time I did improve and gained more of a mastery over that WurliTzer. I wish that recordings of my playing were made from the latter days instead of my earlier struggles with that organ.
For the most part, I can still hear the lounge organ styling in my music when I play the Theatre Pipe Organ. On the other hand, Buddy Cole played in a style that was a very lounge type style and, as an admirer of his music, I try to emulate a little of his style in my own music even though my abilities do not come up to the level of skill and technique Buddy had.
Keep in mind that these recordings are mostly practice takes and are loaded with mistakes of various kinds. The ones I post here are culled from a collection of several tunes and have the least objectionable mistakes in them.

Gerhard Klechowitz's Lowrey GX-361 controlling his Mighty MidiTzer.
I bought the Lowrey GX-361 from an estate about a year before I discovered the Mighty MidiTzer. The Lowrey GX-361 by itself is a complicated synthesizer and was difficult for me to learn to set it up to play it manually. The instrument was obviously designed to sell on the merits of its pre-programmed automatic music arrangements. It does have tabs for strings and flutes like an organ but tonally as it stands as stock, it doesn't make a good simulation of an organ. You have to look at the instrument as being exactly what it is; namely a three manuals and pedal synthesizer.
When I discovered the Mighty MidiTzer and Bruce Miles' Cinema SoundFonts, I installed these on a small mini tower clone I had built a while back. When I plugged the MIDI out from my Lowrey GX-361 organ into the computer and started using the Miditzer relay, I then and there realized what a powerful program the MidiTzer is and what the new dimensions in sound the Bruce Miles' Cinema SoundFonts allowed me to go with my instrument. Thank you, Jim Henry, for the Mighty MidiTzer. And thank you, Bruce Miles, for your Cinema SoundFonts.
My Lowrey GX-361 or Kawai G-7000 synthesizer puts out four channels of MIDI, which makes them excellent as controllers for the Mighty Miditzer. I am using Miditzer version 3.0 with the original Bruce Miles Cinema SoundFonts as they were downloaded. The audio line out from the computer is channeled directly into the line in of the Lowrey GX-361, and so far, the recordings I have made were made using the R/L line out from the Lowrey GX-361.
The only drawback is that I cannot kill the 8' String Bass from the Lowrey GX-361, as the designers of this instrument must have erroneously decided there would be no reason to have an on/off control for the 8' String Bass. That means that, when you listen to any recordings I make on this setup, you hear that annoying 8' String Bass sound which dominates the SoundFont bass.
I am planning on using a new computer and dual sound card setup for MidiTzerBruce's newer Cinema SoundFonts. I also would like to try the John Tay SoundFonts. When I complete this system, I intend to use a sub-woofer on the Sound Fonts, which I hope, will somewhat drown out the annoying 8' String Bass from the Lowrey GX-361.
Gary Klechowitz's Music Downloads
Gary Klechowitz's Comments
Breezin' Along With the Breeze is the tune that I use as my first piece or theme music on the few rare occasions I had been asked to play a few pieces for a small gathering. I remember this piece as it was performed by Lucille Ball and Desi Arnaz in the film The Long, Long Trailer, and when I play this music, I try to incorporate that carefree adventurous flavor that I seem to hear whenever I see that film.
I recorded this version onto a JVC Minidisc recorder using the direct output from my GX361 synthesizer. The only sound that is heard in the recording that is not a part of the Bruce Miles sound fonts is the annoying 8' string bass that I cannot turn off. I extend my apologies to anyone who is annoyed by this aspect of my recording.
Satin Doll pretty much gives away my Hammond technique. I have played many variations of this tune, but the arrangement I used to record this version is the basic arrangement that I most always prefer to play.
The tune When Sunny Gets Blue I believe was meant to be played in an intimate club setting. It took several takes for me to finally settle on one to send out but as in all my recordings I can never make a flawless take or make a recording that I am satisfied with. Alas.
Gary's Home Pipe Organ Project
I am starting to work on my own home pipe organ again and will send you pictures of it if you like. I was offered the opportunity to borrow some of the Avalon organ parts but I declined.
I am managing to keep my finances under control and hope the higher winter heating bills won't stress my finances too much. I heat with fuel oil and the rise in the price of oil is actually not predicted to be as drastic or bad as natural gas will go up. I think I made a wise decision in not having gas put in when they ran the pipe lines down my road four years back.
My home pipe organ will be a hybrid instrument of nine actual ranks of pipes augmented with a Jorgan system which will supply all the percussions and several more pipe rank sounds.
Getting inducted to the Wall of Fame is easy!
Who doesn't want recognition for their efforts with the Mighty MidiTzer? Now, you can get noticed on the Walnut Hill Wall of Fame! Folks will see your pictures and be able to go directly to your site by clicking on them. We hope to see many more inductees here in the days ahead as folks step out with their Mighty MidiTzers. So... Dust off those cameras and get snappin'. Also, if you have recordings or any other content you want featured, we can put those here as well.
Email The Bone Doctor to find out how you can be among the ranks of those who are pioneering this Mighty Virtual Theatre Pipe Organ. Join TOSF and Walnut Hill VTPO and make your intentions known to all the folks in VTPO land. We are always glad to recognize those who make the TPO kingdom a better place!