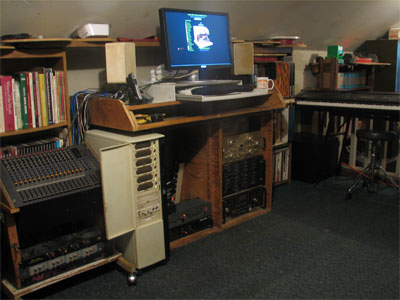 The Main Data Server at Walnut Hill
Greetings and Welcome to All.
We began the month of November with a major change afoot for Walnut Hill Productions. The change is a relocation for the company to California on Wednesday morning of 12/6/2006.
To relocate myself and essentual gear to the west, the cost is conservatively estimated to be no less than two thousand dollars for the first month of December, and could be as high as five thousand dollars by the time I am back in business with diff,erent musical equipment to replace that which I will be leaving behind due to high shipping expense. I will be shipping only what I need to include my data server and software collection, including music and films, network gear, and enough clothes to get me through a couple weeks. I will board a flight westward on Wednesday morning at 6AM.
I will be picked up at the Sacramento Airport by Kimmy and her friend Tiffany at noon for the ride to Marysville in Yuba County, 40 miles north of Sacramento, home of the George Wright Memorial 4/21 Mighty WurliTzer Theatre Pipe Organ installed at Grant Union High School.
Expenses to be paid for by the fund include airfare and snacks during the flight, along with a deficet incurred by Kimmy due to folks on her end not helping as they promised. Personal funds will pay for apartment rental and operational budget and cable internet installation at the final location.
We need help beyond the funds we have collected so far in order to pull this epic endevour off smoothly during the hectic 2006 Holiday season. We are reaching out to the fans of the King of Instruments in hopes this goal can be met on time.
The cash flow chart below depicts the current financual situation as I make the 2,200 mile trek west to the lady I love and the Land of the King.
Relocation Expenses
Airfare from Alcoa to Sacramento is around $200
Snackage while enroute to Marysville estimated at $20
Kimmy's household deficet for December is $450
Operating Funds for December estimated at $1,350
Total relocation expenses are roughly $220
Total Funds needed to get the company through December, $1,770
Funds Available as of 11/29/2006
PayPal, $350 of which $300 is available
Bank of America, $500 of which $450 is available
First Tennessee bank, $60 of which $30 is available
SSI and SSA for Richard in December is $623 total
SSI and SSA for Kimmy in December is $823 total
Pending pledges for December at PayPal are at $100
Total available funds are currently at $2,126 of which $950 has come from you, our loyal patrons.
More help is needed until we get settled in and my disability benefits are brought in line with California standards around January. After that, things should stabalize enough to get things back on track by February. There is a small amount of inflation built into the above equation, which is a worst case scenerio of prices quoted to me as I did my searches.
I am planning to go to California so that we can promote and feature the wonderful organs there as was done for those in Florida. As you well know, California has a wealth of fine installations abounding in Sacramento and the surrounding cities of Los Angeles and Pasadena, just to name a few. In 2005, Doc got to see many of them up close during the 51st Annual ATOS Convention held in Pasadena. This event was one of the main driving forces which prompted Doc to concider the move to California, which he has been planning ever since.
The main data server will be going offline sometime tomorrow, 11/29/2006, to be carefully packed for the move. It will not come back online until mid December after I get settled. There will be few updates during December as a result, and the December Issue of the Gazette will be two weeks late at best in coming. The December Featured Organ will be late as well, possibly not going up until January, depending on the smoothness of the move and how quickly we can reassemble the office gear and get it running on a slower DSL connection for a while before we eventually get the high speed internet and digital broadcast cable installed.
This will be the last entry in the Gazette until then. With that, I thank everyone who is helping to make this move possible, and I bid you a fond adue until the middle of December.
---
RELOCATION FUND DRIVE
Doc and Tom Hoehn have created a Pay Pal account for easily and securely receiving contributions from all who want to see this relocation take place, which will allow Walnut Hill to make major strides forward for the King of Instruments.
Below is a listing of those who have genorously contributed funds as of the end of November:
Name

Tom Hoehn
Gareth Howells
James Reid
Cyrus Roton
William Spalding
Larry Chamberlin
Kent Allman

Amount

$ 50.00
$ 50.00
$200.00
$500.00
$ 10.00
$100.00
$ 50.00

Method

PayPal
PayPal
PayPal
Check
PayPal
Check
PayPal
There are other pledges pending. Anyone can contribute as much or as little as they see fit by clicking the "Make a Donation" button above. You can also send checks via standard mail to the following address, should you choose to not use the Pay Pal account. Please make checks payable to Richard Mogridge, with the words "Relocation Fund" in the memo line. The address is:
Richard Mogridge
Walnut Hill Productions
616 14th Street
Marysville, California 95901-4110
If you have questions about the relocation fund, you can call the Bone Doctor at the Walnut Hill Office of Operations to learn more.
That telephone number is 1-727-230-2610.
All contributors will get recognized at the site should they choose, or they can remain anonymous, simply by letting the Bone Doctor know their preferences via email.
This is a major move forward for Walnut Hill Productions, one of the fastest growing TPO sites on the internet. Become a part of history by making your donation today. Please help us to continue the work we are doing as we continue to grow, adding new features and more services such as broadcasting audio and video for all to enjoy. You'll be glad you did.
We are thanking you in advance for your generosity and support in this grand endevour.
God bless, and happy playing.
The Bone Doctor
Member ATOS/President WHOC
House Organist and Webmaster
Walnut Hill Productions
"It's all about the King of Instruments!"
---