FROM THE WEBMASTER'S DESK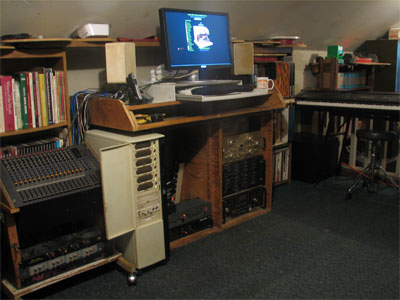 The Main Data Server at Walnut Hill
After our first month of operation in the Green Hills of East Tennessee, we are back on track and making progress toward carrying out site-wide updates as we move toward version 5 of the website. There are several elements of this new version already in place, markedly, topic separators in bright red, tables with bright red header bars and widgets in the new leaf green side columns.
Many of the hundreds of changes are subtle, but if you are a regular visitor and you poke around the site looking closely enough, you will spot them right away. If you are new to the site, what you will find is a very polished place where many things abound, awaiting your discovery just a mouse click away. We now have 176 pages and new ones will be added this month. Be sure to visit them all.
We bagan the month with 29,348 visitors since January 1st, 2005. On October 25th of 2006, we exceeded 31,000 visitors since the counter was reset. The site went online in April of 2004, and we had 9,850 visitors during the first year of operation. However, on the first of January, we reset the hit counter, concidering those first nine months of operation a testing period. We averaged over 1,000 visitors per month during those fledgeling days when our website was small and relatively unknown to the Theatre Pipe Organ internet community.
Today, Walnut Hill is very well known among most of the top people in the Land of the King, with a grand total of over 41,250 visitors since the site went online. The last two ATOS Conventions spurred a sharp rise in visitation, and the flow of traffic to Walnut Hill is now averaging over 1,200 visitors per month. Visitation is gaining momentum every day, with this month being the busiest on record with over 2,000 visitors. We ended the month with the counter resting at over 31,400 hits. Stay tuned as our site grows in the days ahead, for it is you, our loyal patrons, who make all this possible. For that, we thank you!
Enjoy your stay here at Walnut Hill and come back often, for you are always welcome!
God bless and happy playing.
The Bone Doctor
Member ATOS/President WHOC
House Organist and Webmaster
Walnut Hill Productions
Alcoa, Tennessee
"It's all about the King of Instruments!"
EDITORIAL ARTICLES
TOP STORIES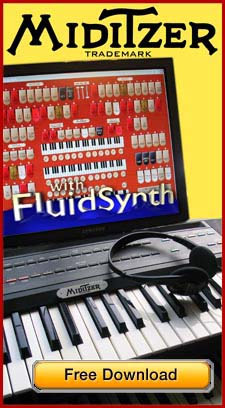 The MidiTzer Style 216 version 0.84 is now released!
Available now for download through www.VirtualOrgan.com,.
Users who have experienced problems with various 0.8x versions and users with pre 0.80 versions should upgrade immediately.
---
Walnut Hill Website, Version 5
Coming Soon to a Computer Near You!
Out with the old, in with the new! Yes, the website is slowly but surely advancing toward version 5 as we change out the gray navigation buttons for stop tongues and add topic banners and separator rulers, along with repairing dead links, page formatting and typographic errors, and tuning graphics so they look better and load faster.
---
Fellow WHOC Officers Get Published
In the ATOS Theatre Organ Journal
Fellow Wall of Fame and WHOC Officers Jim Henry and Russ Ashworth were published in the latest issue of the official American Theatre Organ Society magazine, Theatre Organ Journal.
Jim did a fine article about the Mighty WurliTzer Style 216 and Russ did the same for the Mighty MidiTzer. It is compelling reporting like this from these wonderful men who take the time to so freely share what they know about the King of Instruments that makes the magazine alone worth the cost of ATOS membership.
NEW MUSIC DOWNLOADS

Tom Hoehn at the Mighty 2/5 Wicks Theatre Pipe Organ
Saint Joseph Catholic Church in Ponchatoula, Louisiana.
On the afternoon of April 30, 2006, and in front of an audience of over 200 attendees, Father Justin Kauchak of Saint Joseph Catholic Church in Ponchatoula, Loisiana introduced our very own nationally acclaimed Tampa, Florida organist Tom Hoehn who played the final recital on the former Ideal Theatre organ before it was relocated to the new church building.
Tom made the 2/5 Wicks sound like a giant in the "Littlest WurliTzer" tradition. Who would think a tiny instrument could have so many tonal flavors? Click here to see the updated feature page for pictures and links, and listen to Tom playing this mighty little Theatre Pipe Organ.
---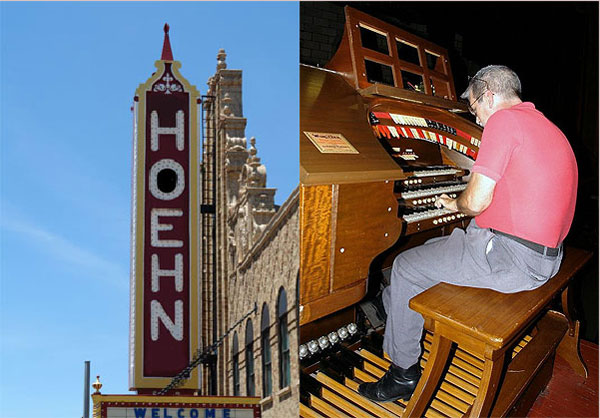 Tom Hoehn at the 3/10 Mighty WurliTzer Theatre Pipe Organ
installed at the Palace Theatre in Marion, Ohio.
Earlier this month, Tom Hoehn ventured to Marion, Ohio to play the 3/10 Mighty WurliTzer Theatre Pipe Organ installed at the beautiful downtown Palace Theatre.
He recorded a great deal of material on this fine instrument which we now present to you for your listening enjoyment. Click here to go to the Featured Organ of the Month for October, 2006. Scroll down until you see the Palace marquee with Tom's last name on it.
SPECIAL REPORT
It was innevitable. Two great virtual theatre organ programs going head to head for the gold: who does it better? In this special report, we will find out. Stay tuned as we sift through our collected findings in the days ahead...
HEADLINE NEWS
Hit Count Since 01/01/2005
The figures below represent the approximate daily hit count for the site since January 1st of 2005. Counter checks begin around ten in the morning and end around ten in the evening. To get the actual hit count since the site went online in April of 2004, add the 9,850 visitors we had during those first nine months of operation. Currently, that total stands at over 41,250 happy campers in the Land of the King!
10/01/2006 - 29,348
10/02/2006 - 29,411
10/03/2006 - 29,493
10/04/2006 - 29,593
10/05/2006 - 29,702
10/06/2006 - 29,750
10/07/2006 - 29,850
10/08/2006 - 29,893
10/09/2006 - 29,967
10/10/2006 - 30,019

10/11/2006 - 30,070
10/12/2006 - 30,173
10/13/2006 - 30,193
10/14/2006 - 30,307
10/15/2006 - 30,374
10/16/2006 - 30,445
10/17/2006 - 30,512
10/18/2006 - 30,548
10/19/2006 - 30,685
10/20/2006 - 30,761
10/31/2006 - 31,405

10/21/2006 - 30,810
10/22/2006 - 30,858
10/23/2006 - 30,924
10/24/2006 - 30,972
10/25/2006 - 31,032
10/26/2006 - 31,109
10/27/2006 - 31,159
10/28/2006 - 31,218
10/29/2006 - 31,285
10/30/2006 - 31,323
---
The Wyler Mighty WurliTzer
Returns Home to the Plaza Theatre
El Paso, Texas!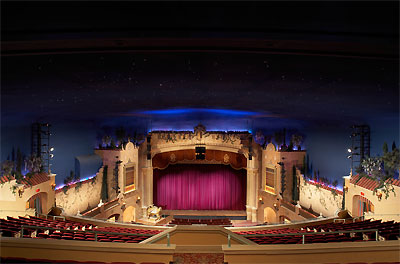 Wide shot of the Kendle Kidd Performance Hall
at the Plaza Theatre in El Paso, Texas.
Kenneth W. Fedorick of Las Cruces, New Mexico had this to say in a private e-mail to the Bone Doctor as he wrote of an historic event in the land of the Theatre Pipe Organ. We quote him in blue text below:
I want to invite anyone interested to attend the Dedication Concert of our newly restored and enlarged Wyler Mighty WurliTzer Theatre Pipe Organ on November 3rd at 7:30PM Central Time. Walt Strony will do the honors of reintroducing our WurliTzer to the City of El Paso, Texas.
The Wyler Mighty WurliTzer Opus 2123 started out as a Balaban III (3 manual/15 rank) organ installed at the Plaza in 1930. It was sold in 1972 and moved to Dallas. In 1998, the organ was returned to El Paso and installed in a shopping mall. In 2004, the organ was removed, refurbished and enlarged to 22 ranks by Pipe Organ Artisans of Arizona.
Today, the reinstallation of this instrument back into the restored Plaza Theatre is now complete. The organ is home again. The voicing was done by Walt Strony, world renowned organist and voicing technician. Now, we are ready to celebrate and invite you all to come and hear the best of the southwest.
Tickets are available through Ticketmaster. Click here to purchase yours. We look forward to seeing all of you under the stars at the Plaza Theatre in El Paso, Texas on November 3rd!
---
The Bone Doctor Turns 50
On October 21st 2006
Born at 8:45 in the morning of October 21st way back in 1956, the Bone Doctor, a native of Townsend, Tennessee, will turn 50 this year. "That is not fifty years old," he says. "It is a half-century young!"
Doc has been bowled over and totally amazed by the Theatre Pipe Organ since the age of eight. Fourty-two years of great music from the King of Instruments Doc has enjoyed. My how time flies when you are having fun!
---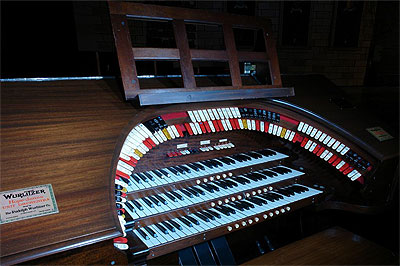 The 3/10 Mighty WurliTzer Theatre Pipe Organ
installed at the Palace Theatre in Marion, Ohio.
Below are to be found links to the folks who sponsor this site and also those who freely promote the King of Instruments, the Mighty Theatre Pipe Organ. To find out how you can get an ad placed here, see the contact information for the Walnut Hill Office of Operations shown above.
Did you ever imagine you could put a Theatre Pipe Organ inside your computer? Well, now you can, with the Mighty MidiTzer by Jim Henry and Crew Glazjev. Best of all, it is absolutely free!

Just click the picture to the left to get started on your way to playing the Style 216 2/10 Mighty WurliTzer Theatre Pipe Organ virtually every day!

Listen to the Mighty MidiTzer!

Below are some cuts from various Featured Artists here at Walnut Hill that will give you an idea of what the Mighty MidiTzer sounds like.
---