By The Light of the Silvery Moon
---
Eugene Hayek jamming at the
Bergen County Senior Center
I was able to get a couple pictures at the Bergen County Senior Center during a jam session where my group plays on Tuesdays.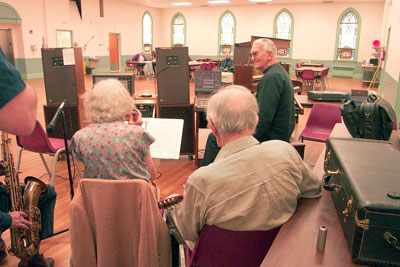 Eugene Hayek jamming at the Bergen County Senior Center.
The audience had already caught the bus home by the time I got the camera out, but you can see the Miditzer I play through our newly aquired Wersi MIDI organ.
This is one nice sound using John Tay's SoundFonts. Going through the new Berrhinger powered mixer we bought, it sounds terrific. Surprisingly, my old Compaq laptop is doing a good job now with the SoundFonts and Miditzer.
---
The Center Street Combo

Eugene, Nancy and Aldo of the Center Street Combo.
On February 7th of 2007, Eugene Hayek sent us some recordings of his new group, the Center Street Combo. He had this to say about the performance. We quote him in blue text below:
The Mighty MidiTzer will be used with my new Center Street Combo group. Nancy, our lead singer is 85 years young and a real star, having recorded with Helen O'Connel. Aldo, my tenor Sax guy (who is 77,) played with Bob Eberly and has sixty years of playing experience. So, it's an honor to be able to back them up in our very active schedule of venues all over northern New Jersey.
---
The Center Street Combo Makes Its Debut
Quoted from a story by Linda Lynwander, 02/7/2007
A newly-formed group of seniors calling itself the Center Street Combo made its debut at a recent luncheon dance at the Northwest Bergen County Senior Center in Midland Park - and from the looks of all the couples and line dancers taking to the floor and others singing along, it met with great success.
Organist and leader of the group, Eugene "Don" Hayek, tall at 6-feet-4 and ramrod straight at age 71, said that he had invented the group when singer Nancy McGeady and tenor sax player AIdo Palmerini learned he was looking to form a local group. McGeady was singing for the Center's tap dance programs and Hayek was working audio for them. He learned about Palmerini through the sax player's son.
Aldo Palmerini on sax got the Center Street Combo going at the Northwest Senior Center in Midland Park. The threesome gave it a go and, after several weeks of Tuesday practices, they were ready to for their first gig. The afternoon show began with a few slower melodies, which showcased McGeady's smooth and mellow vocals.
"Doesn't that voice make you feel like you stepped back in time?" Center director Tricia Arslanian asked as several people at a nearby table nodded.
But then the tempo picked up and soon several people were bouncing to a rousing rendition of Beer Barrel Polka. A cha-cha was announced and then another.
"I love to dance, but I don't really have confidence," Ron Romeo said as he swung his partner around more expertly than he was letting on. "I sure have the interest, though. I do a lot of country dancing."
As the Center staff walked around with cookies for everyone, about a dozen energized line dancers left their tables for the dance floor. They weren't going to let a few bad hips and knees get to them, they said. Someone said he had "two left feet", but that didn't seem to be the case with many who were swinging and swaying to the Center Street Combo.
The Center Street Combo was also enjoying this aftemoon, especially Mister Hayek, a retired police sergeant from Ramsey who has belonged to the New York State Organ Society for 44 years and had brought several of his organist friends along to watch him play. He was beaming.
"Don't put my name down, but I used to be a well-known singer and Don was my recording engineer," one man whispered to this reporter from the sidelines. "I worked the Copa. I was on the same program with Duke Ellington"
Eugene had this to say about the above news clip. We quote him in blue text below:
Hi Richard.
I'm sending you a news clip about our showcase performance at the Center last Wednesday. Several of my old friends called it the best article they ever read concerning public anouncements. It's all God's work, my friend, and I just follow the lead.
Our director, Trisha, has booked us for March 21st and then every other month thereafter. The MidiTzer has become so popular that when they hear those sounds, they stop talking, swoon, and then up on the dance floor they go!
On March 23rd of 2007, Eugene sent in five more tunes that were done by the Center Street Combo. He had this to say about the songs. We quote him in blue text below:
These five tunes were the fanale to a great show at the NW Bergen Senior Activity Center. The loud voice belongs to one named Lorraine Dienno, who spoke into the mike asking for more line-dance tunes due to her not having a partner to ballroom dance with. Oyyye