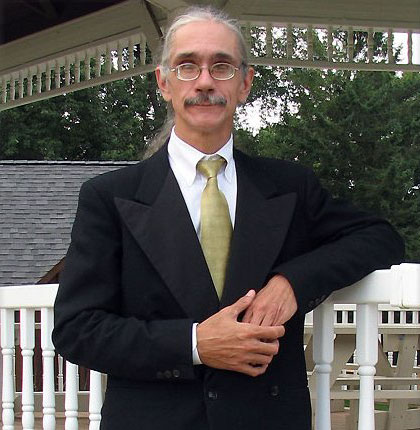 Executive Producer, Walnut Hill Productions
We began the month of October getting settled in at our new location for the Walnut Hill Office of Operations. The Walnut Hill website has now reached over 58,000 visitors. There are 216 pages of content at the site, with new pages being added each month.
Fred Willis, the Founding Father of Walnut Hill, has given custody of his vast collection of electronic equipment to the Walnut Hill Productions team for use in the continued promotion of the King of Instruments. We are continuing the work on getting Fred's house in order for the next tenent. This task is expected to take the rest of this month to complete.

The Main Data Server.
The Walnut Hill Office of Operations moved to a different location on September 17th, 2007, just next door to the house fromerly known as the Fred Willis Residence. The office telephone number remains unchanged, along with all email accounts. This move keeps the office private and out of the main drag, yet close enough to the center of this rapidly growing city to make a difference in the high desert of Southern California.
Fred will possibly be moving to a facility in Ridgecrest near the end of the month, and we will let everyone know how that goes as soon as we find out. Cyrus Roton is to be highly commended for his work on Fred's behalf, as well as all the support he has given me and his continued work in the Land of the King.
Finally, in closing, I would like to thank my dear Lady Suzanne for the many gifts and good times during what she termed, "My Birthday Weekend". She put up with way more than a lady should have to. She is a wonderful woman, indeed. I turned 51 years young on the 21st.
I want to thank Mister Todd, too. Youbetcha! He is a brother to me, the younger brother I never had but always wanted, a man who loves the desert country.
Strange... I don't feel any different, but the land I am living in sure is. Were my loving Father here with me, he would glance around and probably ask, "Well, son, do you feel a whole lot more like you do now than you did?"
Ponder though I have, I never could figure out how to reply to this question. We would laugh together after that.
Yessir. Gotta love my Pappy back in Tennessee, many times my best friend and greatest teacher, my true hero. Aye.
Please keep us in your prayers. I thank you in advance.
Richard Mogridge
Webmaster/Executive Producer
Walnut Hill Productions
Ridgecrest, California
---
---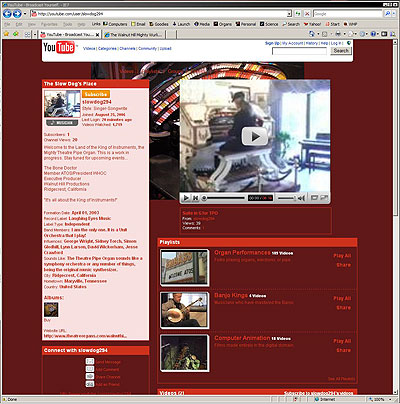 The Bone Doctor, in conjunction with YouTube, now has a site featuring videos recorded live at the Dorothy Steiner Residence on the wonderful Mighty WurliTzer Theatre Pipe Organ installed at her home in Baltic, Ohio. Audio from this concert is available on the Featured Organ of the Month page for this great instrument.
There are currently two videos on the page, the first being an original composition entitled Suite in G for TPO. The second video is a rendition of the classic made famous by Patsy Cline entitled The Tennessee Waltz. To listen to and watch these new clips, click here. Enjoy!
---
Website Hit Count
Since Founding Day 04/02/2004
The figures below represent the approximate daily hit count for the site since going online on April 2nd of 2004. Counter checks begin around ten in the morning and end around ten in the evening, Pacific Daylight Savings Time. Currently, that total stands at over 58,315 happy campers in the Land of the King!
10/01/2007 - 56,971
10/02/2007 - 57,021
10/03/2007 - 57,054
10/04/2007 - 57,091
10/05/2007 - 57,164
10/06/2007 - 57,211
10/07/2007 - 57,257
10/08/2007 - 57,291
10/09/2007 - 57,333
10/10/2007 - 57,374

10/11/2007 - 57,440
10/12/2007 - 57,505
10/13/2007 - 57,563
10/14/2007 - 57,619
10/15/2007 - 57,664
10/16/2007 - 57,692
10/17/2007 - 57,743
10/18/2007 - 57,788
10/19/2007 - 57,813
10/20/2007 - 57,852
10/31/2007 - 58,315

10/21/2007 - 57,899
10/22/2007 - 57,948
10/23/2007 - 57,975
10/24/2007 - 58,031
10/25/2007 - 58,070
10/26/2007 - 58,137
10/27/2007 - 58,178
10/28/2007 - 58,222
10/29/2007 - 58,260
10/30/2007 - 58,266
Fellow Walnut Hill Wall Of Fame member and great friend Dan Rowland called from Akron, Ohio to invite the Bone Doctor over for a two-week stay at his home during the last two weeks of August, 2007. He flew out on the 15th and returned on the 29th.

The playing table of the Mighty MidiTzer Style 260SP Virtual Theatre Organ
installed at the Dan Rowland residence in Akron, Ohio.
During this two week long adventure, he played some wonderful instruments as well as documented the events with high resolution pictures and live digital recordings, both audio and video. There were some snags in data aquisition, though. Audio was not obtained at the Civic Theatre, and video was not obtained at all the events due to technical glitches. Live daily reports were not possible due to network issues. However, many nice recordings and pictures were made as well as some videos, and these are in the works to be processed in the days ahead, so stay tuned for those.

Dick Smith at the console of Black Beauty.
On May 17th of 2007, the illustrious Dick Smith gave a second concert on the 3/19 Mighty Allen Digital Theatre Organ installed at the residence of Mike Phillips in Chesterfield, Virginia.
Mike was kind enough to send us two CD's chock full of nearly two dozon great songs from this gifted artist on a wonderful organ. To listen to this new material, click here. Enjoy!
---

3/7 Mighty Robert Morton Theatre Pipe Organ
Palace Theatre in Lake Placid, New York
is proud to announce that on Halloween, October 31st at 8:00 PM The Phantom of the Opera will pay a visit to the Palace Theatre in Lake Placid, New York.
Jeff Barker will accompany this rare hand-tinted version of the famous 1925 Lon Chaney classic. The Palace was built in 1926 and had its three manual seven rank Robert-Morton Theatre Pipe Organ installed to entertain village residents in a community that would go on to host two winter Olympic games in 1932 and 1980.
Interest in classic films and in the history of the instrument, helped to create the Adirondack Film Society which regularly sponsors silent film screenings as well as the internationally acclaimed Lake Placid Film Forum. Tickets are $10.00 each with the proceeds going to fund TOSI programs.
Regards,
J A C K Moelmann
---
Relocation Fund Drive
Walnut Hill Productions is still in somewhat of a bind from a business perspective. Household and personal expenses are taking a hefty slice out of the money Doc gets, as he is disabled and on a fixed and limited income during a time of uncertainity as to where he will eventually end up residing. Replacing his personal property and the musical equipment lost after the relocation from Tennessee early in 2007, along with aquiring a new residence due to Fred Willis' failing health, will be very expensive.
Most of the company's original equipment was left in Tennessee due to the high cost of shipping. These items must eventually be replaced. Below is a partial listing of the items we need for the studio in order to get back to the recording sessions Doc would like to complete, including albums from the Sub Urban Cowboys and Doc at the Mighty MidiTzer.
Fender Precision Electric Bass Guitar (Ship to CA from TN)
Yamaha FG335 Flat Top Acoustic Guitar (Ship to CA from TN)
Fender Stratocaster Electric Guitar (Ship to CA from TN)
Doc and Tom Hoehn have created a Pay Pal account for easily and securely receiving contributions from all who want to see this relocation take place, which will allow Walnut Hill to make major strides forward for the King of Instruments.
Below is a listing of those who have genorously contributed funds and items to date:
Name

Tom Hoehn
Gareth Howells
Jim Reid
Cyrus Roton
William Spalding
Larry Chamberlin
Kent Allman
Fred Willis
Joseph Loewy
Ronald Shreve
Dan Rowland
Eleanor Winnemore
Earl Hurty
Edward Burnett

Amount

$ 50.00
$ 50.00
$300.00
$500.00
$100.00
$100.00
$100.00
$200.00
$ 50.00
$ 25.00
$ 50.00
$100.00
$ 35.00
$ 50.00

Method

PayPal
PayPal
PayPal
Check
PayPal
Check
PayPal
PayPal
PayPal
PayPal
PayPal
Check
Check
PayPal
Name

Bob Upward
Paul Kealy
Fred Willis
Mister Todd

Item

Zoom H4
Conn 650
A/V Gear
Office

Description

Recorder
Organ
Studio
Residence
These most kind and generous folks have earned memberships in the Walnut Hill Organ Club and will be notified of their membership status when the club goes official. We have decided to push forward with the organization while awaiting an ATOS charter. Club members will receive printed certificates and membership cards, plus access to the WHOC online community via direct email notifications. This is just a small token of appreciation for all who are making the Walnut Hill website possible and freely available for the world to enjoy.
There are other pledges pending. Anyone can contribute as much or as little as they see fit by clicking the "Make a Donation" button above. You can also send checks via standard mail to the following address, should you choose to not use the Pay Pal account. Please make checks payable to Richard Mogridge, with the words "Relocation Fund" in the memo line. The address is:
Richard Mogridge
Walnut Hill Productions
1229 Sims Street
Ridgecrest, California 93555
If you have questions about the relocation fund, you can call the Bone Doctor at the Walnut Hill Office of Operations to learn more.
That telephone number is 1-727-230-2610.
All contributors will get recognized at the site should they choose, or they can remain anonymous, simply by letting the Bone Doctor know their preferences via email.
This is a major move forward for Walnut Hill Productions, one of the fastest growing TPO sites on the internet. Become a part of history by making your donation today. Please help us to continue the work we are doing as we continue to grow, adding new features and more services such as broadcasting audio and video for all to enjoy. You'll be glad you did.
We are thanking you in advance for your generosity and support in this grand endevour.
God bless, and happy playing.
The Bone Doctor
Member ATOS/President WHOC
House Organist and Webmaster
Walnut Hill Productions
"It's all about the King of Instruments!"
Below are to be found links to the fine folks who sponsor this site and also those who freely promote the King of Instruments, the Mighty Theatre Pipe Organ. To find out how you can get an ad placed here, see the contact information for the Walnut Hill Office of Operations shown above.