Website Hit Count
Since Founding Day 04/02/2004

The Main Data Server at Walnut Hill.
The figures below represent the approximate daily hit count for the site since going online on April 2nd of 2004. Counter checks begin around ten in the morning and end around ten in the evening, Pacific Daylight Savings Time. Currently, that total stands at over 59,510 happy campers in the Land of the King!
11/01/2007 - 58,353
11/02/2007 - 58,391
11/03/2007 - 58,426
11/04/2007 - 58,488
11/05/2007 - 58,532
11/06/2007 - 58,567
11/07/2007 - 58,605
11/08/2007 - 58,660
11/09/2007 - 58,702
11/10/2007 - 58,728

11/11/2007 - 58,763
11/12/2007 - 58,802
11/13/2007 - 58,849
11/14/2007 - 58,894
11/15/2007 - 58,943
11/16/2007 - 58,979
11/17/2007 - 59,015
11/18/2007 - 59,059
11/19/2007 - 59,097
11/20/2007 - 59,147

11/21/2007 - 59,164
11/22/2007 - 59,198
11/23/2007 - 59,246
11/24/2007 - 59,303
11/25/2007 - 59,369
11/26/2007 - 59,408
11/27/2007 - 59,468
11/28/2007 - 59,511
11/29/2007 - 59,572
11/30/2007 - 59,629
---
Music Books For TPO Students
The Walnut Hill General Store announces a landmark event for students of the TPO. By a special arrangement between Cyrus Roton and Howard Leonard Publishing, we are bringing two classic volumes back into print, Sounds of Silents and Vintage Theatre Organ Styles.
Long concidered classic teacjing material by the best in the business, we now offer these tomes of essentual musical knowledge in limited quantity at the Theatre Organ Academy on Yahoo! Music Groups.
Coming soon, Sounds of Silents by Lee Erwin is a wonderful collection of scores for some of the finest silent movies ever made. The music is arranged for all organs and includes classics such as Ohantom of the Opera and Wings.
This book, long out of print, was made available by a special arrangement between Cyrus Roton and Howard Leonard Publishing. Printing is done in limited quantites so place your order now. To do so, go to the Theatre Organ Academy on Yahoo! Music Groups. If you are not a member, please join the group. Once your membership is complete, simply post a note to the group informing Cyrus that you want a copy of this essential volume for your library.
The cost per book, which covers publishing fees, postage and printing, has not been established. Cyrus had this to say about the book. We quote him in blue text below:
I have completed scanning the book, and can now make a test print. I paid the specified royalties to the copyright owner, and expect to receive a signed letter giving me permission to make 25 copies. The current number of requests has greatly exceeded that number, so, I will have to request permission to make additional copies (probably, no problem).
Will wonders never cease ?? Lee Erwin made a recording of the music from that book, and I think I have found a copy. Bought it tonight, on ebay. If the LP turns out to actually be the one in question, I will see if I can get permission to reproduce it, and offer a CD along with the book for anyone who wants it.
Will keep you posted. This is getting interesting.
Cy Roton
Here it is, the all-time difinitive classic volume on how to play the King of Instruments. Vintage Theatre Organ Styles by William McmAins, made available by a special arrangement between Cyrus Roton and Howard Leonard Publishing, is now available in limited quantities, so place your order now. To do so, go to the Theatre Organ Academy on Yahoo! Music Groups. If you are not a member, please join the group. Once your membership is complete, simply post a note to the group informing Cyrus that you want a copy of this essential volume for your library.
The book is a compilation of the four original volumes in the series, along with a CD containing all the original lesson clips and performances from the vinyl records that came with the set. Conveniently bound in a durable comb spine volume which lays flat on the music rack, Vintage Theatre Organ Styles by William McmAins will have you playing that glorious "horseshoe sound" right in your own home.
The cost per book/cd set, which covers publishing fees, postage and printing, is only $40.00.
---
New Music From The Mighty Conn 650

The Mighty Conn 650 at Walnut Hill.
On November 20th of 2007, the Bone Doctor took the bench of the Mighty Conn 650 Analogue Electronic Theatre Organ installed at Mister Todd's place in Ridgecrest for a few numbers he has been working on.
The Hoop-A-Joop Song
Playing time = 5:10, file size = 4.78MB, bitrate = 136KB/sec.
Cool Water
Playing time = 5:27, file size = 5.04MB, bitrate = 136KB/sec.
These recordings were made using our trusty Zoom H4 digital audio recorder. The files were opened in SoundForge 6 where noise was removed and levels were optimized, along with adding a touch of reverb with the Waves TrueVerb plugin set to Threatre mode.
Stay tuned as we add more stuff from this wonderful machine in the days ahead. Thanks go out to fellow Walnut Hill Wall of Fame member Paul Kealy who donated the organ to Walnut Hill.
---
The largest gathering of artists on the internet today is deviantART. Here, you will find all kinds of artwork from folks all over the world. The Bone Doctor has created a page on dA which serves as a portal to the Walnut Hill website.
There, you will find some nice TPO wallpaper and many other photo's and renders from his many areas of interest. You will also meet the many wonderful friends he has made in his short tenure there. Enjoy!
---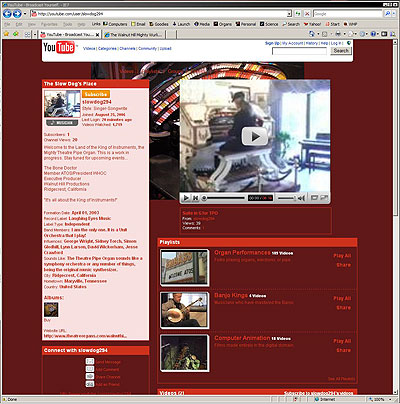 The Bone Doctor, in conjunction with YouTube, now has a site featuring videos recorded live at the Dorothy Steiner Residence on the wonderful Mighty WurliTzer Theatre Pipe Organ installed at her home in Baltic, Ohio. Audio from this concert is available on the Featured Organ of the Month page for this great instrument.
There are currently two videos on the page, the first being an original composition entitled Suite in G for TPO. The second video is a rendition of the classic made famous by Patsy Cline entitled The Tennessee Waltz. To listen to and watch these new clips, click here. Enjoy!
---
Joe Hardy, fellow member of the Theatre Organ SoundFonts group on Yahoo! Music Groups, has informed us of the availability of a new Gigastudiosample set that promises to bring stunning realism to the Mighty MidiTzer and jOrgan VTPO's.
You can now download (totally FREE of charge) the complete set of GigaStudio Orchestra ranks and support files for the MidiTzer 216 and 260SP which Kent Allman of Allman Music in Saint Petersburg, Florida has graciously agreed to host. The same project file is used for both as the Style 216 is a subset of the Style 260SP. We strongly recommend all MidiTzer/GSO users to upgrade to the 260SP - even if you have only two manuals. Two very good reasons for this are:
1 - You get nine sumptuous additional ranks as well as the Vibraphone (instead of Sleigh Bells) and a nice Piano.
2 - By making a $100 donation as Jim Henry requires for the 260SP, you will be helping to support the care and maintenance of real theatre pipe organs.
From time to time, new ranks (if they're better) will be substituted and documentation will be gradually improved. This current VTPO, if played through suitable speakers, will truly amaze and delight you and your listeners.
The link to the page where these downloads are found is:
http://prosites-allmanmusic.homestead.com/UniversalVTPOGig.html
To download the files below, select a file via right-click and choose "Save File As..." from the fly-out menu. We suggest putting all the files in a common folder prior to extracting them. Follow the instructions given on Kent's USGF site for the proper installation of these glorious new sounds. Many thanks go out to Joe Hardy, Jim Henry, and all those other hard working folks who have made this latest crop of virtual ranks possible. Enjoy!
---
Don Hayek's GSO MidiTzer 260SP

Eugene Hayek at the Lafayette Theatre's
Mighty 2/11 WurliTzer Theatre Pipe Organ.
Fellow Walnut Hill Wall of Fame member Eugene "Don" Hayek sent in this wonderful performance on his Mighty MidiTzer Style 260 Special with GSO and the UGSF sample set loaded. The song is entitled Blue Skies.
Blue Skies
Playing time = 3:22, file size = 3.09MB
File type = MP3, Bit rate = 128KB/sec.
Don had this to say about the song. We quote him in blue text below:
Hi Richard,
I'm sending you this because I don't know if it will fit on the forum files area. It's the first decent tune I've recorded using Joe Hardy's UGSF on Miditzer/GS3. Almost any combo of ranks sounds good with these sounds of Joe's. I'm in love.
Eugene Don Hayek
Edonmusic - Ramsey, NJ
Don's videos on YouTube
The original Edonmusic website
Featured Artist at Walnut Hill
---
GigaStudio Sound and Support Files
for the MidiTzer Style 216 and 260SP

Symphonic IV Orchestral VPO from Allman Music
These files also work with jOrgan. Kent Allman posted this at Yahoo! TOSF on November 20th, 2007. We quote him in blue text below:
I just got a notification from my web server provider that we had already gone over 78% of our 70Gb bandwith allotment for the month. To make sure that I don't run out of bandwidth for the downloads, I've subscribed to the next highest tier for 100Gb of bandwidth. Out of curiosity, I got to checking the web stats and I noticed that my jOrgan page has had 10,875 hits since it was created a year and half ago, while the new USF page created 01/07 has already had 4,737 hits and the new UGSF page which was created last month already has 908 hits.
What this seems to indicate is that there appears to be a building interest in VTPO's, especially in the area of the USF and UGSF theatre organ files. All of this makes me very happy to see this kind of interest in virtual theatre organs. In my way of thinking, the more people that become involved with VTPO's means the more people that most likely will want to get involved with the real thing! In the end, if we can save a few more of these beautiful instruments for the next generation to hear and appreciate, it will all have been worthwhile.
---
TOSI Web Site
Gets Major Update!
From: djb
To: theatreorgans-l@theatreorgans.com
Sent: Monday, November 26, 2007 12:28:28 PM
TOSI Web Site
Greetings all,
I would like to invite you all to visit the totally revamped and vastly improved web site of Theatre Organ Society International. There are new features being added regularly and I know you'll enjoy your visit with us. Take a few minutes and have a look!
http://www.theatreorgansocietyinternational.com
Thanks!
Dan Bellomy
Council/Director TOSI
---
Relocation Fund Drive
Walnut Hill Productions is still in somewhat of a bind from a business perspective. Household and personal expenses are taking a hefty slice out of the money Doc gets, as he is disabled and on a limited income. Replacing his personal property and the musical equipment lost after the relocation from Tennessee early in 2007, along with aquiring and maintaining a new residence, will be very expensive.
Most of the company's original equipment was left in Tennessee due to the high cost of shipping. These items must eventually be replaced. Below is a partial listing of the items we need for the studio in order to get back to the recording sessions Doc would like to complete, including albums from the Sub Urban Cowboys and Doc at the Mighty MidiTzer.
Fender Precision Electric Bass Guitar (Ship to CA from TN)
Yamaha FG335 Flat Top Acoustic Guitar (Ship to CA from TN)
Fender Stratocaster Electric Guitar (Ship to CA from TN)
Doc and Tom Hoehn have created a Pay Pal account for easily and securely receiving contributions from all who want to see this relocation take place, which will allow Walnut Hill to make major strides forward for the King of Instruments.
Below is a listing of those who have genorously contributed funds and items to date:
Name

Tom Hoehn
Gareth Howells
Jim Reid
Cyrus Roton
William Spalding
Larry Chamberlin
Kent Allman
Fred Willis
Joseph Loewy
Ronald Shreve
Dan Rowland
Eleanor Winnemore
Earl Hurty
Edward Burnett

Amount

$ 50.00
$ 50.00
$300.00
$500.00
$100.00
$100.00
$100.00
$200.00
$ 50.00
$ 25.00
$ 50.00
$100.00
$ 35.00
$ 50.00

Method

PayPal
PayPal
PayPal
Check
PayPal
Check
PayPal
PayPal
PayPal
PayPal
PayPal
Check
Check
PayPal
Name

Bob Upward
Paul Kealy
Fred Willis
Mister Todd

Item

Zoom H4
Conn 650
A/V Gear
Office

Description

Recorder
Organ
Studio
Residence
These most kind and generous folks have earned memberships in the Walnut Hill Organ Club and will be notified of their membership status when the club goes official. We have decided to push forward with the organization while awaiting an ATOS charter. Club members will receive printed certificates and membership cards, plus access to the WHOC online community via direct email notifications. This is just a small token of appreciation for all who are making the Walnut Hill website possible and freely available for the world to enjoy.
There are other pledges pending. Anyone can contribute as much or as little as they see fit by clicking the "Make a Donation" button above. You can also send checks via standard mail to the following address, should you choose to not use the Pay Pal account. Please make checks payable to Richard Mogridge, with the words "Relocation Fund" in the memo line. The address is:
Richard Mogridge
Walnut Hill Productions
1229 Sims Street
Ridgecrest, California 93555
If you have questions about the relocation fund, you can call the Bone Doctor at the Walnut Hill Office of Operations to learn more.
That telephone number is 1-727-230-2610.
All contributors will get recognized at the site should they choose, or they can remain anonymous, simply by letting the Bone Doctor know their preferences via email.
This is a major move forward for Walnut Hill Productions, one of the fastest growing TPO sites on the internet. Become a part of history by making your donation today. Please help us to continue the work we are doing as we continue to grow, adding new features and more services such as broadcasting audio and video for all to enjoy. You'll be glad you did.
We are thanking you in advance for your generosity and support in this grand endevour.