This was submitted to the Theatre Organ Home Page Mailing List by fellow list member Robert Lahey on July 6th, 2007. We quote him in blue text below:

Date: Fri, 06 Jul 2007 08:10:17 -0700
From: "Robert Lahey" mortonman @ theatreorgans.com
To: theatreorgans-l@theatreorgans.com
Subject: [theatreorgans-l] Brief Carpenter Biog

For those of you who were not able to attend the Trinity concert, here is the brief biography that appeared in the program:

"Dubbed The Maverick Organist . . . a first-rate talent by the New York Times, Cameron Carpenter is the most controversial young voice in organ music. First noticed as a child prodigy for his performance of Bach's entire Well-Tempered Clavier at age 11 and his European debut at 13, he transcribed Mahler's complete Symphony No. 5 for Solo Organ at the age of 16.

His early studies were with John Mitchener at the North Carolina School of the Arts. At New York's Juilliard School, he studied with Gerre Hancock, John Weaver, and Paul Jacobs, receiving Bachelor's and Master's degrees. He has been heard on CNN, ABC, CBS, Canal+, BBC Radio, RadioFrance, Radio Suisse, and NPR.

Tens of thousands of teenagers have heard him live through his high school touring organ outreach. In his use of pop songs and anime soundtracks as themes for improvisations, he cites Annie Lennox, Laura Nyro, Klaus Nomi, and the films of Hayao Miyazaki as influences.

The July 5th concert given by Mister Carpenter at Trinity Church salutes the American Theatre Organ Society, which chose Mister Carpenter as the final recitalist of its 52nd Annual ATOS Convention of 2007. He requested the Marshall & Ogletree organ at Trinity Church Wall Street for his recital. For the occasion, Douglas Marshall installed 125 Theatre Organ Alternate Stops.

In 2006, SeeMusicDVD released his first Trinity Church organ recording entitled Pictures at an Exhibition, in CD and DVD formats. His arrangement of Mussorgsky's Pictures at an Exhibition, his own New York City Sessions, and a documentary are included in the album. Kaleidoplex visuals are by Marshall Yaeger."

The console of the Trinity Organ.
Photo courtisy of the ATOS.
It is very fitting that the 52nd Annual ATOS Convention of 2007 closed with a performance on a virtual instrument that sounded like the real thing. What follows is the Bone Doctor's personal review of the concert:
I watched the show in its entirity with Windows Media Player 10 plugged into the Microsoft Internet Explorer 7 browser and running full screen with high quality audio and video settings.
That organ sounded very pipelike on the individual pipe samples and extremely real on the non-organ orchestral voices as well. The percussions were downright stunning.
I was truly impressed by Mister Carpenter's ability to wring so much sound out of the three-manual instrument. He played as many as six simultanious parts, and there were times when those six parts created subparts in combination with eachother as his hands and feet danced across the stops, studs, bass clavier and manuals.
Not only were his feet agile and able to heel-and-toe at will to make bombastic four-note chords and speedy glisses on the pedals, his thumbs were always working on the manuals below the ones his other fingers were playing. His thumbs allowed six parts to run concurrently. And he made no mistakes I could detect. Freaking amazing, that!
As I stated earlier, I had the online player set for maximum quality in the audio and high quality in the video. I played it back full screen as a streamed file via an ASX playlist in Media Player running as a plug-in in Internet Explorer. I could not locate the actual file called by the ASX document however, so saving the stream to the local hard drive remains elusive.
The sound, although a tad compressed (as if a mild AGC was in the loop,) was not bad concidering the equipment used. The multiple cameras worked well enough to allow close scruteny of his artistry in action, yet they were also able to zoom out or cut to wider angles which included the surroundings where this historic event took place.
The selection of music was first rate and Mister Carpenter used every control at his command on the giant organ console to deliver a jaw-dropping performance of incredible power, yet delicate taste that won him many standing ovations and three encores after the second set.
The second set was filled with some refreshing arrangements of some great TPO music, done with an orchestral twist, and lightly dusted with abundant classical fire. His Juilliard training really shows through in this tour de farce of what a large well-heeled VTPO in capable hands can do!
To sum up, I was totally awestricken by his lofty talent and precise mastery of this very well crafted machine, and my hat is off to all the fine folks who made this concert and the magnificent organ possible for us to enjoy. You worked together flawlessly and made him look as well as sound great on an organ that knows few, if any, limits. Bravo! Five stars...

Doug Marshall aligns the foot pedals
to the base of the console during installation.
One of the Marshall & Ogletree partners, Doug Marshall, has this to tell us about the magnificent organ at Trinity Church. We quote him in blue text below:
Greetings.
I am Doug Marshall, the "Marshall" of Marshall & Ogletree. Many of you have wondered how some of the sounds in the Trinity Organ were prepared for Cameron Carpenter's concert and I'm impressed by the number of people on the list who analyzed so many things correctly. I thought I would write to confirm much of what you've already figured out and perhaps add a few details.
When we learned that Cameron Carpenter would be playing M&O's Opus One for the ATOS Convention, we suggested that we might be able to add "a few" theatrical voices for the event. It was a joy to work with Cameron and "a few" became "quite a few" (over 175 stops) by the time we were done.
How do you fit 175 new stops in a console that's already built, without rebuilding it? Fortunately, we have a special stop in each division called an Alternate Stop. This stop can do anything assigned to it, including compound registrations. In the original specification, each of Trinity's five Alternate Stops had eight choices. These were selected to complete each division in specific musical ways.
But, the Alternate can serve other functions as well, such as unification, duplexing, and compound registrations, all without adding to the console real estate. For Cameron's concert, we expanded the Alternates list from 8 to 35 per alternate, for a total of 175 Alternate Stops, some of which were complete choruses in themselves, like "Strings FF 16+8 XIII". Once Cameron realized (way too quickly, I might add!) that he could have any number of ranks on a stop, the email got very busy and the Alternate Stops got busier! Keeping track of which alternate choice is active was kept manageable because each Alternate Stop has its own display.
The organ didn't have a Pedal Divide but it was pretty easy to create compass-limited alternates to "virtually" make one.
We started out with the Tibia combinations as alternate choices, but we ultimately moved the Swell and Choir classical flutes into the alternates and loaded the Tibias onto the Swell and Choir flute knobs.
Lew Williams has correctly explained the percussions. Cameron asked us for a "Percussion Group" with different sounds on groups of keys (an octave of tympani, a half octave of bass drum, gong, snare, etc.). We made this available on all three manuals. And Lew is right that if a snare plays on six keys, it is a little louder on each successive key - a little more work for us, a lot more fun for Cameron! ;-)
The organ's original specification remains intact, courtesy of multiple bootup options, and I happen to know for a fact that Rob Ridgell, the Associate Organist at Trinity has been known to use the theatrical boot-up during church services... Shh! ;-)
If there are other questions, I'll be glad to answer them if I can. In closing, I want to say a big THANK YOU to the ATOS for the honor of including the M&O Organ at Trinity as part of the Convention and especially to Cameron Carpenter for his genius and active interest in working with us to develop something new for us all to enjoy.
Best to you all,
Doug Marshall
Marshall & Ogletree, LLC
---
Camping In Kern River Valley
My next door neighbor Ernest Todd and I went camping in the Kern River Valley from Sunday through Thursday as the month of June drew to a close. This is what the Walnut Hill Proctions folks do for fun. Stay tuned for pictures from our wonderful trip into the Sierra Nevada Range like the one below of the Black Gulch Bridge...

Black Gulch Bridge across Black Gulch Creek
in the south Kern River Valley of California.
This is the Black Gulch Bridge across Black Gulch Creek in southern part of Kern River Valley in Kern County, California. This region lies in a national park about 67 miles southwest of Ridgecrest. It was under this bridge near the bank of the mountain stream that we pitched camp for a week.
This photograph was taken with the camera mounted on a tripod. I took up a position high above the bridge on the summit of an adjoining knoll near a rocky outcropping overlooking the bridge. I took the shot during the late afternoon of our first day there, but the sun was still high in the sky.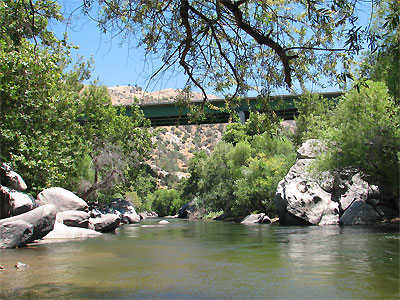 Black Gulch Bridge as seen from the bank of
Black Gulch Creek in Kern River Valley, California.
Here, we are looking up at the Black Gulch Bridge, as seen from our position on the bank of Black Gulch Creek. Every morning when I rose, I could walk down to this little river and take in a spectacular view of this engineering masterpiece framed by the trees, rocks and water below. This is where we went swimming during the heat of the day. Though the air was warm, that water was cold!
---
Ridgecrest Organ Club Bi-Weekly Meetings
Here in the city of Ridgecrest, California folks love organs of all kinds. Many have electronic organs in their homes. There are enough of these in the area that a club has been formed for the local enthusiasts to get together and enjoy great music and fellowship while gathered around the organ to play.
The Ridgecrest Organ Club meets twice a month on every other Tuesday. The meetings are held at a different member's home each time, by whomever chooses to host the meeting for any particular Tuesday. The first Club Meeting in June was held on the 29th at the residence of Elenoir Winnemore in Ridgecrest.

Elenoir Winnemore at the console of her Mighty Roland.
Recordings of the artists performing at the meeting were made and pictures were taken. Stay tuned as we post this new content in the days ahead.
---
RELOCATION FUND DRIVE
Although we have settled in at the new location, Walnut Hill Productions is still in somewhat of a bind from a business perspective. Household and personal expenses are taking a hefty slice out of the money Doc gets, as he is disabled and on a fixed and limited income. Replacing his personal property and the musical equipment lost after the relocation, along with aquiring a new residence, will be very expensive.
Most of the company's original equipment was left in Tennessee due to the high cost of shipping. These items must eventually be replaced. Below is a partial listing of the items we need for the studio in order to get back to the recording sessions Doc would like to complete, including albums from the Sub Urban Cowboys and Doc at the Mighty MidiTzer.
Fender Precision Electric Bass Guitar (Ship to CA from TN)
Yamaha FG335 Flat Top Acoustic Guitar (Ship to CA from TN)
Fender Stratocaster Electric Guitar (Ship to CA from TN)
One or more MIDI controller keyboards (aquire new)
Two low impedence balanced mic cables (aquire new)
Two boom stands for the microphones (aquire new)
Four channel stereo microphone mixer (aquire new)
We do not have current pricing or availability of this equipment, but it is conservatively estimated that we will need to raise over 4,000 dollars to eventually aquire everything on the list above. But there is also the need to find a permanent home for Walnut Hill Productions that can not only be a residence for the Bone Doctor but also a place of business for this fledgeling company from the Green Hills of East Tennessee, now relocated to the wonderful city of Ridgecrest in Sunny Southern California.
Our end goal is to construct a portable four manual console for the Walnut Hill 4/36 Mighty WurliTzer Virtual Theatre Pipe Organ, to be powered by jOrgan running a custom organ disposition and soundfont set supplied by Richard "Kent" Allman of Allman Music in Saint Petersburg, Florida. Though an Empire style WurliTzer console would be ideal, the actual VTPO prototype console would be a four manual stack sitting on a foldable pedestal.
The music rack would be a touch sensative LCD monitor for stop control, manuscript, etc.. The manuals would each have ten settable pistons and ten factory preset pistons. The Pedal would have suitable bass. The pedestal would also have the five shoes, four piano pedals and several toe studs mounted on the crossmember above the bass pedals.
Doc and Tom Hoehn have created a Pay Pal account for easily and securely receiving contributions from all who want to see this relocation take place, which will allow Walnut Hill to make major strides forward for the King of Instruments.
Below is a listing of those who have genorously contributed funds and items to date:
Name

Tom Hoehn
Gareth Howells
Jim Reid
Cyrus Roton
William Spalding
Larry Chamberlin
Kent Allman
Fred Willis
Joseph Loewy
Ronald Shreve
Dan Rowland
Eleanor Winnemore
Earl Hurty
Edward Burnett

Amount

$ 50.00
$ 50.00
$200.00
$500.00
$100.00
$100.00
$100.00
$200.00
$ 50.00
$ 25.00
$ 50.00
$100.00
$ 35.00
$ 50.00

Method

PayPal
PayPal
PayPal
Check
PayPal
Check
PayPal
PayPal
PayPal
PayPal
PayPal
Check
Check
PayPal
| | | |
| --- | --- | --- |
| Name | Item | Description |
These most kind and generous folks have earned memberships in the Walnut Hill Organ Club and will be notified of their membership status when the club goes official. We have decided to push forward with the organization while awaiting an ATOS charter. Club members will receive printed certificates and membership cards, plus access to the WHOC online community via direct email notifications. This is just a small token of appreciation for all who are making the Walnut Hill website possible and freely available for the world to enjoy.
There are other pledges pending. Anyone can contribute as much or as little as they see fit by clicking the "Make a Donation" button above. You can also send checks via standard mail to the following address, should you choose to not use the Pay Pal account. Please make checks payable to Richard Mogridge, with the words "Relocation Fund" in the memo line. The address is:
Richard Mogridge
Walnut Hill Productions
1233 Sims Street
Ridgecrest, California 93555
If you have questions about the relocation fund, you can call the Bone Doctor at the Walnut Hill Office of Operations to learn more.
That telephone number is 1-727-230-2610.
All contributors will get recognized at the site should they choose, or they can remain anonymous, simply by letting the Bone Doctor know their preferences via email.
This is a major move forward for Walnut Hill Productions, one of the fastest growing TPO sites on the internet. Become a part of history by making your donation today. Please help us to continue the work we are doing as we continue to grow, adding new features and more services such as broadcasting audio and video for all to enjoy. You'll be glad you did.
We are thanking you in advance for your generosity and support in this grand endevour.
God bless, and happy playing.
The Bone Doctor
Member ATOS/President WHOC
House Organist and Webmaster
Walnut Hill Productions
"It's all about the King of Instruments!"
---
Hit Count Since 04/02/2004
The figures below represent the approximate daily hit count for the site since going online on April 2nd of 2004. Counter checks begin around ten in the morning and end around ten in the evening. Currently, that total stands at over 54,290 happy campers in the Land of the King!
07/01/2007 - 52,996
07/02/2007 - 53,045
07/03/2007 - 53,092
07/04/2007 - 53,138
07/05/2007 - 53,182
07/06/2007 - 53,221
07/07/2007 - 53,279
07/08/2007 - 53,321
07/09/2007 - 53,375
07/10/2007 - 53,404

07/11/2007 - 53,434
07/12/2007 - 53,475
07/13/2007 - 53,484
07/14/2007 - 53,535
07/15/2007 - 53,581
07/16/2007 - 53,638
07/17/2007 - 53,680
07/18/2007 - 53,698
07/19/2007 - 53,750
07/20/2007 - 53,795
07/31/2007 - 54,292

07/21/2007 - 53,841
07/22/2007 - 53,884
07/23/2007 - 53,893
07/24/2007 - 53,941
07/25/2007 - 53,992
07/26/2007 - 54,045
07/27/2007 - 54,091
07/28/2007 - 54,145
07/29/2007 - 54,206
07/30/2007 - 54,268
Below are to be found links to the folks who sponsor this site and also those who freely promote the King of Instruments, the Mighty Theatre Pipe Organ. To find out how you can get an ad placed here, see the contact information for the Walnut Hill Office of Operations shown above.
---