We begin the month of June with an outreach program wherein we shall be getting to know the instruments near Ridgecrest, California. Our mission began with the first forray into the world of the Mighty TPO in Southern California, the First Annual Poor Man's Pipe Organ Convention of 2007, held at the Granada Theatre in Old Town Kern, Bakersfield. We continue our coverage of this historic event in this month's issue of the Gazette, along with a trip to the country to play a vintage analogue electronic theatre organ made by Gulbransen.
Also in the news, the Founding Father of Walnut Hill Productions, Fred Willis, had an accident in his home on May 4th, the day before the Convention. He fell while walking into the kitchen and the Bone Doctor had to call 911 for assistance. Fred was quickly taken by ambulance to the Ridgecrest Medical Center, a small but high-tech hospital serveing the Kern County area. He was admitted and diagnosed before we left for Bakersfield to attend the Convention.
---
Camping In Kern River Valley
My next door neighbor Ernest Todd and I went camping in the Kern River Valley from Sunday through Thursday as the month of June drew to a close. Stay tuned for pictures from our wonderful trip into the Sierra Nevada Range...
---
Playing TPO From Coast To Coast
I have been very busy lately. I am getting dug in out here in the high desert, and I am discovering that I am a true desert rat. It was 106 degrees in the shade the other day and I was comfortable as I lounged out in the front yard in the gentle refreshing Sierra Nevada breeze, soaking up some rays. I love this place. Stark and alien, it is nonetheless quite beautiful, like nothing I have ever known before. And I am getting one heck of a tan.
Southern California is very well blessed with some lovely scenery and many super TPO's. I am currently scheduling dates with some of them. I have played Jim Spohn's lovely Robert Morton/WurliTzer of 24 ranks in Bakersfield. I am in line to play the 4/36 Mighty WurliTzer at the Plummer Memorial Auditorium on the campus of Fullerton Community College in Pasadena. There are a number of other fine instruments too numurous to mention that are also in my sights.
But the surprise of the year for me so far was when fellow Walnut Hill Wall Of Fame member and great friend Dan Rowland called from Akron, Ohio to invite me over for a two-week stay at his home during the last two weeks of August, 2007. While there, I am scheduled to play the 3/11 Mighty Kilgen at the Palace Theatre in Canton, a lovely 3/17 Mighty WurliTzer at the residence of Dorothy Steiner in Akron, possibly the Civic Theatre 3/19 Mighty WurliTzer, the Mighty custom Walker DTO at the residence of Doug Powers, and the Gray's Armory 3/15 Mighty WurliTzer.
I am also scheduled to take a tour of the Schantz Pipe Organ Company's factory and showroom. I intend to play any organ they will give me time on the bench while there. Plus, I get to play Dan Rowland's wonderful vintage Rodgers Olympic analogue electronic theatre organ and perhaps his freshly rebuilt Style 260 Mighty MidiTzer. Woot!
Walnut Hill is rapidly heading toward 53,000 visitors with the addition of this month's feature and lots of new pictures and free music downloads. We have 193 pages to date and more are soon to be added. Walnut Hill is rapidly growing beyond any of my wildest dreams, and I have all of you, my loyal patrons, to thank for that success. God bless and happy playing.
---
A Trip To Kennedy Meadows
On Tuesday, June 12th, the Bone Doctor and Cyrus Roton ventured out into the Califortnia countryside to the community of Kennedy Meadows. There, they were scheduled to play a magnificent Gulbranson Rialto electronic analogue theatre organ belonging to Charles Fultz, one of Cy's long-time friends in the organ world.

The road leading to Kennedy Meadows.
Kennedy Meadows is a thriving community of beautiful farms located just beyond Pearsonville on California Highway 178, about an hour out of Ridgecrest. It sits at a lofty elevation of over 6,000 feet above sea level. The scenery on the way there was simply stunning, as evidenced by the picture above showing the dirt road leading up the mountain on the way to Charles' house.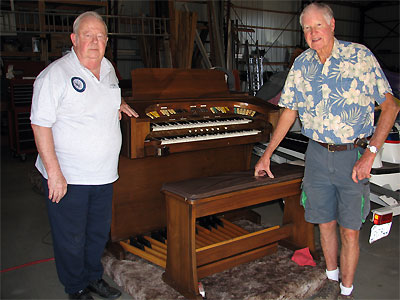 Cyrus Roton and Charles Fultz standing next to the Mighty Gulbransen.
Here, we see Charles Fultz and Cyrus Roton posing for the camera next to this magnificent instrument. Charles is very proud of his vintage organs, including the Hammond B3 with matching tone cabinet sitting behind the Gulbransen.

The Hammond B3 and matching D-series tone cabinet.
Here, we see the lovely Hammond B3. This organ has a percussion kit added but no Leslie speaker. But the D series tone cabinet provides that highly sought after sound that only a wel maintained B3 can make. Charlie has the best of both worlds, the jazz and the theatre sound! However, we did not record the Hammond on this trip. We plan to do that on another run later in the summer.

The playing table of the Mighty Gulbransen Rialto.
We got several recordings of the Mighty Gulbransen Rialto. It was a very impressive beast, indeed. With two outboard Lesie speakers, the sound was grand as it reverberated 'round the huge metal climate controlled equipment barn where it lives.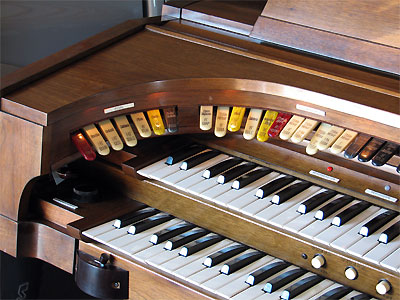 The left bolster of the console.
Here, we see the left bolster of the console, featuring the Pedal and Accompaniment stops. Note the gray stop tongues which are tone modifiers that control the volume of the various divisions.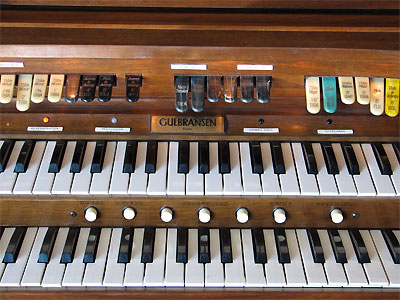 The center bolster of the console.
Here, we see the center bolster of the console containing the gray General stops for the Tremulants and Tone Modifiers that control the Solo Tibia volume.

The right bolster of the console.
Looking to the other end of the horseshoe, we see the right bolster of the console containing the Solo stops. Note the two light blue stop tongues that control the electronic Glock and the Clarinet, which is really a mixture derived from the Tibia at 8' with 2 2/3' and 1 3/5 pitches at a lower volume. Not pictured, but a part of the instrument nonetheless, is a real Glock that is brought on by a toe stud to the right of the swell shoe.
---
Exerpts From The Bone Doctor
Performing At Kennedy Meadows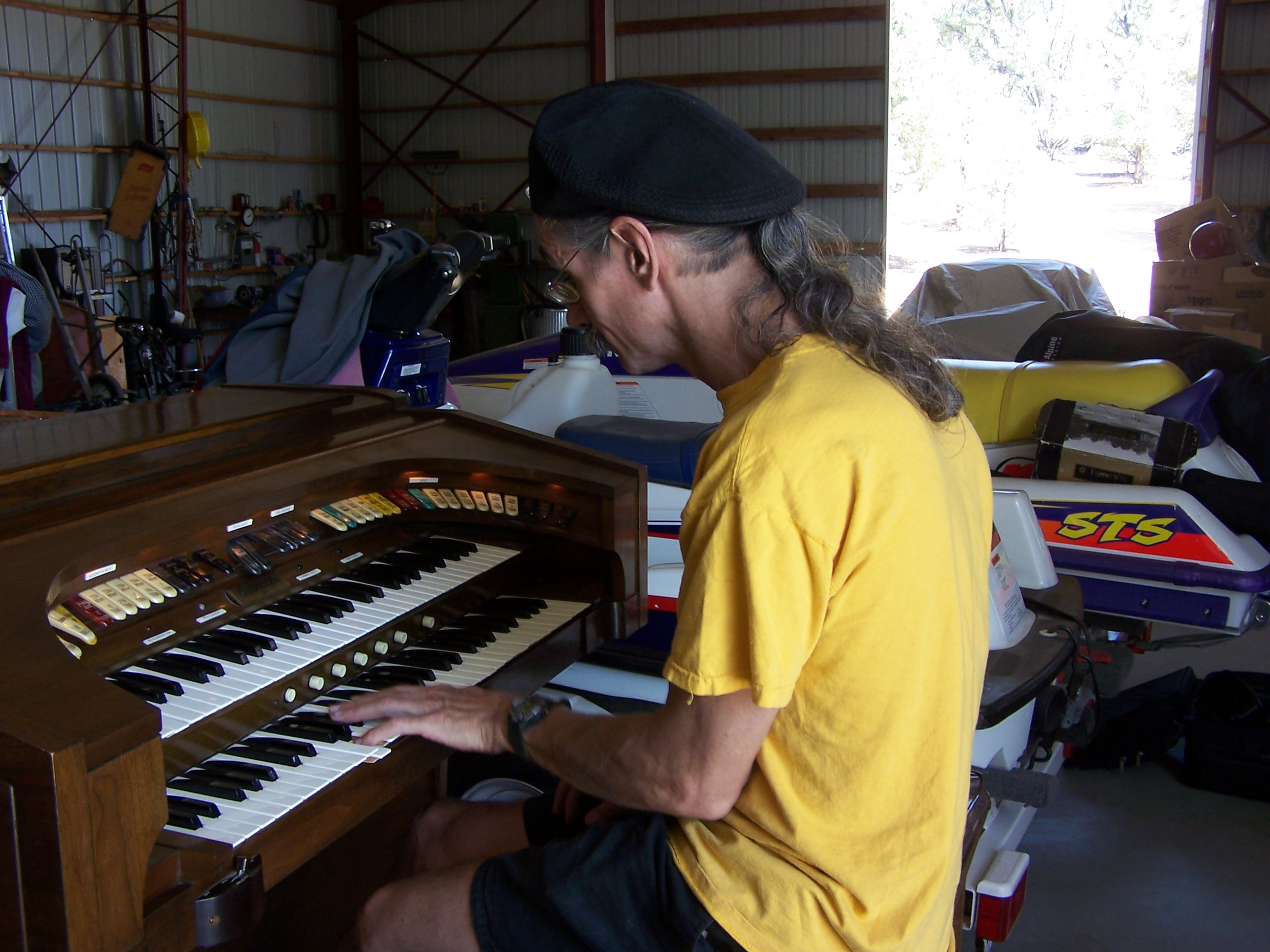 The Bone Doctor at the console of the Moghty Gulbransen Rialto.
The Bone Doctor attempted some tunes he has not done before. Unfamiliar music on an unfamiliar organ leads to some shakey playing, but he felt good enough about the sound of the instrument and his performance to post the results below for your enjoyment.
---
Exerpts From Cyrus Roton
Performing At Kennedy Meadows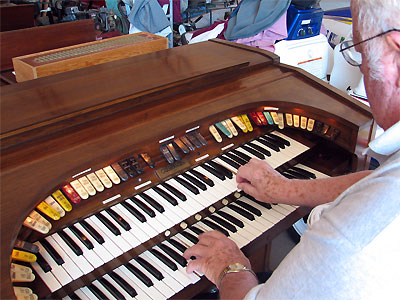 Cyrus Roton at the console of the Moghty Gulbransen Rialto.
Cyrus Roton enjoyed playing the Mighty Gulbransen Rialto analogue electronic theatre organ, and we captured his performance. We present the results below for your enjoyement. In the medley (track 4) are two songs, I Left My Heart In San Fransisco and a short exerpt from In The Mood.
---
First Annual Poor Man's Pipe Organ Convention
May 5th and 6th at the Granada Theatre
Old Town Kern, Bakersfield, California

Granada Theatre in Old Towen Kern, Bakersfield, California.
On Saturday, May 5th at 8AM, the doors of the Granada Theatre in Old Town Kern, Bakersfield opened to greet theatre organ enthusiasts to a first time annual event of historic perportions. Representing Walnut Hill was Cyrus Roton, the Bone Doctor, and Russ Ashworth.

The console of the Granada Theatre's Mighty Pipe Organ.

Jim and Lucy Spohn welcomed over fourty TPO enthusiasts from around the country and beyond to come and share the fine 4/24 Mighty WurliTzer/Morton Theatre Pipe Organ as players and listeners.

We made many new friends, rekindled old friendships, and all in attendence during this historic gathering had an absolute boat load of fun. Lucy Spohn was most warm and gracious as she kept the delicious consessions coming and the happy smiles abounding. Her hamburgers rule, along with her kindness. And Jim backed her up all the way with his enthusiasm and generosity. We shall miss this lovely couple until the next time we stop in at the Granada, hopefully long before next year. Simply put, I love that place and the folks who own and run it. Sheer joy, it is.

The Poor Man's Pipe Organ Convention will run each year, so now is the time to mark your calender for a date with one of the TPO world's best kept secrets and loveliest of musical gems, the Mighty 4/24 WurliTzer/Morton Theatre Pipe Organ Jim Spohn built. Make plans to attend the Second Annual Poor Man's Pipe Organ Convention of 2008 today! We shall be seeing you at the Granada next year. If all goes as planned, this will become an event in Bakersfeield, California not to be missed, no matter how far one must go to get there.

The Walnut Hill Production Team attended and had the cameras and recorders rolling to document the event. Look for this instrument to be featured in August 2007. We made some recordings using the Samson Zoom H4 and took dozens of photos using two digital SLR cameras, our trusty Canon Power Shot S2-IS and the Kodak D70 belonging to Fred Willis. We were unable to get video, however, because the laptop was not available as a file repository. Some of these are posted below. There are more to follow. Stay tuned as we sort through this new material and post more here in the days ahead.

Members of WHOC that played the massive instrument were Cyrus Roton, Russ Ashworth, and the Bone Doctor. All were recorded and photographed. We present some exerpts from the results of our efforts below for all to enjoy.
---
Exerpts From The Bone Doctor's Sunday Performance

The Bone Doctor at the console of the Granada Theatre's
4/24 Mighty Robert Morton/WurliTzer Theatre Pipe Organ.
On May 5th and 6th of 2007, fellow Featured Artist Bone Doctor took the bench of this great instrument to play the following selections for you to enjoy.
---
Exerpts From Dean Cook's Sunday Performance

Dean Cook at the console of the Granada Theatre's
4/24 Mighty Robert Morton/WurliTzer Theatre Pipe Organ.
Two fine musicians, Dean Cook and Greg Rister, blew our socks off as they played the huge instrument in concert and silent movies with masterful skill. Several other enthusiastic folks took a go at the old gal, including her builder, Jim Spohn, who plays quite well indeed. First up is some material from Dean Cook's Sunday show, played with great registration and a firey style.
---
Exerpts From Greg Rister's Saturday Performance

Greg Rister at the console of the Granada Theatre's
4/24 Mighty Robert Morton/WurliTzer Theatre Pipe Organ.
Greg Rister wowed us next with some very smooth renditions of difinative theatre organ music, played in a style that is easy to listen to and well registered on the horseshoe.
Speak Easy
Playing time = 3:01, file size = 2.80MB, bit rate = 128KB/sec.
If I Loved You
Playing time = 3:59, file size = 3.69MB, bit rate = 128KB/sec.
---
Exerpts From Jim Spohn's Performances

Jim Spohn at the console of the Granada Theatre's
4/24 Mighty Robert Morton/WurliTzer Theatre Pipe Organ.
Jim Spohn enetertained us with some silent movies and a few selections he arranged for silent movie accompaniment. We present exerpts from those performances below for your enjoyment. Jim played well and really knew his way around the console, as to be expected since he built the organ!
Amos & Andy Medley
Playing time = 5:52, file size = 5.42MB, bit rate = 128KB/sec.
---
Exertps From Other Performing Artists
There were other artists who took the bench and entertained us. It is not yet known who did the track below, and so the file name will have to be changed when the information becomes available. There was a lot going on that day! We were in a whirlwind just trying to keep up. There will be more selections added as they are processed. Stay tuned for those...
Unforgettable Medley
Playing time = 9:49, files size = 9.05MB, bit rate = 128KB/sec.
---
Founding Father of Walnut Hill
Hospitalized After Fall at Home

Fred Willis, the founding father of Walnut Hill.
On the 4th of May, Walnut Hill Founding Father Fred Willis fell and could not get up. There was no way that Doc could get him to his feet, and after seeing te color of his skin, called 911. The city responded with paramedics and an ambulance. They began immediate medical treatment even before leaving for the hospital. Fred was admitted as soon as they arrived at the Center early that evening.
Surgery was performed in the morning of the following day, on a Saturday. Due to irreversable infection and complications caused by advancing diabetes, the toe was amputated. There are other complications the doctors must evaluate, monitor and treat before Fred can come home, but Todd took Fred the "Easy" button Fred keeps near his residence workstation to remind him to pray with us for the miracle of healing and a safe return home.
Fred was excited to hear the news surrounding the Convention and he was glad to see Todd and Doc safely home. We were relived and glad to see Fred alive and reasonably well, on his way to a speedy recovery in the capable hands of the good people at the Ridgecrest Medical Hospital.
Fred was relocated from Ridgecrest Medical Hospital to the Desert Knoll Convalescent Hospital in Victorville, California. The doctors expected him to stay there for at least four and a half weeks. Depending on a number of factors, his stay could be much longer. We will keep you informed as we learn more about his condition in the days ahead.
On Thursday, May 17th of 2007, Cyrus Roton and the Bone Doctor ventured down to Victorville to see Fred at the Desrt Knoll Convalescent Hospital. He was of good cheer but still woozy from the infection. The nurse changed the bandages on his toe while we were there and the would is healing, but it is mending slowly due to his diabetes. Fred's recovery time is now estimated to be around four to six weeks. His brother Paul will be flying down from Washington State in two weeks to held get Fred's house ready for his return sometime between June and July if all goes well.
On May 29th, Fred was relocated from the Desert Knoll facility to the Dersert Valley Memorial Hospital for a second surgery evaluation. Breathing treatments were started to eliminate the fluid collecting on his lungs. The staph infection has proved hard to eradicate, being a very antibiotic resistant strain of bacteria.
On June 1st, Fred returned to the Desert Knoll facility when it was leaned that a second surgery was not needed. He was in Room 57.
On June 10th, Earnest Todd, Cyrus Roton and the Bone Doctor once again ventured down to Victorville to see Fred. He was looking much better and of good cheer, but there remained a severe rattling cough which had us concerned that something might be amiss.
At 5:30 in the morning of June 14th, Fred was readmitted to the Desert Valley Memorial Hospital because of difficulty breathing. The treatments he was receiving for this were not effective. It was learned that he had a condition known as post-operative phnuemonia. Treatment was begun to clear it up. He is in Room 205 on the second floor.
It is still not known how long he will have to remain at Desert Valley Memorial. We will let everyone know as soon as we find out. Fred is remaining of good cheer throughout all of this ordeal. Thank you for keeping him in your prayers. God is listening. We are expecting a miracle.