Opening Message
Welcome to the Walnut Hill Gazette. The month of January sees the site reaching over 76,370 visitors, the average now being around 500 visits per month. During 2007, we broke an attendance record with 26,442 viewers. Many of these folks are young people from the large art communities in cyberspace, where we have built portal pages such as those at YouTube, Last.FM, deviantART and Renderosity, just to name a few. In 2008, visits dropped off to just over 5,000.
---
In This Issue Of The Gazette...
We have reached the end of our original five year mission to bring the King of Instruments to the masses. When Walnut Hill Productions placed this site on the web back in 2004, it was unimagined at the time how quickly it would grow and how popular it would become in the coming years. Since that time, it has established itself as the central nexus for all things TPO. We feel like this is only the beginning of something great.
The move to Tennessee was a success, but not without peril or consiquence. The loss of some close friends was trying at best. Kimmy's death is still a numbing fact. But during the time I was out west, I grew in spirit, talent, knowledge and happiness. I found my true love, not in the desert, but in the land of the midnight sun on the other side of the world. I saw the High Desert and played some wonderul instruments. I met some very interesting people, many of which I now miss.
Walnut Hill Productions is replacing studio gear lost during the previous moves to Florida and California. We found a Hammond Suzuxi portable organ called the XB-2. This vintage single manual combo instrument has eight presets, drawbars, built-in tremulants and MIDI. Best of all, it is a genuine Hammond. This little organ will serve as a live gigging keyboard on stage and in the studio, used as a MIDI controller for computer based music production. We got the organ with a Unitek custom hard sided flight case made to fit for 350 dollars. It will need a bit of work to get it back to like new shape, which will be done this month by an able-bodied and highly knowledgable technician at Merlin's Music World of Maryville, Tennessee.
---
Closing Message
I want to thank each and every person who visits this site as the Fall Season moves toward the holidays. Without you, our loyal patrons, there would be no Walnut Hill. We are indeed making a difference in the Land of the King, preserving a wonderful and important slice of American and World History. Blessings be to one and all.
Richard Mogridge
Webmaster/Executive Producer
Walnut Hill Productions
Lenoir City, Tennessee
---
Walnut Hill Productions In Tennessee
The Bone Doctor returns to his homeland

North Woods at Mojo Ranch, Lenoir City, Tennessee.
I am staying with a wonderful fellow and very close friend named Al Owrutzky, whom I have known since 1983. We have made a lot of music together and once again we are playing the blues to live audiences in the Greater Knoxville Metro Area. Al and I are also doing studio sessions, one of which is nearing completion. In Tennessee, he is known as the Mojo Man. A native of New York, Al Owrutzky plays blues, bluegrass, and rock music. He is proficient on both guitar and banjo. A very good singer and songwriter, Al is the leader of a local blues band known as MOJO. A distributor of various musical instruments, he also teaches several students on guitar and banjo. I have been gigging with MOJO and entertaining fans I have not visited in over four years.

MOJO performing at 2 Doors Down in Maryville, Tennessee.
Left to right: Randy Rodgers, Daryl Blevens, Al Owrutzky
The last three years have been a real adventure for me and 2008 was a year full of challenges and hardships. California, though a wonderful place to visit full of neat folks indeed, was harsh of climate and culture. I could never feel at home there. The move to Tennessee went reasonably well. The flights were all pleasant and on time, and I was happy to have my feet once again on home soil. I took lots of pictures for all to see later. My freight arrived the same day in three shipments spaced a few hours apart. First came a lone small package containing the shop vac I use to clean computers and so. It arrived two hours after me. A few hours later the bulk of my packages arrived, all with wet bottoms. As I unpacked things, I discovered damage to some of my stuff. My acoustic guitar was broken, its neck detached completely from the body.
In the evening as I was setting up the main data server, which was in bad shape from being dropped, my bicycle arrived. I set up the server and powered it up. Three days later it would run no more. And then I got the bill for shipping my bike. Since it was oversized, they trucked it to an airport, put it on a cargo jet, and then trucked it here. The method of shipment was one I would have never been able to afford. The bill, on two separate tickets, was over 900 dollars. I am currently negotiating for a lower fare and all appears to be in my favour, including being reimbersed for the damage to my other things. The FedEx folks went out of their way to make things right. The final cost of the move to Tennessee will be known in February when I get a replacement bill.
Since the main data server is offline and will be until February, I have had to press my dear girlfriend's machine into service. Modifications needed to get it to the point of administrating websites was long in coming and took some doing but it is now online as a substitute server/production rig running XP Home, Office, Sony Tools, and Adobe. On January 8th, the entire Walnut Hill website was transferred to this computer. At last, we can get back to work. Damage to the server is estimated to be around 300 dollars which includes the cost of a new case, power supply, and DVD burner. A USB flash reader will be installed to replace the old floppy drive and outboard USB flash reader device. The new system will be jet black and much smaller in size and weight.

Studio/living room at Mojo Ranch in Lenoir City, Tennessee.
Al's home in Lenoir City, about 23 miles southeast of Knoxville and situated in a valley surrounded by woods seven miles from town, has an extra bedroom I have been staying in. The sprawling wood cabin is full of a massive collection of beautiful houseplants and a wide assortment of musical instruments. Al has his home business, The Music Place, in the garage where a collection of instruments are stored for sale. Space is tight in my temporary office. During my stay in Tennessee, this website will not be updated as regularly as it has been, but monthly updates will still be done. I hope to play the Tennessee Theatre's 3/17 Mighty WurliTzer during my stay, if I can work past union red tape. Operations at the site should get back to normal by the time I get settled in with Erika in Sweden sometime during the summer of 2009.
---
Second Relocation Fund Drive Now Open
The Second Relocation Fund Drive, which is much more ambitious than the first since the distance is far greater, is now open. The move to Tennessee, where we will be locating the office during the winter and spring months of 2009, is complete. There remains the matter of shipping the production equipment and my belongings overseas to Ĺkersberga, Sweden. Three conputers along with a collection of mics, recorders, cameras and a reference speaker system are worth thousands if replacements are purchased overseas. The systems can be switched to 240VAC@50Hz via toggles on the power supplies, so proper AC cables will be all that are needed to get them plugged into the local power grid.
Wanut Hill must raise a lot of money in order to relocate to Sweden, there is no doubt. It has already cost the company over twenty-five hundred dollars to get to Tennessee, which represents only one third of the eventual 9,000-mile trek from California to Scandinavia. Airfare alone for a round-trip ticket from Knoxville to Stockholm bought in advance will sell for $1,500 to $2,000 if I travel light. I have my passport in hand, which cost $115. The Swedish Permanent Residency Permit will cost around $200. Shipping equipment could be incredibly expensive, perhaps over $3,000, bringing the total cost of the move to a conservatively estimated minumum of $5,000. Returning to the United States to await permanent residency and replacing gear that could not be feasably shipped could push the cost even higher, perhaps doubling the total budget for the move.
I plan to get married during my first 90-day visit. At the current time, it is unkown when the actual date of my journey will be. It could be as late as August before I can go, and the main reasons for the delay are finances and local situations. For me, there is the matter of some much needed catching up in completing several recording projects sitting on the back burner far too long. The Sub Urban Cowboys are in the studio once again, along with a new group, the Power Guppies. For my Lady in the Land of the Vikings, there is the matter of getting her own place and dealing with her three sons as she prepairs them for my arrival.
The folks who run Walnut Hill Productions wish for this website to grow and become the best TPO site on the internet. It has been that way since the site went up over five years ago. To that end, we need your help. Not only are funds needed, but material to add as well in order to keep the site fresh and interesting. Walnut Hill Productions will be relocating to Sweden next year. We intend to do for the organs of Europe what we did for those in the United States. However, we are expanding our scope to include TPO's wherever we find them, all over the world, along with various classical installations of note in the churches of Scandanavia.
---
How To Make A Donation
As before, the original Pay Pal account which Doc and Tom Hoehn created for the first fund drive is still active. Here, you can make a donation to help us relocate Walnut Hill Productions to Sweden. The Second Relocation Fund Drive will run all the way to the time Doc actually arrives at his new home in the Northland and operations return to normal once again.
You can also send checks via standard mail to the following address, should you choose to not use the Pay Pal account. Please make checks payable to Richard Mogridge, with the words "Relocation Fund" in the memo line. The address is:
Richard Mogridge
Walnut Hill Productions
9815 Fair View Road
Lenoir City, Tennessee 37772
If you have questions about the relocation fund, you can call the Bone Doctor at the Walnut Hill Office of Operations to learn more. That telephone number is 1-727-230-2610.
Become a part of history by making your donation today. Please help us to continue the work we are doing as we steadily grow and evolve, adding new features and more services such as broadcasting audio and video for all to enjoy. You'll be glad you did, knowing you will be helping to keep the King of Instruments in the public eye so that it will not be lost to future generations as many today are predicting. Together, we can keep the King alive.
You can also take an active role by volunteering your time and talents as a member of this growing team of hard working Theatre Pipe Organ enthusiasts. We need the help of all those who can send in pictures, documents and recordings as audio and video clips for use in future Featured Organ and Artists articles. Get your name in lights on our site. Call the Walnut Hill Office of Operations to learn more and get started.
---
Funds received during the Second Fund Drive: $1,145.00
All contributors will get recognized at the site should they choose, or they can remain anonymous, simply by letting the Bone Doctor know their preferences via email. Below is a listing of those individuals who have generously contributed funds and items to date:
Name

David Irwin
Charles Walls
David Knudtson
Frank Towle
Jim Reid
Charles Ekstrand
Erika Laur Rosenback
Bryan Patterson
Frederick Muller
William Spalding
Cyrus Roton

Amount

$ 75.00
$100.00
$ 25.00
$ 20.00
$ 50.00
$100.00
$100.00
$100.00
$ 50.00
$ 25.00
$500.00

Method

PayPal
PayPal
PayPal
PayPal
PayPal
PayPal
PayPal
Check
Check
PayPal
Debit
These most kind and generous folks have earned memberships in the Walnut Hill Organ Club and will be notified of their membership status when the club goes official after the move to Sweden. We have decided to push forward with the organization while awaiting an ATOS charter. We will post our progress in the Gazette during the fledgeling phase of this project which must still undergo much planning.
This is yet another major move forward for Walnut Hill Productions, one of the fastest growing and most visited TPO sites on the internet. We are trying to keep the Walnut Hill Productions website a free place for all who love the Mighty King of Instruments. We are also trying to keep it vibrant and ever changing. We do this to preserve a very important slice of history, but we need your help to keep it going. This move will allow Walnut Hill Productions to continue making major strides forward for the King of Instruments, doing the same thing for the organs of Europe that was done for those in the United States. We are thanking you in advance. The best is yet to come!
---
Save The Mighty WurliTzer and Grande Barton
Theatre Pipe Organs At Ceder Rapids, Iowa
CEDAR RAPIDS - Cedar Rapids' two original theatre organs, rare treasures that were damaged by the flood, are being stored at The History Center, 615 First Ave. SE, while their caretakers determine whether they can be restored.
The two organs are among about 40 in the country that remain in the theatres they were built for. They were once used to accompany and provide sound effects for silent movies.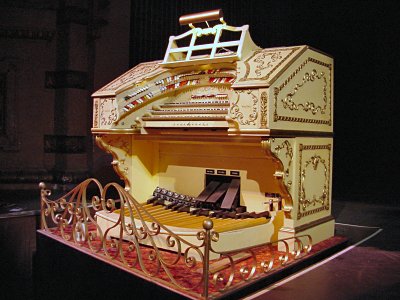 3/12 Mighty WurliTzer Balaban 1A console.
The Paramount Theatre's 3/12 Mighty WurliTzer Balaban 1A was installed when the Paramount opened in 1928. The Mighty WurliTzer organ was removed from the Paramount Theatre on June 18. The Grande Barton organ was removed from the Iowa Theatre on Tuesday. That removal was sponsored by a grant from the National Endowment for the Humanities. What happens next for the Mighty WurliTzer depends on what happens with the Paramount. The city of Cedar Rapids owns the theatre and the organ.

3/14 Grande Barton console.
The Iowa Theatre's 3/14 Grande Barton console was damaged by the floodwaters, but the impact to the organ was not as visible and dramatic as the Paramount's Mighty WurliTzer. The Barton console, hit with 4 feet of floodwater, remained standing on the 4-post Barton lift unlike it's sister at the Paramount which was toppled over and tossed around, subjected to 8.5 feet of water and weakened significantly by the experience.
The 3/14 Grande Barton organ is owned by Cedar Rapids Barton Inc., a non-profit group formed exclusively for the maintenance and preservation of the organ. That organization and the Cedar Rapids Theatre Organ Society have set up an organ restoration fund. Gifts are tax deductible, and donations can be submitted by visiting www.cr-atos.com. You can also send a donation via Pay Pal by clicking the "Donate" button below:
To see a complete photodocumentary of the damage to these instruments and the movie palaces they once lived in, click here. Be warned. The images are very graphic, enough to make any TPO buff cry like a baby.
---
Website Hit Count
Since Founding Day 04/02/2004

Workstation #1 at Walnut Hill.
The figures below represent the approximate daily hit count for the site since going online on April 2nd of 2004. Counter checks begin around ten in the morning and end around ten in the evening, Pacific Daylight Savings Time. Currently, that total stands at over 76,370 happy campers in the Land of the King!
01/01/2009 - 75,291
01/02/2009 - 75,339
01/03/2009 - 75,384
01/04/2009 - 75,438
01/05/2009 - 75,471
01/06/2009 - 75,503
01/07/2009 - 75,549
01/08/2009 - 75,577
01/09/2009 - 75,605
01/10/2009 - 75,639

01/11/2009 - 75,668
01/12/2009 - 75,701
01/13/2009 - 75,732
01/14/2009 - 75,778
01/15/2009 - 75,803
01/16/2009 - 75,824
01/17/2009 - 75,868
01/18/2009 - 75,922
01/19/2009 - 75,943
01/20/2009 - 75,984
01/31/2009 - 76,372

01/21/2009 - 76,008
01/22/2009 - 76,059
01/23/2009 - 76,111
01/24/2009 - 76,149
01/25/2009 - 76,204
01/26/2009 - 76,246
01/27/2009 - 76,289
01/28/2009 - 76,308
01/29/2009 - 76,313
01/30/2009 - 76,339