Dudley Savage Promoted To Glory
Reported by Will Light, Coventry, UK
I have just heard from my friend Peter Savage that his father Dudley Savage passed away at 4 a.m. today at his care home in Cornwall.
Dudley was one of the last surviving organists from the great days when Cinema Organs were to be heard constantly on the wireless.
He will be best remembered of course for his long running radio show "As Prescribed" which must hold some kind of record for a single-handed presented and performed programme I should think.
But he continued long after the "As Prescribed" days to delight organ fans up and down the country as well as in Europe with his varied programmes at concerts, always played with superb musicianship and taste, together with anecdotes from over 60 years in the business.
The funeral will be a private family one, but a memorial service for Dudley and his late wife Doreen will be planned later.
I am expecting to take delivery of the first pressing of the definitive CD collection of Dudley's music today - it is a great shame that Dudley will not see it - although I am happy that he heard the final master copies some weeks ago, listening to them on a trip to Looe, and "playing along" on the surface of his wheelchair blanket, and giving his final approval to the recordings.
My sympathies go to Peter and Anthony and their families - and I know in the world of organ fans he will be sadly missed.
---
Dudley Savage, MBE
has died at the age of 88
in Cornwall, UK
Click here to see the original article from BBC News
He broadcast hospital request show As Prescribed from Plymouth's ABC Royal cinema, playing music on the organ for the programme for more than 30 years.

Mr Savage, who was born in March 1920 near Penzance, died at a nursing home near Liskeard. Musician and author Jonathan Mann said he was "one of the greats" who "never regarded himself as a celebrity".

Dudley Savage was born in the village of Gulval, where his mother, a farmer's daughter, played the organ in the village church. She taught him piano at home before he decided to move to the organ, studying under organists at Truro Cathedral and with musicians in Cornwall and Plymouth. He eventually became the organist at ABC's Royal Cinema in Plymouth in 1938.

After being called up for military service in 1940 and serving with the army in India, he returned to Britain in 1946 and resumed his career at the Royal. As Prescribed began broadcasting weekly in June 1948, and carried on until it was axed by the BBC in 1968. After a petition with 43,000 signatures was sent to the BBC, it was brought back as a monthly show in 1969, continuing for another 10 years and moving eventually to Radio 2.
Dudley Savage began playing as a boy. He also undertook concert tours of the UK and Europe, bringing the music of his chosen instrument to thousands of people around the world.
Author and organist Jonathan Mann, from Guinnislake, said: "The thing that was remarkable was his musicianship. He had an incredibly distinctive style with a particular gift for harmony. "He was a first-rate organist and arranger, as cinema organists have to arrange things in their head. He not only presented the [radio] show for an hour every week, but also played, which I don't anyone else ever did. He was also incredibly modest. He never made anything of his playing and never regarded himself as a celebrity."
The Cinema Organ Society added that his passing was a "great sadness", saying that he had "delighted organ fans up and down the country as well as in Europe". It said: "Dudley was one of the last surviving organists from the great days when cinema organs were to be heard constantly on the wireless."
Dudley Savage also presented editions of Song of Praise when the programme was hosted in Plymouth. His wife, Doreen, died in 2003.
---
SPECIAL REPORT
Rosa Rio, a Short Biography
Reported by Jonathan Gradin
Rosa Rio, famous theater organist for silent films, radio and television, was born on June 3, 1902 in New Orleans. Growing up, she showed musical talent and aspiration, being able to pick out a melody on the piano as early as age five. She started taking formal lessons a few years later. By age 12 she had played in church several times. However, she got a little tired of that, having said since the age of eight that she wanted to "play a big piano, wear pretty clothes, lots of jewelry and make people happy."
One day, the pianist at the local theater offered her a nickel to cover his shift. She accepted, not caring about the money at all. Her father, who disapproved of her show business aspirations, however, cut short this early stint. Rosa's parents sent her to Oberlin Conservatory, where she studied classical music for one year. It was hard for her because she liked to improvise and change the music, something her instructors frowned upon.
Rosa's dream of playing in a theater did not die; instead, it blossomed. While at Oberlin, she saw a film in a large movie palace, accompanied by the Mighty WurliTzer. This inspired her so much that she transferred to Eastman School of Music in Rochester, New York, which had a course in silent film accompaniment. In a personal interview, she said that the course was one of the best things she ever did, as it taught her to prepare for the film. Also, she learned a system for reliable improvisation. This training, she said, helped her not only in silent films, but also in radio, TV and concerts.
One of her teachers was organist John Hammond (not connected with the Hammond Electric Organ). A few years later they were wed. However, their marriage lasted only a few years.
After graduating from Eastman (with financial help from Mr. Fait, a producer for the Eastman Theater), she played at the System Theater in Syracuse, New York. She also held other positions, most notably at the Loew's and Saenger chains of theaters near New York City. The advent of sound films cut her planned career short. She still played for intermissions and times between shows, but she also started looking elsewhere, finding opportunities accompanying and training singers. She helped launch singer Mary Martin into stardom, accompanying her the night she auditioned for Cole Porter. Rosa also gave many "farewell" performances at theaters that were closing up.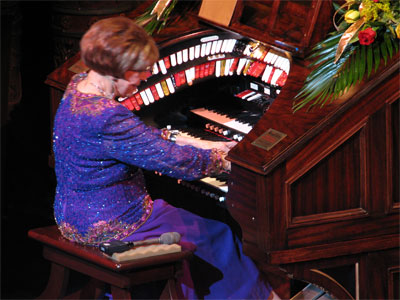 In 1938, an NBC Radio person heard her and hired her on as a temporary replacement while they searched for another male organist. She was the first woman hired into the NBC orchestra. Because she was looked down on already as a woman, she put down a different date of birth, making her appear younger. She stayed at NBC for 22 years, playing for 24 different soap operas as well as Orson Wells' The Shadow and short interludes between newscasts. She became in such high demand that she would play for several shows in a row, literally running from one set to another. As radio started to decline, Rosa played organ background music for TV shows such as As the World Turns and The Today Show, although her style wasn't really suited for the new medium.
When Germany invaded Poland in September 1939, Rosa was called in overtime to play between breaking news reports. She also was invited to play for wounded soldiers at Pelham Hospital every Sunday, brightening their day with songs like Begin the Beguine and Stardust.
In 1948, Rosa married Bill Yeoman, a colleague at NBC. Twelve years later, in 1960, she quit NBC and they moved to Connecticut, where she set up a vocal/piano studio to teach music.
In 1984 she got a chance to do what she had started to do: play for silent films. Video Yesteryears was releasing 365 silent films, so they hired her to score them, playing the accompaniment on a Hammond organ.
About this time, Rosa started performing professionally again. To date she has played to Command Performances for the United Nations General Assembly. She is a Hall of Fame member of the American Theater Organ Society. In 1993, she and her husband/manager, Bill, moved to Sun City Center, Florida. At an open-console meeting in 1996, John Otterson, organist at the Tampa Bay Theater, heard her play. He invited her to play a silent film there and she accepted. Now, she performs there at least once a year. She also gives some lessons in between engagements.
I asked her what kind of playing was her favorite, e.g. silent films, radio, TV, or concerts. She said, "I enjoyed them all. Each of them had their own set of challenges."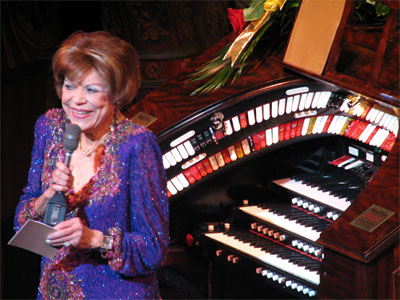 When asked about her age, she would always say, "Age is just a number, and mine's unlisted." However, in the first week of June 2007, she announced that she had just turned 105, a fact backed up by many friends and associates.
Even today, at 106, she is still playing and on November 15th of 2008 she played a special concert featuring a silent film, showing her razor-sharp mind and sense of humor. In a Tampa TV interview, she said that she doesn't think of how old she is. "I feel young and act young," she said. She also told me on the phone that she never lives in the past. Rather, she looks forward to new opportunities and keeps a positive outlook on life.
I asked Rosa for a closing word of advice. She said to listen to your inner voice, and do your best at what motivates you. "I believe that everyone has something inside that they are blessed with," she said. She also said that when new opportunities arise, jump on and make the most of them, which was what she has had to do all her life.
All in all, Rosa is a remarkable woman, to use an understatement. We can all learn something from someone who has seen art forms come and go and who has experienced first-hand most of the 20th Century.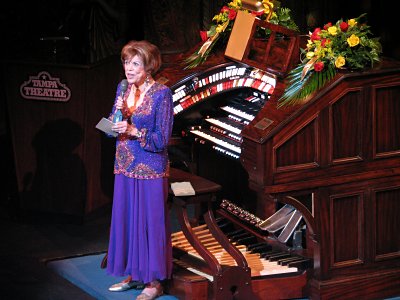 Bibliography
Cruz, Cooper - She Improvs With Age.
Klos, Lloyd E - Story of Rosa Rio. Theater Organ, February 1970.
Jenkins, Colleen - The Queen of Soaps Comes Clean
Rosa Rio - Personal interview. Nov. 19, 2008
Rosa Rio - Saenger Amusements biography
Schroeder, Tara - A Rosa Rio Biography
Schroeder, Tara - Still Coming Up Rosa, Theater Organ, September/October 2001
Yeoman, Bill - Rosa Rio
---
---

November 28th 29th & 30th 2008
Phoenix, Arizona
The list of artists is impressive, including Alan DePuy, Ken Double, Jelani Eddington, Chris Elliott, Chris Gorsuch, Jerry Nagano, Donna Parker, Ron Rhode, and Lew Williams. Lyn Larsen will be presiding as our Special Master of Ceremonies.
We will be featuring some truly magnificent pipe organs. You will hear Arizona's smallest theatre organ installed at the Phoenix College, the 2/12 Mighty WurliTzer, and it's largest installed at Organ Stop Pizza, the 4/74 Mighty WurliTzer. You will also hear a Theatre Pipe Organ installed in its natural habitat, the beautifully restored Orpheum Theatre, home of the 3/30 Mighty WurliTzer.
You will marvel at the largest pipe organ in the state, installed at the Phillips Music Room, the 5/105 Midmer-Losh Symphonic Organ, and a wonderful new pipe organ installed in a church, the Trinity Cathedral 4/71 Schantz.
Click on the banner above to register for this fabulous three day event. Click on any image to learn more about the artists and the instruments that are being featured. This is a once in a lifetime opportunity to see and hear Arizona's finest pipe organs and some of the world's greatest players. Don't miss it!
---
Save The Mighty WurliTzer and Grande Barton
Theatre Pipe Organs At Ceder Rapids, Iowa
CEDAR RAPIDS - Cedar Rapids' two original theatre organs, rare treasures that were damaged by the flood, will be stored at The History Center, 615 First Ave. SE, while their caretakers determine whether they can be restored.
The consoles — or keyboards, controls and seats — of the Paramount Theatre's 3/12 Mighty WurliTzer and the Iowa Theatre's 3/14 Grande Rhinestone Barton pipe organs were both damaged.
The two organs are among about 40 in the country that remain in the theatres they were built for. They were once used to accompany and provide sound effects for silent movies.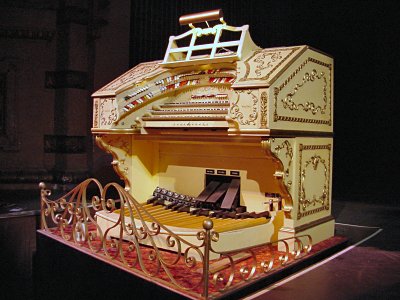 3/12 Mighty WurliTzer Balaban 1A console.
The Paramount Theatre's 3/12 Mighty WurliTzer Balaban 1A was installed when the Paramount opened in 1928. The Mighty WurliTzer organ was removed from the Paramount Theatre on June 18. The Grande Barton organ was removed from the Iowa Theatre on Tuesday. That removal was sponsored by a grant from the National Endowment for the Humanities. What happens next for the Mighty WurliTzer depends on what happens with the Paramount. The city of Cedar Rapids owns the theatre and the organ.

3/14 Grande Barton console.
The Iowa Theatre's 3/14 Grande Barton console was damaged by the floodwaters, but the impact to the organ was not as visible and dramatic as the Paramount's Mighty WurliTzer. The Barton console, hit with 4 feet of floodwater, remained standing on the 4-post Barton lift unlike it's sister at the Paramount which was toppled over and tossed around, subjected to 8.5 feet of water and weakened significantly by the experience.
The 3/14 Grande Barton organ is owned by Cedar Rapids Barton Inc., a non-profit group formed exclusively for the maintenance and preservation of the organ. That organization and the Cedar Rapids Theatre Organ Society have set up an organ restoration fund. Gifts are tax deductible, and donations can be submitted by visiting www.cr-atos.com. You can also send a donation via Pay Pal by clicking the "Donate" button below:
To see a complete photodocumentary of the damage to these instruments and the movie palaces they once lived in, click here. Be warned. The images are very graphic, enough to make any TPO buff cry like a baby.
---
Website Hit Count
Since Founding Day 04/02/2004

The Main Data Server at Walnut Hill.
The figures below represent the approximate daily hit count for the site since going online on April 2nd of 2004. Counter checks begin around ten in the morning and end around ten in the evening, Pacific Daylight Savings Time. Currently, that total stands at over 74,280 happy campers in the Land of the King!
11/01/2008 - 73,169
11/02/2008 - 73,204
11/03/2008 - 73,237
11/04/2008 - 73,276
11/05/2008 - 73,314
11/06/2008 - 73,347
11/07/2008 - 73,399
11/08/2008 - 73,419
11/09/2008 - 73,443
11/10/2008 - 73,479

11/11/2008 - 73,515
11/12/2008 - 73,528
11/13/2008 - 73,563
11/14/2008 - 73,597
11/15/2008 - 73,651
11/16/2008 - 73,708
11/17/2008 - 73,716
11/18/2008 - 73,834
11/19/2008 - 73,879
11/20/2008 - 73,919

11/21/2008 - 73,957
11/22/2008 - 73,982
11/23/2008 - 74,021
11/24/2008 - 74,053
11/25/2008 - 74,091
11/26/2008 - 74,137
11/27/2008 - 74,181
11/28/2008 - 74,227
11/29/2008 - 74,238
11/30/2008 - 74,282
---
---
Walnut Hill Productions To Move In 2009
Walnut Hill is on the move again, this time overseas. The move will take place sometime in the fall of 2009, hopefully at the end of September. Details are not clear yet, but we can tell you that we are relocating to the Stockholm, Sweden area. This will afford us the opportunity to help out with the only known instrument of its kind in the country, the 2/7 Mighty WurliTzer Theatre Pipe Organ now being restored for possible reinstallation in its original home in the Skandia Theatre. Click here to learn more about this wonderful little TPO and the folks who love her and are working hard to bring her back to life.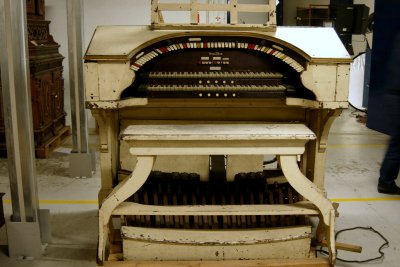 Skandia 2/7 Mighty WurliTzer Console
Another reason for the move is so that I can make a home with a fine lady who lives there, one whom I intend to marry, the lovely and talented Erika Laur of Åkersberga, which is a small community to the north of Stockholm in the Osteriker municipality of Uppland, Sweden.

Erika Laur of Åkersberga, Sweden.
I met the one I affectionately call the Rain Woman on deviantART in the fall of 2006 and we immediately became close friends, but it was not until the spring of 2008 that we began to fall in love, after many electronic letters and video conferences. During the summer, we began to colaborate on several projects in the art community. Today, we are inseperable and want very much to be married. We have lots in common, our love for the great outdoors, music, technology and art.

Ridgecrest as seen from the air.
It cannot be determined exactly how long the Bone Doctor will be at this current location in Ridgecrest, but it is expected that he will remain here until the latter part of 2009 when he will be on the move once again, this time to the Stockholm, Sweden area.

Downtown Stockholm, Sweden.
Walnut Hill is relocating to Sweden in order to help fellow Walnut Hill Organ Club and Wall of Fame member Per Olef Schultz with the restoration of the 2/7 Mighty WurliTzer Theatre Pipe Organ, this instrument being the only one of its kind in the entire country, which originally had a home in the Skandia Theatre in Stockholm. Our goal is to see this great instrument returned to the theatre.
---
Second Relocation Fund Drive Now Open
We are now opening the Second Relocation Fund Drive, which is much more ambitious than the first since the distance is greater and there is the matter of shipping equipment and belongings overseas to Åkersberga, Sweden. The four conputers along with a collection of mics, stands, and a mixing console and reference speaker system are worth thousands. The systems can be switched to 240VAC@50Hz via toggles on the power supplies, so adapters will be all that are needed to get them plugged into the local power grid.
We are going to have to raise a lot of money to pull this off, there is no doubt. Airfare alone for a one-way ticket bought in advance will be between $1,000 to $1,700. Passports and Permits will cost around $200. Shipping equipment could be incredibly expensive, perhaps over $2,000, bringing the total cost of the move to a conservatively estimated minumum of $4,000.
---
How To Make A Donation
As before, the original Pay Pal account which Doc and Tom Hoehn created is still active. Here, you can make your donation to help us relocate Walnut Hill Productions to Sweden. The Second Relocation Fund Drive will run all the way to the time Doc actually arrives and is settled in with Erika. He will be joining her upon his arrival, and she will already have the beginnings of a home started by then. She is to begin this process around January of 2009.
You can also send checks via standard mail to the following address, should you choose to not use the Pay Pal account. Please make checks payable to Richard Mogridge, with the words "Relocation Fund" in the memo line. The address is:
Richard Mogridge
Walnut Hill Productions
1229 Sims Street
Ridgecrest, California 93555
If you have questions about the relocation fund, you can call the Bone Doctor at the Walnut Hill Office of Operations to learn more. That telephone number is 1-727-230-2610.
Become a part of history by making your donation today. Please help us to continue the work we are doing as we steadily grow and evolve, adding new features and more services such as broadcasting audio and video for all to enjoy. You'll be glad you did, knowing you will be helping to keep the King of Instruments in the public eye so that it will not be lost to future generations.
You can also become a part of this growing team of hard working Theatre Pipe Organ enthusiasts. We need the help of all those who can send in pictures, documents and recordings as audio and video clips for use in future featured organ and artist articles. Get your name in lights on our site. Call the Walnut Hill Office of Operations to learn more and get started.
---
Funds received during the Second Fund Drive: $645.00
All contributors will get recognized at the site should they choose, or they can remain anonymous, simply by letting the Bone Doctor know their preferences via email. Below is a listing of those individuals who have generously contributed funds and items to date:
Name

David Irwin
Charles Walls
David Knudtson
Frank Towle
Jim Reid
Charles Ekstrand
Erika Laur Rosenback
Bryan Patterson
Frederick Muller
William Spalding

Amount

$ 75.00
$100.00
$ 25.00
$ 20.00
$ 50.00
$100.00
$100.00
$100.00
$ 50.00
$ 25.00

Method

PayPal
PayPal
PayPal
PayPal
PayPal
PayPal
PayPal
Check
Check
PayPal
These most kind and generous folks have earned memberships in the Walnut Hill Organ Club and will be notified of their membership status when the club goes official after the move to Sweden. We have decided to push forward with the organization while awaiting an ATOS charter. We will post our progress in the Gazette during the fledgeling phase of this project which must still undergo much planning.
This is yet another major move forward for Walnut Hill Productions, one of the fastest growing and most visited TPO sites on the internet. We are trying to keep the Walnut Hill Productions website a free place for all who love the Mighty King of Instruments. We are also trying to keep it vibrant and ever changing. We do this to preserve a very important slice of history, but we need your help to keep it going. This move will allow Walnut Hill Productions to continue making major strides forward for the King of Instruments, doing the same thing for the organs of Europe that was done for those in the United States. We are thanking you in advance. The best is yet to come!