Dan Bellomy at the 4/26 Mighty WurliTzer
Brooklyn Center of Long Island University
Dan Bellomy could make a TPO giddy up and go. His style was so unique you never forgot it, and so refreshingly new you could not get enough. He could play jazz on the King that made you dance in your seat. He knew so many chords I was amazed at how he figured out where to put them all. You simply have to hear this man playing for yourself.
On August 29th of 2008, Dan left this world to play the Mighty Theatre Organ in the sky. We who are left behind will miss him much. The TPO community is now less one more highly talented player and enthusiast, who will be remembered as one of the greats.
Nobody played like Dan played. If you have not yet heard him, you still can. His recordings are available. You owe it to yourself to listen to the pure genius he possessed while on the bench. Below is a link to one of Dan's recordings. Click the picture to learn more about it and purchase your copy.
On this recording, Dan Bellomy played the 4/26 Mighty WurliTzer Theatre Pipe Organ installed at the old Paramount Theatre, now known as the Brooklyn Center of Long Island University. The performance was a perfect match of a superb instrument and an incredible musician.
When the Brooklyn Paramount Theatre opened in 1928, it was the world's first theater built expressly for talking pictures. Through the years, it also offered great vaudeville performers, and later, major stars like Bing Crosby and Ethel Merman. In the fifties, the Paramount created a sensation with Alan Freed's famous rock 'n' roll shows with Chuck Berry, Fats Domino and others.
What many people don't recall is that, additionally, the Paramount was a jazz cathedral. Duke Ellington, Charlie Parker, Ella Fitzgerald and Miles Davis are among the legends who performed on its stage. The Paramount brought jazz to Brooklyn.
Considered a "proletarian palace", the rococo-designed theater had 4,188 seats covered in burgundy velvet. Its sky-blue ceiling had painted clouds, and its opulence included extensive Renaissance-imitated statuaries and sculptures. A 60-foot stage curtain was decorated with satin-embroidered pheasants. There were huge chandeliers and fountains with goldfish.
The original Mighty WurliTzer Theater Pipe Organ, second in size only to the organ at Radio City Music Hall, still plays, with its 2,000 pipes and 257 stops that can imitate everything from a brass band to a honky-tonk piano.
In 1950, Long Island University bought the storied theater and eventually it became part of the University's show in 1963, when the theater closed. The lush orchestra seats made way for a gymnasium, where cherub statues now watch Blackbird NCAA Division I basketball and volleyball games. The University also saved the magnificent lobby (now the Brooklyn Campus cafeteria) and the Mighty WurliTzer from the wrecker's ball. The organ is played at basketball games (by Yankee organist Eddie Layton) and organ concerts featuring top organists.
---
Below are some of Dan Bellomy's YouTube videos, provided by Ron Reseigh. Embedding was disabled on these tracks and the links will take you directly to the web page where they are posted. So, when you are done listening to one, hit your backspace key to see the others. Enjoy!
---
Colonol Jack Moelmann brought us the news of Dan's passing on the Theatreorgan-L Mailing List on August 29th. It came as a great shock to the folks at Walnut Hill, because I was a friend of this legend of the King of Instruments, having talked with him at length and seeing him play at the ATOS conventions in Pasadena, California and Tampa, Florida. We quote Jack in blue text below:
Dear All,
It is with deep regret that I advise that Dan Bellomy passed away earlier today, Friday, Aug 29, after a long battle with cancer. Dan was a unique individual with a unique style of playing both the pipe organ and electronic instruments. His last public performance was at the Trenton (New Jersey) War Memorial Auditorium during the 2007 ATOS Convention in New York and it certainly was a memorable concert. He was originally scheduled to appear at the recent Radio City Music Hall program but couldn't due to health reasons. He and his musical talents will be greatly missed.
No other details are available and no Services are planned at the present time.
RIP Dan.
Respectively,
---
John Lauter, a close friend of Dan's, had this to say upon finding out the sad news. We quote him in blue text below:
Jack,
Wow. What a sad day. I have been good friends with Dan since sometime in the early 80s. Dan was outspoken about what he believed in, could be irascible when provoked, but my gosh, what a talented musician, on the Hammond and on pipes. Dan was one of the few respected by George Wright for his theatre organ paying, mainly because he did his own thing in his own style and didn't copy George from decades earlier.
I'll miss our phone conversations. We were both close friends of John Seng (the last two Johnny didn't alienate, three counting Tom Yanitell) and we talked for hours the day we discovered that Johnny had died. he was a friend and a great booster for my playing. Dan treated the theatre organ like a modern orchestra playing contemporary arrangements of the tune of the moment.
I loved his harmonic sense, he knew the value of polychords and when they are best used, and the boy could jam. He didn't need to write his improvisations out in Sebelius to jam, he could just jam on anything, at any time.
Godspeed, Dan
---
Ian McLean, another close friend of Dan's, had this to say. We quote him in blue text below:
This is indeed a sad day for theatre organ performance. I can remember when I first heard Dan's Potpourri CD - it was a revelation of just what contemporary musical performance could be on a theatre organ, especially on that snappy Trousdale WurliTzer. I was so enthusiastic that at a Christmas in July party, I took over the host's stereo to play this CD for David Johnston. David was similarly blown away.
As a member of the TOSA Vic committee, David then went on to ensure that Dan became the next TOSA National Convention artist. As a consequence of Dan's participation in that convention, he was subsequently invited back for a number of concert tours in Australia. I always considered that Dan's talent wasn't appreciated as it should have been by many in the TPO scene in the U.S.
I can remember being at the Organ Grinder in Portland and Dan was playing the most extraordinary improvisational, contemporary treatment of music of the day and yesterday. I mentioned this to, at that time, one of the most influential TPO impresarios of the time, and he completely dismissed Dan's efforts by telling me "ahhh..but you really need to hear Jonas Nordwall". I was astounded.
Maybe this lack of appreciation accounted for Dan's sometimes curmudgeonly persona of his last years? He and Jonas, while different in style, were peers. In Dan's loss we have also lost one of the very few musicians who could improvise, who could be truly spontaneous at the TPO, and who was passionate about his music. In these days of so many sometimes sterile, parroted performances, personally, this is a huge loss.
---
Paul Fitzgerald, another close friend of Dan's, had this to say. We quote him in blue text below:
Hey All,
A very sad day but a blessed relief at the same time. Cancer is a terrible disease.
Dan played Adelaide first in 1991 then 2003 and came back to make a CD on the Capri in 2004, but it was never released. There are only 3 words can describe his concerts properly in my mind, "Fab U Lous"! His keyboard mastery combined with and outstanding and amazing knowledge of chords and harmony made his concerts truly a memorable experience. I heard him three times during his 2003 tour, here in Adelaide then Sydney and Melbourne, and I was wowed every time.
Dan and I clicked from the first meeting and have kept in contact ever since, in latter years by e-mail. Sometimes we just sent each other jokes etc but often it was a short note just to say "Hi, how are you?".
It is my turn to play at the Capri tonight (Saturday Aussie time) and will be having dinner there with others who knew Dan. I am taking a bottle of "Turkey Flat Cabinet/Sauvignon" from the Barossa Valley here in South Australia which was Dan's favourite Aussie red to be drunk in his honour.
When Dan was here in 2004 for the recording, Robert Wetherall and I took him to the Barossa for a tasting day. Coming home, Dan had us laughing so much I had to stop driving from tears of laughter. His "I Say-Yud" jokes were hilarious, EXTREMELY politically incorrect and in the worst possible taste, but hilarious. Robert and I talk about that day often.
Vale Dan.
Rest in peace, Mate.
I Say-Yud.........
---
Jim Riggs, a close friend of Dan's and living legend of the TPO, had this to say. We quote him in blue text below:
Ah, Dan.
He smoked, he drank, he swore (!), he was deliciously politically incorrect, he could have been a charter subscriber to Town Grouch magazine and he didn't care if he pissed people off. He was indeed his own man and his fans loved him for it.
Most of all (and fortunately for all of us), he was a REAL musician whose vision for his chosen instrument was unique. His music was like no other's. As filtered by his incredibly deep musical sense, melody, harmony and rhythm became one. His arrangements were completely personal---always elegantly constructed with that unmistakable Dan Bellomy flair. And when he played, the organs at which he sat seemed to proudly declare, "THIS is what I sound like today! Buckle up!".
Appropriately, he approached the instrument itself holistically, not just as a collection of parts. Under his ministrations, the Unit Orchestra fulfilled its promise. Then there was his technical prowess. Yikes! He seemed to play the organ effortlessly---like a natural extension of his brain---as if his fingers transcended mere physicality and he was simply willing the music.
All of this came together within a consummate musician that continually thrilled us, challenged us and made us think. We can ask no more of an artist; we can only be grateful.
Our little insular world of the theatre organ has lost a unique voice at a time when uniqueness is becoming alarmingly rare. Let's hope that young musicians will listen to his work and be inspired to think out of the box and into their own hearts.
Farewell Dan, you wonderful *#%&@?$*! I'll miss you more than I can say!
Your fan forever,
---
Cletus Goens, a close friend of Dan's, had this to say. We quote him in blue text below:
Dear List,
Dan was a hero from my youth, and later a personal friend. There are few who could transition from Hammond to TO and back with relative ease, and Dan was one of the gifted. His stellar Indianapolis convention concert was one that has been talked about much since, and Dan was kind enough at one point to give me some pointers on the Hammond.
Dan also played a concert at the Fort Wayne Embassy Theatre and really put the Grande Page through it's paces with his seemingly effortless glissandi and very thoughtful registration. He will be missed.
Sympathetically,
Cletus Goens
Fort Wayne, Indiana
---
This was posted in the Boston Globe on August 31st, 2009.
Age 57, of Winchester, August 29th.
Beloved husband of Christina R. (Hinchliffe) Bellomy.
Loving son of Melba (Steeleman) Bellomy of Houston, TX, and the late Joe B. Bellomy.
Dear stepfather of Kathleen "Kat" MacArthur of Lowell and Timothy MacArthur and his wife Colleen of Waltham.
Funeral arrangements are private, and there are no calling hours.
Donations may be made in Dan's memory to Parmenter Wayside Hospice, 266 Cochituate Road, Wayland, MA 01778.
Online guest book at www.lynch-cantillon.com
Lynch-Cantillon Funeral Home 1-781-933-0400
---

Marquee at Madison Square Garden in New York City
Jack Moelmann gets to live his dream! In front of an audience of over 600 enthusiastic patrons on August 9th of 2008, Colonol Jack Moelmann, a retired Air Force officer and founding father of The Theatre Organ Society International, got to take the bench of the world's largest WurliTzer Theatre Pipe Organ, the massive four-manual fifty-two rank beast installed at the RRadio City Music Hall in New York City. The pictures in this story are courtisy of Mister Moelmann. To see more from his vast collection, click here.

Colonol Jack Moelmann at the console of
the 4/58 Mighty WurliTzer, Radio City Music Hall
Above, we see the Colonol seated at one of the twin consoles of this magnificent instrument. Yes, folks, he had the time of his life, fullfilling a boyhood dream. Walnut Hill field reporter and WHOC Vice President Tom Hoehn also attended the event.

Lew Williams at the console of
the 4/58 Mighty WurliTzer, Radio City Music Hall
Jack spent a lot of money to rent the building and book some fine organists to come and join in the fun. Former ATOS President Father Gus Franklin was there, along with the legendary Lew Williams, seen at the massive console in the photo above.
Also filling the bill of superlative TPO talent were none other than mister TPO registration guru himself, Walt Strony, along with Russel Holmes. The late Dan Bellomy was scheduled to play as well, but could not due to health issues. Never before had so much world class talent been assembled to play during a single show.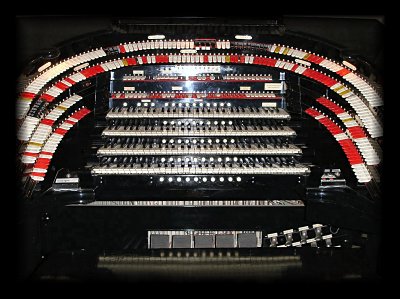 One of the two consoles of the 4/58 Mighty WurliTzer
installed at Radio City Music Hall in New York City
Above, we see the stop sweep and playing table of one of the twin consoles of this gigantic Theatre Pipe Organ. The consoles are totally independant. Each has full control of the instrument. Thus, it is actually possible for two organists to play at the same time.
---
RCMH Show To Be Broadcast On CBS And NBC!

Radio City Music Hall
New York, New York
This was posted by Jack Moelmann on the Theatre Organ Home Page Mailing List on August 12th to notify the TPO community of impending news coverage on two major national broadcasting networks, CBS and NBC.

Colonol Jack Moelmann at Radio City Music Hall
4/58 Mighty WurliTzer Theatre Pipe Organ
Hi All,
The Radio City Music Hall program will be featured on a news special during the CBS Evening News this Friday, Aug 15 at 5:30 (at least that time around here). CBS followed me back from New York on the plane and were here at the house for some 3 hours. It should be some broadcast. They were allowed to videotape a brief part of the program.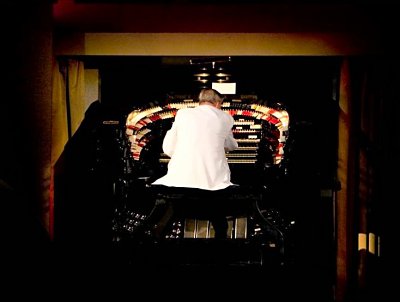 Colonol Jack Moelmann at Radio City Music Hall
4/58 Mighty WurliTzer Theatre Pipe Organ
For those of you in local St. Louis territory, NBC Channel 5 will air a news item on the Radio City Music Hall at 10:00 tonight with Mike Bush or after the olympic activity. I am negotiating with the Music Hall to allow me to at least post a couple of segments of the program on YouTube. All of the other TV outlets have said to just go for it, but the Radio City Music Hall has a lot of rules, several of which make no sense, this being one of them. Anyway, look for the news items and enjoy.
Best Regards,
---
Below are some selections posted on YouTube from the August 9th concert at Radio City Music Hall on the 4/58 Mighty WurliTzer Theatre Pipe Organ. Enjoy!

Introduction by Father Gus Franklin

Jack Moelmann plays Radio City Music Hall 4/58 Mighty WurliTzer on YouTube

Walt Strony plays Radio City Music Hall 4/58 Mighty WurliTzer on YouTube
---
More About The Colonol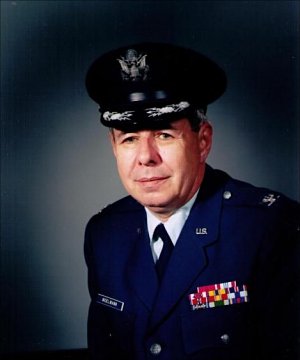 Colonol Jack Moelmann, 1991
Colonal Jack Moelmann spent many years in the service of the United States Air Force. While on duty, he won awards from the President for his courage and valour. Below, we see a document proclaiming the appreciation for his service, issued by President Bush, Commander in Chief.
On March 25th of 1991, the Colonol was given the pestigious Legion of Merit Award, also issued by the President, proclaiming his record of exceptionally meritorious conduct and outstanding performances of services in the line of duty to the United States Military, seen in the image below.
When Jack put on his show at the Radio City Music Hall, a placard was placed at the entrance to the huge building proclaiming what was in store for those who would attend the historic gathering. We see that placard below:

Show Placard at
Radio City Music Hall
After the show, the Colonol was awarded the status of Hall of Fame in the Theatre Organ Society International and was given this plaque to commemorate the event, being the first such award issued by the organization he helped to found. We see this plaque below:
A special tee shirt was made to honor Jack, allowing folks in attendance to take home a memory of this once in a life time spectacle. There were only a limited number of these shirts made, and they sold out al;most as soon as it was known that they were available. We see this beutiful item of apparel below:

Concert Tee Shirt
---
The Theatre Organ That Jack Built

Colonal Melmann's Custom Theatre Organ
The Colonol has put together a massive beast of his own, right in the basement of his house! The instruments started life as a Custom Rodgers 340 Analogue Theatre Organ but soon grew to include all sorts of add-ons and toys.

Trademark Singing Duckies
One of the trademarks of Jack's organ is this row of twelve ducks which can dance and quack in tune as he plays. There are a number of other things, including colliope pipes and all sorts of tuned and untuned percussions including, of all things, tuned toilet flushes. Yes, Jack is a funny man.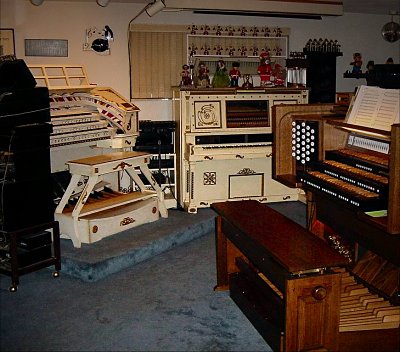 A basement full of music
As you can see in the shot above, Jack's basement is full of musical delights, including the Custom Rodgers Theatre Organ on the left, an upright player piano in the center, and a Johannus Digital Church Organ on the right.
---
Mighty WurliTzer and Grande Barton organs
to be stored at The History Center
By Adam Belz for The Gazette
CEDAR RAPIDS - Cedar Rapids' two original theatre organs, rare treasures that were damaged by the flood, will be stored at The History Center, 615 First Ave. SE, while their caretakers determine whether they can be restored.
The consoles — or keyboards, controls and seats — of the Paramount Theatre's 3/12 Mighty WurliTzer and the Iowa Theatre's 3/14 Grande Rhinestone Barton pipe organs were both damaged.
"We don't currently know how much of the original consoles can be preserved," Neal Marple, secretary of the Cedar Rapids Area Theatre Organ Society, said in an e-mail.
The two organs are among about 40 in the country that remain in the theatres they were built for. They were once used to accompany and provide sound effects for silent movies.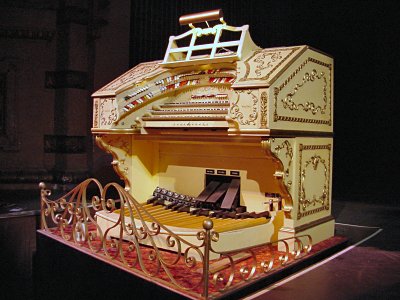 3/12 Mighty WurliTzer Balaban 1A console.
The Paramount Theatre's 3/12 Mighty WurliTzer Balaban 1A was installed when the Paramount opened in 1928.
Marple said neither instrument has a price tag because their value lies in their location and their originality to the theatres.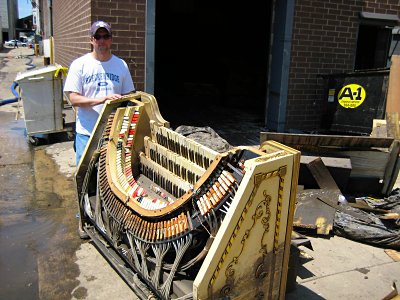 Flood damaged Mighty WurliTzer console.
The Mighty WurliTzer organ was removed from the Paramount Theatre on June 18. The Grande Barton organ was removed from the Iowa Theatre on Tuesday. That removal was sponsored by a grant from the National Endowment for the Humanities. What happens next for the Mighty WurliTzer depends on what happens with the Paramount. The city of Cedar Rapids owns the theatre and the organ.

3/14 Grande Barton console.
The Grande Barton console was damaged by the floodwaters, but the impact to the organ was not as visible and dramatic as the Paramount's Mighty WurliTzer. The Barton console, hit with 4 feet of floodwater, remained standing on the 4-post Barton lift unlike it's sister at the Paramount which was toppled over and tossed around, subjected to 8.5 feet of water and weakened significantly by the experience.

Flood Damaged Grande Barton console.
On August 2, 2008, the strangest thing since the Great Flood of 2008 happened in Cedar Rapids, IA. CRATOS members, assisted by the Rockwell Retiree Volunteers, and The History Center, moved the Wurlitzer and Barton consoles into the new organ restoration room. For the first time in the history of Cedar Rapids, two completely unique theatre organ consoles sat face to face, sharing in the same fate.
The Paramount Theatre's Balaban 1A Wurlitzer console, severely damaged by the June 2008 flooding, has been in temporary storage since June 18th, 2008. Getting the remaining console pieces into a climate controlled environment was key in preserving the remaining portions for future restoration work.
The Iowa Theatre's Rhinestone Barton was moved to a warehouse section of The History Center several weeks ago, awaiting the completion of preparations on the organ restoration room. With the major preparations completed it was time to move both consoles into the same room for the first time ever.
RCRV and The History Center have worked steadily to convert the former 1940s car dealership building into the new headquarters for the console restorations of both instruments. With original tin ceilings still largerly intact, a full showroom front on 2nd Avenue and 6th Street SE, air conditioning, and plenty of space, CRATOS and CRBI (Cedar Rapids Barton Incorporated) have a new, temporary home from which to launch the next chapter in the lives of both organs.
CRATOS and CRBI are grateful to The History Center, RCRV, and Mike Wilson for their efforts in securing and converting the new, temporary home for the organ consoles. The next chapter in the fate of these incredible, unique instruments is about to begin!
The Iowa Theatre's 3/14 Grande Barton organ is owned by Cedar Rapids Barton Inc., a non-profit group formed exclusively for the maintenance and preservation of the organ. That organization and the Cedar Rapids Theatre Organ Society have set up an organ restoration fund. Gifts are tax deductible, and donations can be submitted by visiting www.cr-atos.com. You can also send a donation via Pay Pal by clicking the "Donate" button below:
To see a complete photodocumentary of the damage to these instruments and the movie palaces they once lived in, click here. Be warned. The images are very graphic, enough to make any TPO buff cry like a baby.
---
Website Hit Count
Since Founding Day 04/02/2004

The Main Data Server at Walnut Hill.
The figures below represent the approximate daily hit count for the site since going online on April 2nd of 2004. Counter checks begin around ten in the morning and end around ten in the evening, Pacific Daylight Savings Time. Currently, that total stands at over 71,420 happy campers in the Land of the King!
08/01/2008 - 70,494
08/02/2008 - 70,525
08/03/2008 - 70,550
08/04/2008 - 70,585
08/05/2008 - 70,623
08/06/2008 - 70,653
08/07/2008 - 70,675
08/08/2008 - 70,703
08/09/2008 - 70,721
08/10/2008 - 70,749

08/11/2008 - 70,769
08/12/2008 - 70,793
08/13/2008 - 70,831
08/14/2008 - 70,856
08/15/2008 - 70,887
08/16/2008 - 70,900
08/17/2008 - 70.928
08/18/2008 - 70,954
08/19/2008 - 71,011
08/20/2008 - 71,046
08/31/2008 - 71,423

08/21/2008 - 71,069
08/22/2008 - 71,092
08/23/2008 - 71,128
08/24/2008 - 71,154
08/25/2008 - 71,178
08/26/2008 - 71,224
08/27/2008 - 71,273
08/28/2008 - 71,317
08/29/2008 - 71,342
08/30/2008 - 71,379
---
Walnut Hill Productions To Move In 2009
Walnut Hill Productions has been operating at Mister Todd's residence in Ridgecrest since October of 2007. This location, though serving us well, was known to be temporary at best. Operations continued to be quite difficult and expensive, and things have changed in the Bone Doctor's life that spell major changes and historic events in the near future.

Ridgecrest as seen from the air.
It cannot be determined exactly how long Walnut Hill Productions will be at this current location in Ridgecrest, but it is expected that the company will remain here until the latter part of 2009 when it will be on the move once again, this time to the Stockholm, Sweden area. Why move to Sweden, you might ask? Going from the heat of the desert to the cold of the northland is quite a change, indeed.

Downtown Stockholm, Sweden.
Moving Walnut Hill Productions to Sweden will allow us to help fellow Walnut Hill Organ Club and Wall of Fame member Per Olef Schultz with the restoration of the 2/7 Mighty WurliTzer Theatre Pipe Organ, this instrument being the only one of its kind in the entire country, which originally had a home in the Skandia Theatre in Stockholm. Our goal is to see this great instrument returned to the theatre.
Further details about how we intend to accomplish the relocation will be released later in the year. Once the new location is known, we will update the Office address and phone numbers posted throughout the site and begin forwarding company mail to the new office in Åkersberga.
---
Funds received during the First Fund Drive: $2,105.00
The First Relocation Fund Drive is now closed as the move to California, though wrought with some peril in the beginning, was a success at last. Below is a listing of those who have generously contributed funds and items during the first fund drive:
Name

Tom Hoehn
Gareth Howells
Jim Reid
Cyrus Roton
William Spalding
Larry Chamberlin
Kent Allman
Fred Willis
Joseph Loewy
Ronald Shreve
Dan Rowland
Eleanor Winnemore
Earl Hurty
Edward Burnett
Charles Walls
David Knudtson
Frank Towle
Charles Ekstrand

Amount

$ 50.00
$ 50.00
$450.00
$500.00
$100.00
$100.00
$100.00
$200.00
$ 50.00
$ 25.00
$ 50.00
$100.00
$ 35.00
$ 50.00
$100.00
$ 25.00
$ 20.00
$100.00

Method

PayPal
PayPal
PayPal
Check
PayPal
Check
PayPal
PayPal
PayPal
PayPal
PayPal
Check
Check
PayPal
PayPal
PayPal
PayPal
PayPal
Name

Bob Upward
Paul Kealy
Fred Willis
Mister Todd

Item

Zoom H4
Conn 650
A/V Gear
Office

Description

Recorder
Organ
Studio
Residence
These most kind and generous folks have earned memberships in the Walnut Hill Organ Club and will be notified of their membership status when the club goes official after the move to Sweden. We have decided to push forward with the organization while awaiting an ATOS charter. We will post our progress in the Gazette during the fledgeling phase of this project which must still undergo much planning.