This is the Bone Doctor at the console of the 4/89 Mighty Allen Digital Classical Organ installed at the Naval Air and Weapons Station in China Lake, Ridgecrest, California. He is playing a song from Regelia Prime entitled Pipes of the Astral Temple. Click here to learn more about this wonderful instrument and listen to more selections from the Good Doctor at the console. Enjoy!
---
---
Mighty Theatre Pipe Organs
Damaged By Major Flooding
Downtown Cedar Rapids, Iowa

Remains of Mighty WurliTzer console
at the Paramount Theatre.
A sad day in the Land of the King saw the loss of two Mighty Theatre Pipe Organs and the venues where they lived in during the recent flooding of downtown Cedar Rapids, Iowa.

The damage to the Paramount Theatre auditorium.
In the picture above, we see the damage to the Paramount Theatre, including the distruction of the stage and loss of the 3/12 Mighty WurliTzer Theatre Pipe Organ console.
---
Website Hit Count
Since Founding Day 04/02/2004

The Main Data Server at Walnut Hill.
The figures below represent the approximate daily hit count for the site since going online on April 2nd of 2004. Counter checks begin around ten in the morning and end around ten in the evening, Pacific Daylight Savings Time. Currently, that total stands at over 69,100 happy campers in the Land of the King!
06/01/2008 - 68,216
06/02/2008 - 68,259
06/03/2008 - 68,294
06/04/2008 - 68,331
06/05/2008 - 68,377
06/06/2008 - 68,403
06/07/2008 - 68,439
06/08/2008 - 68,461
06/09/2008 - 68,482
06/10/2008 - 68,511

06/11/2008 - 68,538
06/12/2008 - 68,560
06/13/2008 - 68,576
06/14/2008 - 68,615
06/15/2008 - 68,652
06/16/2008 - 68,691
06/17/2008 - 68,734
06/18/2008 - 68,773
06/19/2008 - 68,821
06/20/2008 - 68,872

06/21/2008 - 68,916
06/22/2008 - 68,942
06/23/2008 - 68,974
06/24/2008 - 69,013
06/25/2008 - 69,042
06/26/2008 - 69,087
06/27/2008 - 69,102
06/28/2008 - 69,153
06/29/2008 - 69,252
06/30/2008 - 69,294
---
---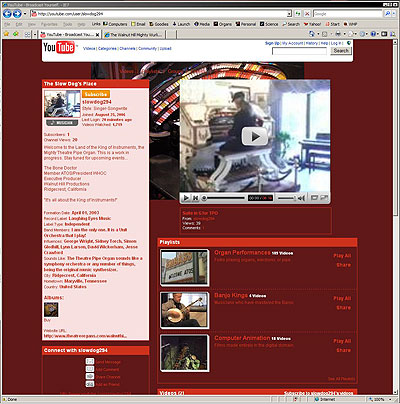 There are now 24 videos featuring the Mighty Conn 650 Analogue Electronic Theatre Organ now available for audition at The Slow Dog's Place on YouTube. Click here to view them all. Stay tuned for more in the days ahead.
---
Relocation Fund Drive
Walnut Hill Productions is still in somewhat of a bind from a business perspective. Household and personal expenses are taking a hefty slice out of the money Doc gets, as he is disabled and on a limited income. Replacing his personal property and the musical equipment lost after the relocation from Tennessee early in 2007, along with aquiring and maintaining a new residence, is continuing to be quite expensive and is by no means completed. We cannot determine how long we will be at our current location. Permanent office and residentual space is needed for this tiny entity in the High Desert.
Most of the company's original equipment was left in Tennessee due to the high cost of shipping. These items must eventually be replaced. Many have been. Below is a partial listing of the items we need for the studio in order to get back to the recording sessions Doc would like to complete, including albums from the Sub Urban Cowboys and Doc at the Mighty MidiTzer.
Fender Precision Electric Bass Guitar (Ship to CA from TN)
Yamaha FG335 Flat Top Acoustic Guitar (Ship to CA from TN)
Fender Stratocaster Electric Guitar (Ship to CA from TN)
Doc and Tom Hoehn have created a Pay Pal account for easily and securely receiving contributions from all who want to see this relocation take place, which will allow Walnut Hill to make major strides forward for the King of Instruments.
Below is a listing of those who have genorously contributed funds and items to date:
Name

Tom Hoehn
Gareth Howells
Jim Reid
Cyrus Roton
William Spalding
Larry Chamberlin
Kent Allman
Fred Willis
Joseph Loewy
Ronald Shreve
Dan Rowland
Eleanor Winnemore
Earl Hurty
Edward Burnett

Amount

$ 50.00
$ 50.00
$300.00
$500.00
$100.00
$100.00
$100.00
$200.00
$ 50.00
$ 25.00
$ 50.00
$100.00
$ 35.00
$ 50.00

Method

PayPal
PayPal
PayPal
Check
PayPal
Check
PayPal
PayPal
PayPal
PayPal
PayPal
Check
Check
PayPal
Name

Bob Upward
Paul Kealy
Fred Willis
Mister Todd

Item

Zoom H4
Conn 650
A/V Gear
Office

Description

Recorder
Organ
Studio
Residence
These most kind and generous folks have earned memberships in the Walnut Hill Organ Club and will be notified of their membership status when the club goes official. We have decided to push forward with the organization while awaiting an ATOS charter. We will post our progress in the Gazette during the fledgeling phase of this project.
The first thing to do is find ten ATOS members who want the charter. When the chapter is official and viable as a public entity, Club members will receive printed certificates and membership cards, plus access to the WHOC online community via direct email notifications. This is just a small token of appreciation for all who are making the Walnut Hill website possible and freely available for the world to enjoy.
There are other pledges pending. Anyone can contribute as much or as little as they see fit by clicking the "Make a Donation" button above. You can also send checks via standard mail to the following address, should you choose to not use the Pay Pal account. Please make checks payable to Richard Mogridge, with the words "Relocation Fund" in the memo line. The address is:
Richard Mogridge
Walnut Hill Productions
1229 Sims Street
Ridgecrest, California 93555
If you have questions about the relocation fund, you can call the Bone Doctor at the Walnut Hill Office of Operations to learn more.
That telephone number is 1-727-230-2610.
All contributors will get recognized at the site should they choose, or they can remain anonymous, simply by letting the Bone Doctor know their preferences via email.
This is a major move forward for Walnut Hill Productions, one of the fastest growing TPO sites on the internet. Become a part of history by making your donation today. Please help us to continue the work we are doing as we continue to grow, adding new features and more services such as broadcasting audio and video for all to enjoy. You'll be glad you did.
We are thanking you in advance for your generosity and support in this grand endevour.