We begin the month of April rebuilding the office of operations at our new location in Ridgecrest, California. This city is much closer to Los Angeles and the surrounding areas, including Pasadena and San Bernardino, where there are a wealth of fine installations abounding. To see some of these great organs, visit our 2005 Convention page.
The Founding Father of Walnut Hill, Fred Willis, is continuing to let Doc stay at his place during the rebuilding of the company. Many new friends are being made and connections that will boad well for the King of Instruments in the days ahead, so stay tuned as the story unfolds.
---
The main data server at Walnut Hill Productions has received some new hardware and a new operating system. We have installed two Western Digital 250GB EIDE hard drives, with the intent to install four more identical units in the days ahead, bringing the total storage capacity of the massive machine to 1.5 terabytes. We have also installed Microsoft Windows Server 2003 Enterprise Edition with Service Pack 2 in order to take advantage of the larger hardware requirements our new projects are necessitating.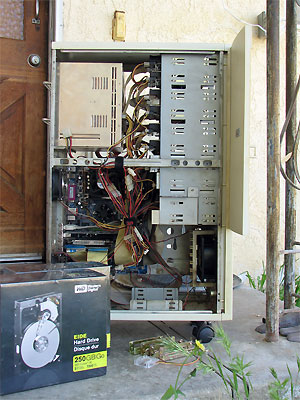 The main data server awaiting new parts.
In the picture above, we see the powerful computer sitting on the front stoop at Fred's place, with the side doors removed to show the inner workings of the beast. Sitting on the tarmac in front of the tower are the two new Western Digital hard drives, still in their boxes, awaiting installation after a thorough cleaning of the case. Near the boxes are some mounting brackets to adapt a 3.5 inch device to a 5.25 inch drive bay. All the bays in the server are of the 5.25 inch size, and there are thirteen bays total. One of the 80mm output fans on the rear panel has been taken out to facilitate cleaning and checks in the buss area.
After the new drives were installed and the OS loaded, booted and tuned, the production software went in. This software included Microsoft Office Professional 2003 Enterprise Edition, DirectX 9.01c, Internet Explorer 7, Adobe Photoshop CS2, Poser 7, DAZ Studio, Sound Forge 6, Sonar 2.0, Waves Platinum Bundle, Jasc PaintShop Pro 7, MidiTzer 216, jOrgan 2.0, and a bevy of security programs and server-side tools too numerous to mention here. We are planning to update the page about this computer in the near future. Houston, we have a go!
---
Ridgecrest Organ Club Bi-Weekly Meetings
Here in the city of Ridgecrest, California folks love organs of all kinds. Many have electronic organs in their homes. There are enough of these in the area that a club has been formed for the local enthusiasts to get together and enjoy great music and fellowship while gathered around the organ to play.
The Ridgecrest Organ Club meets twice a month on every other Tuesday. The meetings are held at a different member's home each time, by whomever chooses to host the meeting for any particular Tuesday. The last March Club Meeting was held on the 27th at the residence of Edward and Eleanor Winnemore in Ridgecrest.

The Winnemore Residence.
Cyrus Roton came to pick up Doc at Fred's place, and they took the Samson Zoom H4 digital recorder and the Canon Powershot S2-IS digital camera along to aquire new material for the Walnut Hill website.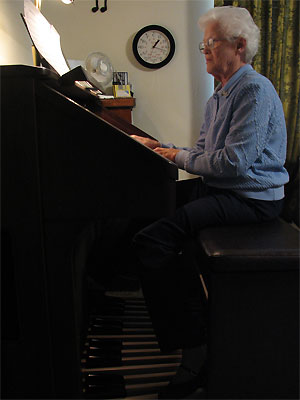 Eleanor Winnemore at the console of her
Roland Atelier AT90-SL Digital Residence Organ.
Unfortunately, Doc only took one tripod, which the camera was mounted to, and the recorder was placed on the coffee table near the organ. In some of the tracks, listed below, you can hear cups being sat down on the table. Yup, that Zoom H4 has good ears!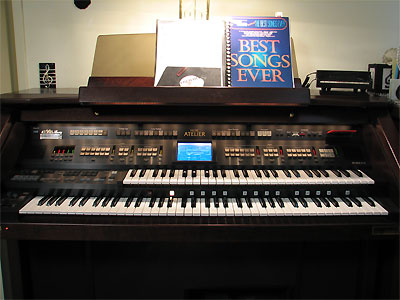 The keydesk of Eleanor Winnemore's
Roland Atelier AT-90SL Digital Residence Organ.
Also, since this is totally unrehearsed music, there are a number of mistakes, but hey, it's live and impromptue. We had lots of fun. After all, isn't that what playing the theatre organ is all about? Enjoy!

Cyrus Roton at the console of Eleanor Winnemore's
Roland Atelier AT-90SL Digital Residence Organ.
Members of the club took turns at the console, and when Cyrus Roton took the bench, we recorded his performances consisting of two nice medleys of great music.
South Pacific Medley
Playing time = 6:48, file size = 6.30MB, bit rate = 128KB/sec.
International Medley
Playing time = 9:01, file size = 8.33MB, bit rate = 128KB/sec.
The first medley contains the following songs:
Some Enchanted Evening
Bali Hi
Dites Moi (Tell Me Why)
Younger Than Springtime
The second medley contains the following songs:
I'll Never Love Again
Jada
Five Foot Two, Eyes Of Blue
Hernando's Hideaway
Waves of the Danube Tango
Come Back To Sorento
The Song Of India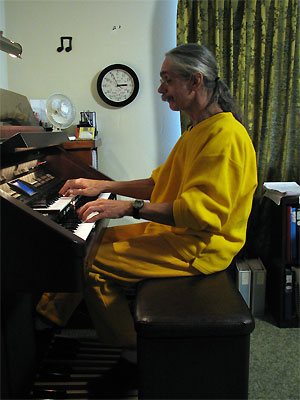 The Bone Doctor at the console of
Eleanor Winnemore's Roland Atelier Digital Residence Organ.
---
RELOCATION FUND DRIVE
Although we are settling in at the new location, Walnut Hill Productions is still in somewhat of a bind from a business perspective. Household and personal expenses are taking a hefty slice out of the money Doc gets, as he is disabled and on a fixed and limited income. Replacing his personal property and the musical equipment lost after the relocation will be very expensive.
Most of the company's original equipment was left in Tennessee due to the high cost of shipping. The items must eventually be replaced. Below is a list of the items we are needing for the studio in order to get back to the recording sessions Doc would like to complete, including albums from the Sub Urban Cowboys and Doc at the Mighty MidiTzer.
Fender Precision Electric Bass Guitar
Yamaha FG335 Flat Top Acoustic Guitar
Fender Stratocaster Electric Guitar
One or more MIDI controller keyboards
Two low impedence balanced mic cables
Two boom stands for the microphones
Conn 650 Analog Theatre Organ with MIDI kit
We do not have current pricing or availability of this equipment, but it is conservatively estimated that we will need to raise over 4,000 dollars to eventually aquire everything on the list above.
When we finally relocate to a residence big enough for an electronic three manual Theatre Organ, we will be looking for the Conn 650 mentioned above. We will also install a digital piano. Our end goal is to construct a portable four manual console for the Walnut Hill 4/36 Mighty WurliTzer Virtual Theatre Pipe Organ, to be powered by jOrgan running a custom disposition and font set from Allman Music of Saint Petersburg in Florida.
Doc and Tom Hoehn have created a Pay Pal account for easily and securely receiving contributions from all who want to see this relocation take place, which will allow Walnut Hill to make major strides forward for the King of Instruments.
Below is a listing of those who have genorously contributed funds to date:
Name

Tom Hoehn
Gareth Howells
James Reid
Cyrus Roton
William Spalding
Larry Chamberlin
Kent Allman
Fred Willis
Joseph Loewy
Ronald Shreve
Dan Rowland
Eleanor Winnemore

Amount

$ 50.00
$ 50.00
$200.00
$500.00
$100.00
$100.00
$100.00
$200.00
$ 50.00
$ 25.00
$ 50.00
$100.00

Method

PayPal
PayPal
PayPal
Check
PayPal
Check
PayPal
PayPal
PayPal
PayPal
PayPal
Check
There are other pledges pending. Anyone can contribute as much or as little as they see fit by clicking the "Make a Donation" button above. You can also send checks via standard mail to the following address, should you choose to not use the Pay Pal account. Please make checks payable to Richard Mogridge, with the words "Relocation Fund" in the memo line. The address is:
Richard Mogridge
Walnut Hill Productions
1233 Sims Street
Ridgecrest, California 93555
If you have questions about the relocation fund, you can call the Bone Doctor at the Walnut Hill Office of Operations to learn more.
That telephone number is 1-727-230-2610.
All contributors will get recognized at the site should they choose, or they can remain anonymous, simply by letting the Bone Doctor know their preferences via email.
This is a major move forward for Walnut Hill Productions, one of the fastest growing TPO sites on the internet. Become a part of history by making your donation today. Please help us to continue the work we are doing as we continue to grow, adding new features and more services such as broadcasting audio and video for all to enjoy. You'll be glad you did.
We are thanking you in advance for your generosity and support in this grand endevour.
God bless, and happy playing.
The Bone Doctor
Member ATOS/President WHOC
House Organist and Webmaster
Walnut Hill Productions
"It's all about the King of Instruments!"