Polk Theatre in Lakeland, Florida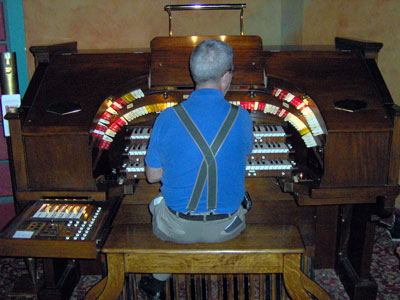 Tom Hoehn at the console of the 3/12 Robert Morton Theatre Pipe Organ.
Tom Hoehn, playing music from a puppet show version of the silent movie classic, Dracula, entitled Harker.
Soundtrack for Harker (Dracula)
File size = 14.50MB, playing time = 15:47, bit rate = 128KB/sec.
Tom Hoehn warming up before a show featuring the Smothers Brothers. These recordings, made in January 2007, were done using a Samson Zoom H4 digital recorder mounted on a camera tripod placed three rows back from the stage in the center of the theatre.