Meet Tom Hoehn, Theatre Pipe Organist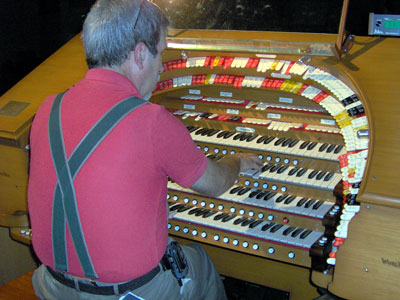 Tom Hoehn at the console of the
J. Tyson Forker Memorial 4/32 Mighty WurliTzer

Tom Hoehn is a native of St. Joseph, Missouri. He began playing the organ at an early age. By the age of twelve, he was playing in church. Tom studied classical and popular organ through high school and college. He could not walk by an organ of any kind without sittting down to play it.

He moved to Florida in 1974 and has been active in the church and theatre organ fields since his arrival. He has appeared as the organist for the Florida State Fair, Tampa Bay Rowdies Soccer Club, and Boston Red Sox Spring Training in Winter Haven, Florida.

He was one of the original four organists at J. Burns' Pizza & Pipes in Tampa, Florida along with Don Baker. During this time Tom studied with the former New York Paramount organist. In 1981, Tom moved to the new J. Burns' Pizza & Pipes in Winter Haven, Florida and remained there for four years.

Tom was the charter-signing secretary for the Central Florida Chapter of the American Theatre Organ Society in 1978.

Read on to learn about the many organs Tom has played.