Volume Two - Issue One
Contributing Editors
The Control Room - Richard Mogridge - Webmaster
Console Up! - Tom Hoehn, Lead Editor
The Skandia WurliTzer - Per Olof Schultz, Associate Editor
MidiTzer Boot Camp - Russ Ashworth, Associate Editor
Mighty Hauptwerk - Jim Reid, Associate Editor
Desktop Goodies - Fred Willis
NYTOS Field Reporter - Eugene Hayek
Office of Operations
Walnut Hill Productions
1233 Sims Street
Ridgecrest, California 93555
Phone - 1-727-230-2610
10AM to 6PM PDT
Email - slowdog294@yahoo.com
DAILY NEWS
01/10/2005
Greetings from the Bone Doctor.
I want to thank the 8,070 visitors to our site.
God bless all who come here.
This was posted on TOSF at Yahoo! today: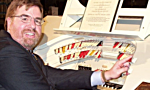 From: Jim Henry jim_henry@iname.com
Date: Mon Jan 10, 2005 3:36 pm
Subject: Re: ATOS Electronic Organ Competition
The differences, or lack thereof, between a contemporary digital theatre organ (i.e. Walker or Allen) and a virtual theatre organ (i.e. MidiTzer or jOrgan) is precisely why it is SO important that we get virtual theatre organ entries into the ATOS competition.
To my ear, a virtual theatre organ allows an organist to achieve results that are every bit as musical as a digital organ. The virtual organist might have to work a little bit harder at it since the console for a virtual organ is probably going to lack some of the conveniences of a digital organ. It is also likely that the virtual organ will be more modest in terms of ranks. In my estimation, the person who achieves a good result with a modest instrument that was typical of an original theatre organ is more of a musician than the person who needs something that represents the upper 1% of original theatre organ production to make music.
We need to demonstrate to the mainstream theatre organ world that a virtual theatre organ can make music that holds its own against any other electronic theatre organ. Theoretically, the competition is judged on musicianship and not on the instrument used. Last year's winners included a performance on a Walker as well as an anlog instrument if I remember correctly. People will sit up and take notice if one of the winners is reported as having submitted their entry on a MidiTzer.
The competition is only in its second year and they are still trying to fine tune the rules. There was a lot of resistance to even having a competition using electronic entries at all. There are some rather odd requirements such as having 2 61 note manuals and 25 pedal notes. If someone can make good music on a split 88 note keyboard and 13 pedals, they should get an medal for valour not disqualified. If there are a lot of virtual organs represented this year, we will be able to influence the development of this competition to accomodate virtual organs while it is in its formative years.
Anyway, the person running the competition has assured me that they will work with us to qualify entries made on a MidiTzer but they are going to have to figure out how that will be done since they normally rely on some listing of commercially produced organs to determine if the instrument is acceptable.
Not only do I want to demonstrate that there is good music being made on virtual organs (not by me :-( but by you folks!) but also that this is the most vibrant, active, and growing segment of theatre organ enthusiasts.
PLEASE! If you can at all play the 3 pieces required to enter this competition, do it! Even if you don't win, you will demonstrate that virtual theatre organs are a force to be reckoned with and you'll get some invaluable feedback on your playing. Virtual organs need to be in this competition and they need to be there in big numbers, not just as one or two "freaks."
OK, I want to see my emailbox overflowing with requests for the entry materials!
--- In TOSF at Yahoo!, Billey A Nicholls wrote:
Hi there, Bill here, with a couple of questions.
Are there actually some differences between, say a new digital Organ by any of the big name makers, and one like the MidiTzer, or jOrgan?

(Initial costs and amenities aside) how is an electronic organ defined in this new century? I can easily see the difference in an old analoge and a digital, anyone know what is the official ATOS definition?
01/06/2005
Greetings from the Bone Doctor.
I want to thank the 7,925 visitors to our site.
God bless all who come here.
This was posted on TOSF at Yahoo! today:
From: Bruce Miles
Date: Thu Jan 6, 2005 1:48 pm
Subject: Revised soundfont - Kinura added
Greetings all,
I have just posted the latest manifestion of the corg_r soundfont -- V 107.
Changes from V 106 are:
1. The addition of a Kinura (Patches 13 & 53). This based mainly on the one in the Buddy Cole Cole demo file. This has a rather 'spiky' sound compared with some other Kinura samples I have, so I have modified it somewhat. Although quite soft, it will 'cut through' almost anything else (except the English Horn !!). In spite of a lot of fiddling about it is still rather uneven but probably no more so than the real thing. Comments please.
2. The bottom (16') octave of the Diapason is revised to give it more defintion. This is (and always has been) voiced as a Diaphone. I have also extended it down to 32'. Unless your speakers are something truly magnificent, it's probably better to stick with the Tibia 10 2/3 for a 32' effect.
3. The Stopped Flute is revised and wind noise levels adjusted.
4. The bass Drum Roll (WurliTzer called it 'Kettle Drum') is speeded up and re-done and is now a separate sample. The Bass Drum Tap P is also revised to make it more useful for soft rhythm and is a separate sample.
The specimen corg Dispostion file for jOrgan on my Midi Consoles page uses all these new and amended sounds . There is a new screen shot of the console - everything shown is implemented. Note how the Accompaniment traps are 'transferrable'. You can play them three ways - from the Accompaniment, from Accompaniment second touch or from the Solo. This is a standard Compton arrangement. I wish we had second touch cancel on the stop tabs - a great Compton idea. If you are using the WurliTzer Style 216 dispostion file you can easily change the English Horn to the Kinura which will make it a 215 (or you could add it for that matter.)
The only changes affecting MidiTzer are the 16' Diaphone and the Kettle Drum.
Have fun as always --
Regards,
Bruce
Website - http://brucemiles1.mysite.wanadoo-members.co.uk/
01/01/2005
Greetings from the Bone Doctor.
I want to thank the 7,800 visitors to our site.
God bless all who come here.
Happy New year! May all your Pipe Dreams conme true!