Have you ever wished you could have a Mighty WurliTzer of your very own? Wouldn't it be great to be able to play it any time you wanted? Well, now you can with the Mighty MidiTzer from Jim Henry!
For those of you who are new to the MidiTzer, it is a Windows PC program that puts a Style 216 2/10 Mighty WurliTzer Theatre Pipe Organ on your desktop! Click here to download a 1024 x 768 JPG screenshot of the Mighty MidiTzer.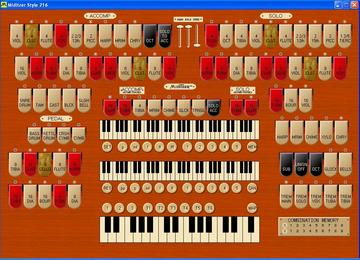 The Mighty MidiTzer desktop interface
It works using MIDI and a SoundFont compatable environment, with a nice interface that puts all the controls of a ten rank two manual Theatre Pipe Organ on your screen. It acts just like the real thing, right down to the Moving Combination Action!
---

Signal flow within the Mighty MidiTzer
You can play it from you PC keyboard to get started, but you will want to hook up some external MIDI controllers to do it right. You are only limited by the hardware you use and your imagination.

The Mighty MidiTzer installed at the home of Charles Lynn Walls
This program is an absolute must if you are serious about playing the VTPO on your Windows PC. Visit the author of the MidiTzer, Jim Henry, at his great site to learn more and become a part of pioneering history.
---