Performances
Concerts - featuring outstanding theatre organ performers!
Silent films - the way they were meant to be heard!
Presenting silent film classics the way they were originally exhibited in the movie palaces of yesteryear, their musical scores played with live accompaniment by masters of this musical art.
Wednesday November 30 2016
Dave Wickerham

Welcome back, Dave Wickerham, the American Theatre Organ Society's (ATOS) Organist of the Year for 2011!

Dave - click here for his new web site! - is a Christmas favourite with TTOS and we are excited to have him back again this year.

After seven years as organist and curator for the Milhous Collection in southern Florida, Dave is now charming guests at the Crystal Theatre in Crystal Falls, Michigan as co-manager and organist-in-residence.

Get ready for a fun filled holiday evening complete with numbers from decades past and present along with a merry round of Christmas favourites.

Dave will be playing the Phoenix three manual virtual theatre pipe organ voiced as a Wurlitzer.

Concert time is 8 pm - Wednesday November 30 - not our usual Monday.

Please note this concert is not at Casa Loma.

This concert will be presented at St. Andrew's United Church - click here for a map - at 117 Bloor Street East. Church entrances are on Bloor Street and at 54 Hayden Street in the rear - where there is free underground parking.

Doors open at 7:15 pm.

The Box Office is on the second floor of St. Andrew's United Church - enter from either the front or rear entrance and signs will direct you.

All tickets are $25.
Advance Tickets will NOT be mailed.
Advance Tickets will be held for Pick Up at the Box Office on the night of the Concert.
Please bring your receipt.


---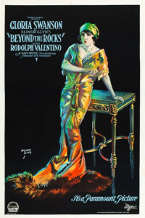 Monday April 10 2017
Clark Wilson
Beyond the Rocks (1922)
Beyond the Rocks (1922) is A frothy, sumptuous love story set in glamourous locales - Paris, London, the English countryside, the Swiss Alps and the Sahara Desert - the perfect backdrop for the two most exotic silent stars of their era - Gloria Swanson and Rudolf Valentino - in the only film they made together.

From the pen of the scandalous Elinor Glyn (responsible for the Clara Bow film IT), Swanson, the beautiful but poor aristocrat married to a wealthy older man, falls in love with a dashing playboy. The two star-crossed lovers, both bound by duty, wait for years to fulfil their destiny.

Itís an opulent ride that never grows old and looks terrific onscreen.

A miraculous find - All prints of the film had gone missing for decades until sharp eyes spied a lone nitrate print in a private collection in the Netherlands in 2003. Film Courtesy of Milestone Films.

The program will begin with a Buster Keaton short, The Playhouse (1921) " ...an identity-bending dreamscape, surrounded by a real world so strange as to make the dream nearly plausible. Itís a laugh-riot, casting Keaton in more than twenty different roles at once, and allowing him to portray comedic styles utterly unlike the Great Stone Face that silent film fans are used to. For Keaton the artist and director, it was also a chance to push special effects, especially double exposure techniques, into new territory.Ē-Chris Edwards, Silent Volume

Once again our old friend Clark Wilson, whom Leonard Maltin has called "a master silent film accompanist" reviewing a live performance of Wings, commands the console of the 2 manual and 14 rank vintage Casavant organ constructed in 1932 to provide just the right musical background for what promises to be a highly entertaining evening.

Film notes courtesy of our partner in the presentation of these films - the Toronto Silent Film Festival.

Please note this screening is not at Casa Loma.

The screening will be presented at Kimbourne Park United Church - click here for a map and transit directions - at 200 Wolverleigh Boulevard near to Coxwell Subway Station.

Street parking is free after 6 pm north of Danforth Avenue on both sides of Coxwell Avenue. There is also a city parking lot on the Danforth beside Sunset Grill restaurant (half a block east of Coxwell).

Screen time is 8 pm. Doors and the Box Office open at 7:15 pm.

All tickets are $25.

Please bring cash to the box office to purchase tickets on screening night. We will not be able to process credit and debit card transactions at the Church. Click here to purchase Advance Tickets Now!


Advance Tickets will NOT be mailed.
Advance Tickets will be held for Pick Up at the Box Office on the night of the Screening.
Please bring your receipt.



Please revisit our web site for updates regarding the remainder of our Spring 2017 Season.
---