Back to South Australia Contents page
David Walton Residence
David Walton purchased various parts in mid-1975 to form a four-rank organ for his residence at Aldgate. He obtained from Geoff Smith his original two-manual "straight" stopkey console, formerly in St Francis Xavier Cathedral, and completely reconstructed it into horseshoe form to control four ranks of pipes.
He had purchased a single-manual, four-stop classical organ once installed in a church in the Barossa Valley which provided a Principal and Wooden Stopped Flute, to which he added Vox Humana and Oboe Horn ranks obtained from Gunstar Organ Works. The Diapason basses were built by the late Gilbert Underwood (Woodville) from galvanised iron. [1987 TOSA(SA) Convention Programme]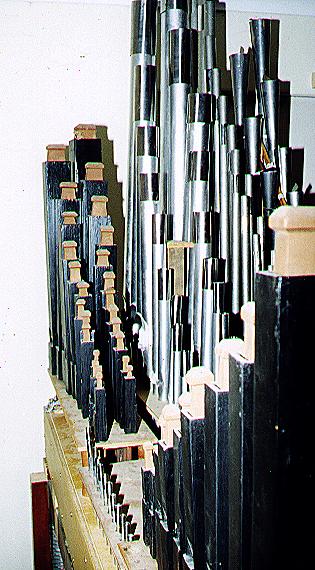 David also constructed some non-tonal percussions, based on Wurlitzer patterns. [David Walton, letter to author, 9 January, 1977] The console, which had originally been built by Dodd for St Francis Xavier Cathedral, and had later controlled the classical residence organ of Mr Geoffrey Smith, was converted by David from drawstops to a horseshoe stopkey design.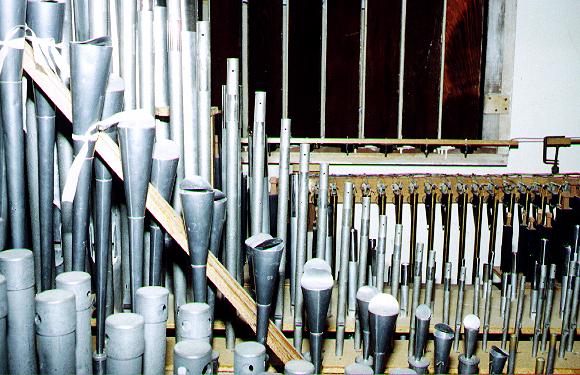 The instrument is unusual in that, being specifically designed for the limited acoustic environment of a residence, the pipework is all on low wind pressure, 2" for the flues and 3" for the reeds. The instrument gradually took shape, and by late 1975, the Flute rank was playing, [David Walton, letter to author, 16 November, 1975] with the Diapason following in 1977 [David Walton, letter to author, 9 January, 1977]. The completed instrument was unveiled at the TOSA Convention in 1978. [TOSA 1978 Convention Programme, p. 12]
Stoplist of the Organ at Aldgate
In 1979, David moved to Mount Barker, taking the organ with him, [Mount Barker Gets Fourth Pipe Organ, "TOSA News", TOSA (SA), Adelaide, December, 1979, p. 6] and in 1986 added a String rank. In 1992, Mr Walton offered the organ for sale, [Walton Organ for Sale, "TOSA News", TOSA (SA), Adelaide, December, 1992, p. 7] but at the time of writing (2001) it remains at his home.
Stoplist of the Organ at Mt Barker