Back to South Australian contents page
Chinese Garden Theatre, Adelaide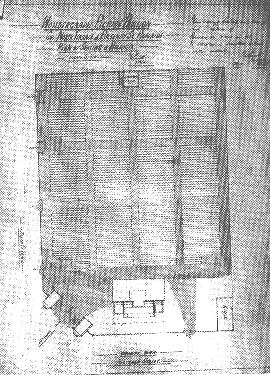 Faded copy of plan for open-air "Wondergraph Picture Pavilion"
This may have been the Chinese Garden Theatre, as the location tallies
[Dylan Walker collection]
The only known installation of a theatre organ in an open-air theatre in Australia was at Adelaide's Chinese Garden Theatre, on the northern side of North Terrace, opposite Pulteney Street, near where Elder Hall now stands. It was a two-manual, four-rank Wurlitzer "Duplex Orchestra" photoplayer, and is said to have been installed as early as 1912. Its ranks com-prised Flute and String (both wood) and short-compass Vox Humana and brass Trumpet. When the theatre closed in the 1920s, it became a miniature golf course.
The organ passed into the hands of a Mr Correll, who had been on an expedition to the South Pole with Mawson [Celebrating the Wyatt Hall 2/12 Wurlitzer 12/12/70 to 13/12/80, TOSA(SA), Adelaide, 1980, p. 13.], and was later purchased by Dodd & Sons, Gunstar Organ Works, who incorporated its parts into a number of church organs [Bill Binding, conversation with author, Adelaide, August, 1975]. In the 1950s, Mr Bill Binding, of Gunstar, used four of the treble brass Trumpet pipes from this organ for a church nativity play, and afterwards kept one of these at his home for use in an illustrated lecture on organ building. Some fifteen years later, it found its way back into a Wurlitzer organ, when it replaced a missing pipe in TOSA's organ at Pulteney Grammar School, Adelaide, where it was adjusted to speak the required note[Programme, Inaugural Concert, Pulteney Grammar School, 12 December, 1970, p. 9].
Just how the photoplayer was installed in the open-air theatre is not recorded:
"Patrons sat in canvas chairs. When it rained, the show continued - with the more determined members of the audience holding spare chairs over their heads." ["Those Were the Days", SA TOSA News, TOSA (SA), Adelaide, December, 1990, p. 8]
It may be presumed that it was not as open to the weather as the theatre's patrons, and was probably located in a covered area adjacent to the "bio box" (projection room).
The site of the Chinese Garden after it became a miniature golf course
[State Library of South Australia - photo B6064.25]