A Barton goes "Home""
Pete Hansen of Oshkosh WI is the proud owner of the 2/9 Barton originally installed in the Egyptian Theatre, Milwaukee WI. Barton, as you may or may not already know was manufactured in Oshkosh (with help from Meyer, Gottfried, Dennison, Wangerin and others). To this writer's knowledge, this will be the only Barton Theatre organ playing in Oshkosh (there are a couple of Maxey/Barton church organs still around).
Pete has already started constructing the chamber and has temporarily placed some of the pipework and chests.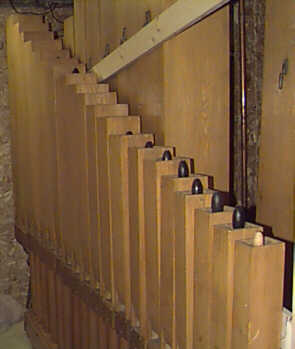 The Pedal Bourdon is an addition, this rank was manufactured by Moller.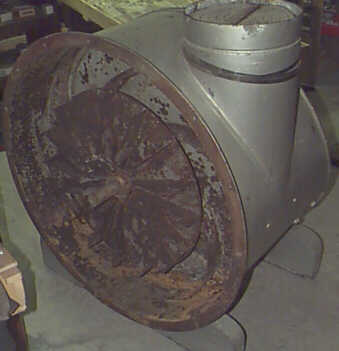 The Blower, unfortunately, has seen better times, and discussions are underway to consider replacing it.
Pete is trying to keep the organ mostly Barton. As the organ has been moved, and damaged through the years, other ranks have crept in, including a Wurlitzer Trumpet.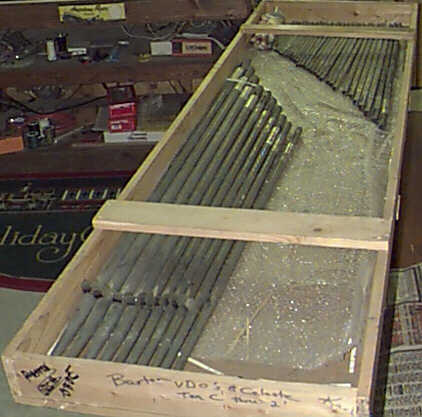 Pictured here is a really nice Barton String.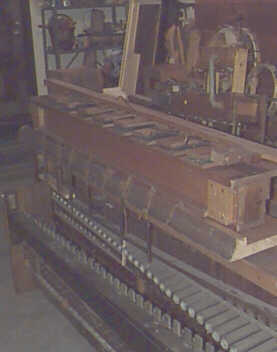 The Barton also has a full set of Tuned percussions, and a complete Toy Counter.
---
This page created by Kurt Schlieter and last updated March 18, 1999
There's No Place Like Home
This page brought to you by:
VintageHammond.Com - We Buy-Sell-Trade Vintage Hammond Organs and Roll or Kari Organ/Vending Machine Moving Dollies Order Roll or Kari Dollies Here