The Moller Console from Opus 5211 Comes Home
The Console was loaded on February 16 ,1999 by Members of the Dickinson Theatre Organ Society
The console was first stripped to reduce it's enormous weight.
---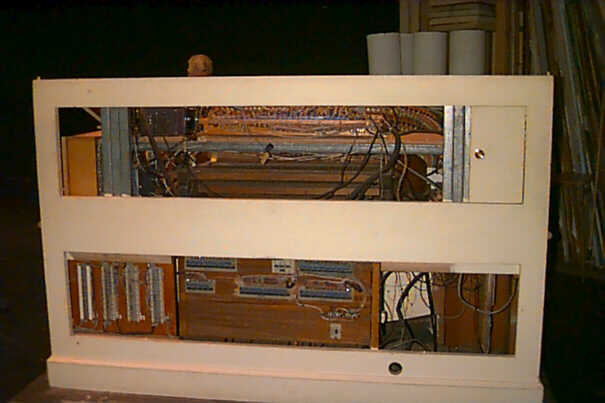 In this rear view, you can see some of the Z-tronics cards, and the literally miles of wire.
---
First step is to move one end of the console off of it's rolling platform and on to a moving dolly.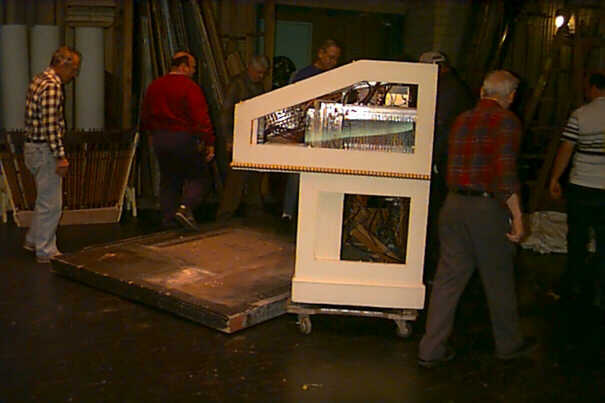 Then the other end is moved off the platform onto a second dolly.
---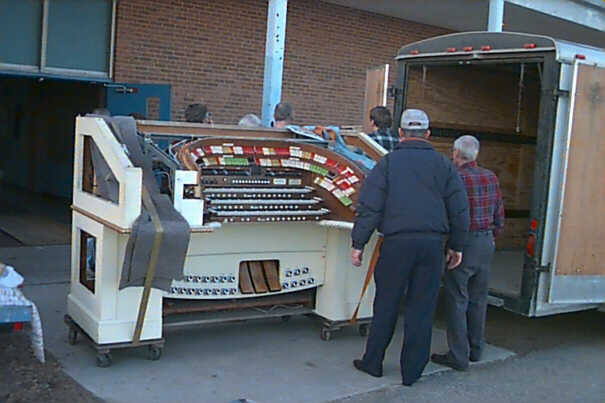 After rolling the console outside, it's time for the big lift.
---
One end goes on the trailer.........
And then one final lift, and it's in.
---
It's all packed and ready for it's ride to Wisconsin.
---
The Moller console arrived in Waukesha on Feb. 24, 1999
Transport services were supplied by Dave Rodgers of North East Pennsylvania ( that's the actual name of the town, which is actually in northwestern PA)
Dave is pictured here on the left, with your's truly on the right. Dave did a terrific job of packing to prevent damage.
---
This gives you an idea of the size of the console. Moller theatre consoles used the same mechanical tripper combination system used in their church consoles. The theatre consoles were huge compared to those of the competition.
---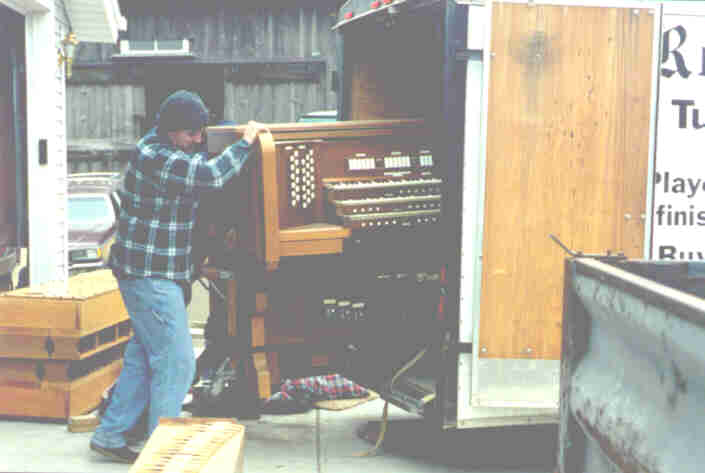 Dave is loading on his "booty" a three manual American Organ Supply console that he is using on his own concert pipe organ project. Dave is also one of the best piano restorers in the country. Check out his webpage at Dave's Piano Restoring website
When this console was connected to the Dickinson Kimball, it was controlling over 40 ranks, including 13 16' stops. There are 42 tabs in the pedal division alone! One of the biggest challenges of this project will be finding something for all those stops to do.
---
The console will be refinished, and some repairs made to the ivories, but beyond that it will be left alone for the most part.
---
Here we see the Moller resting in it's "temporary" home. The stopped pipes on the left are from a Barton Tibia, a tribute to the hometown organ builder. The chests beneath the console are Klann, and will be installed in the classical portion of the organ.