The Birth of the Eastern ATOS
I had been searching for information on my console and on the College Theatre in Bethlehem PA. Bob Dilworth of the Dickinson Theatre Organ Society emailed me to inform me the he had been contacted by Richard Heisler. Mr. Heisler had been at the very first East Coast meeting of the ATOE, as it was then called. This meeting took place at the College Theatre. Mr. Heisler took photographs of the meeting, as did Willoughby (Bill) Moyer. Mr. Heisler also recorded the program by Leroy Lewis, and the open console session that followed. The pictures shown here were obtained from Mr. Heisler, and I, and the whole of ATOS, are forever indebted to him for preserving this piece of history.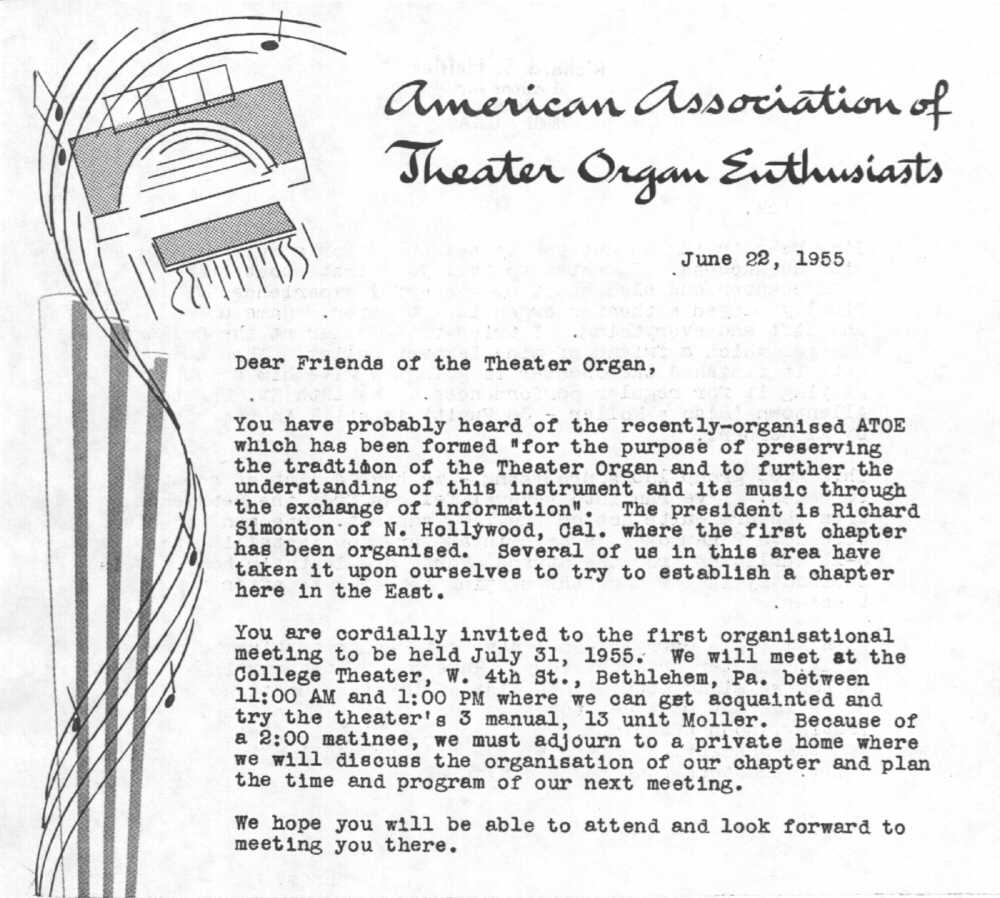 This was the original invitation sent out to enthusiasts informing them of the first meeting.
The group during a break. The College was an Art Deco design.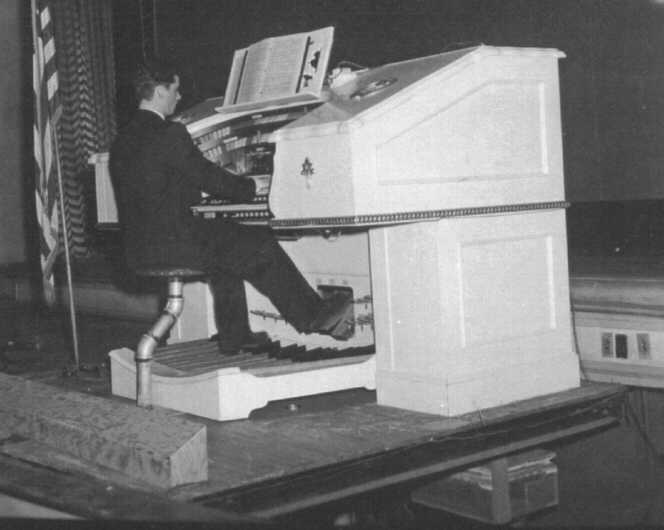 Leroy Lewis Plays for the Program. Note the regulator under the lift.
Another view of Leroy. You can see the Art Deco Grilles in the Background
As mentioned before, a recording was made during this meeting. The electronics can be seen on the stage to the left of the console.
Willoughby Moyer conducts the meeting. He was subsequently elected president.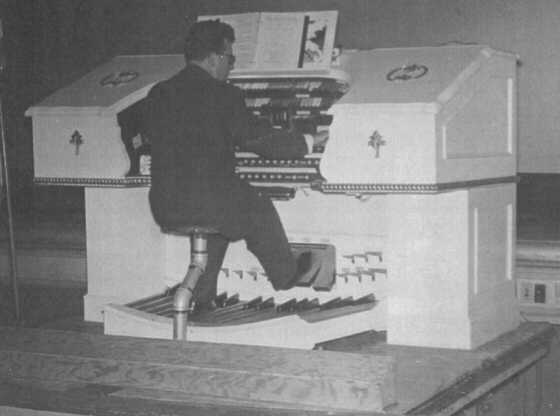 George MacNeal tries out the console during open console.
The group poses behind the console. From left to right-Grace Moyer, George MacNeal, Ted Campbell, Richard Heisler, unknown, unknown,John Reidel, Mark Heisler, George Orr, unknown, unknown, Willoughby Moyer. Leroy Lewis is seated at the console. If you know the identity of the unknown persons, please email me at the address below.
If anyone can help me locate the rest of Opus 5211 PLEASE email me by clicking here.
This page created by Kurt Schlieter and last updated January 8, 2000
Please visit my website
There's No Place Like Home
This page brought to you by:
VintageHammond.Com - We Buy-Sell-Trade Vintage Hammond Organs