The William Hill & Son Grand Organ, Sydney Town Hall, AUSTRALIA!
Introduction by Tony Fenelon
Click any image for a larger version!
You are visitor #
Since February 2, 1996
May I introduce you to the William Hill & Son Grand Organ of the Sydney Town Hall, AUSTRALIA!
This monumetal organ is (in my opinion) one of the grandest and greatest in the world today, boasting speaking stops with wind pressures ranging from 3 1/4" up to 10" for the Tuba Chorus.
Its immense case looms 64' wide and 32' in height crowned with the low octave of the Pedal Open Diapason 32'.
This was in 1888 the largest organ in the world - obviously this is not true any more, but no other organ in the world can boast as "MY" Sydney Organ. Why? In case you are not aware this is the ONLY organ in existance that possesses a FULL LENGTH 64' REED! The Pedal Organ's Contra Trombone is 64'! Does anyone else share my opinion of this grand instrument?
-Tony Fenelon
Here are some pictures of the mighty Sydney Town Hall organ:
Here we see the organ facade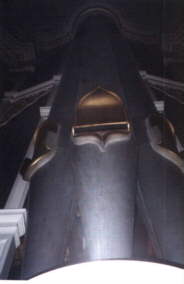 A view of 32' pipes (CCCC, CCCCx, DDDD) directly above console shot from console bench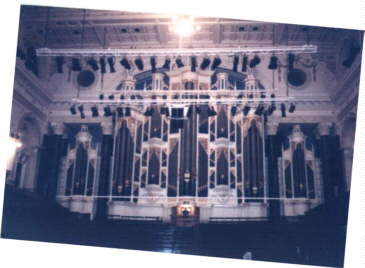 The organ facade a little further back
The console with organ case in background. Note 32's directly above console.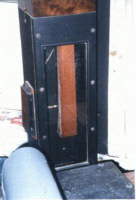 64' reed boot CCCCC
64' resonator for CCCCC resonator goes up, down and up again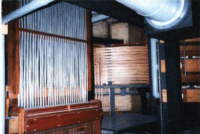 This area is behind the console (insyde the organ case) showing various mechanical items including a tracker/tubular pneumatic interface.
Special thanks to Tony Fenelon & John Ledwon for making this page possible
Put your Theatre, Pipe or Electronic Organ on line! Please Email Jerrell Kautz, Webmaster.

---
Return to the Theatre Organ Home Page
This page brought to you by:
VintageHammond.Com - We Buy-Sell-Trade Vintage Hammond Organs
TheatreOrgans.com operates KEZL-FM Culbertson, NE A Non Profit Full Powered Radio Station