JOHN GIACCHI is...
Considered to be Australia's current Maestro of the Theatre Pipe Organ, Mr. Giacchi has achieved an exceptionally high standard of both musical presentation and excellence.
In 1988, John was awarded first prize for an original composition entitled Opus 1988. This competition was specifically for the theatre organ and was open to all musicians Australia wide sponsored by the New South Wales division of the Theatre Organ Society of Australia and Marrickville Municipal Council. Later that year, he was invited to perform his work on the famous 5 manual Hill & Son organ located in Sydney Town Hall.
In 1990, he was the first Australian to be awarded a place in the American Theatre Organ Society Young Organists Competition which entitled him to play his cameo performance at the Annual Convention in Indianapolis.
Following the release of his first commercial recording "Nightmoods", he played concerts in various locations during a ten week tour of New Zealand, the United States and Great Britain in 1992.
His compact disc recording "Beyond the Blue Horizon" was released in September 1996 and enjoyed immediate critical acclaim.
He appeared in concerts at Theatre Organ Society of Australia National Conventions and at the ATOS convention in Indianapolis in 1997.
In March 1999 he completed his first major tour of the United States, playing a total of 10 concerts in one month!
Besides enjoying a regular concert schedule in Australia and Internationally, John maintains his practice as a corporate lawyer and performs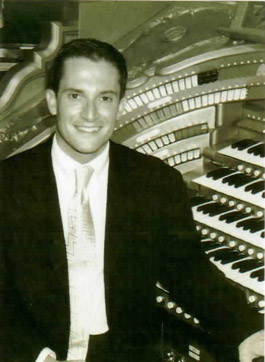 regularly on the famous Style 260 Wurlitzer Theatre Pipe Organ for patrons of the Dendy Theatre in Brighton.
---
In September 2000, he performed in 8 concerts in the United States.
Released in 2001, John's latest CD, "Journey Into Melody" was recorded on the 4/29 Wurlitzer in the Capri Theatre, South Australia. It is gathering kudos and selling quickly in the U.S.
During four weeks in April and May of this year, he appeared in 4 concerts and spent a week at San Sylmar, north of Chicago, Illinois, recording a new CD there on the "Biggest Theatre Organ in the World". We can hardly wait to hear it.