Proctor's Theatre
Schenectady, NY
---
This 3/18 Wurlitzer was originally installed in another theatre, someplace else, where, I'm not really sure. It was then moved to a private residence, and finally put into the huge auditorium. "Golide" is her name, and she has been played by many famous organists, including Allan Mills. Complete with a Steinway grand, and a Post Horn on 8' and 16', Goldie rocks the house at open crecendo, with the boxes wide open. But she can also be quiet with one of the softest flutes I've heard on a Wurli. She's also got a wonderful selection of traps, including fire bell, train whistle, boat horn, surf 1 and 2, "Whoopie." (We all know and love the Wurlitzer Whoopies) as well as an assortment of birds, horses and sirens. A new capture combination action has been installed, and you can see the Set piston above the top manual, next to the keyswitch.
---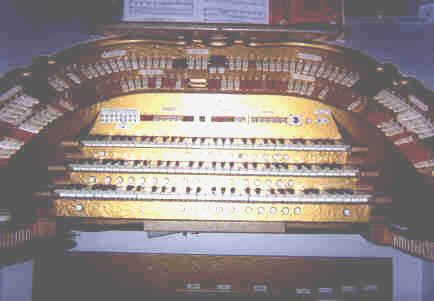 The Console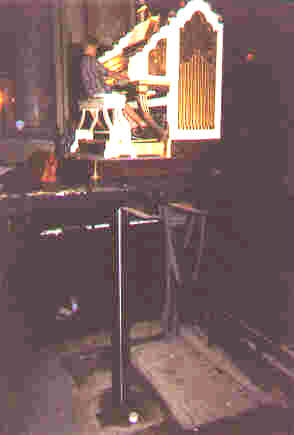 Here's the console rising out of the pit. Jon Ortloff is playing
Here you can see the underbelly of the manuals. Note the little black box on the right. That's the MIDI controller. Jon Ortloff is playing.
Check out the studs and piano pedals!
This page is owned and operated by Jonathan Ortloff, Webmaster.