Exterior of Sheas Buffalo Theater
Main Street Entrance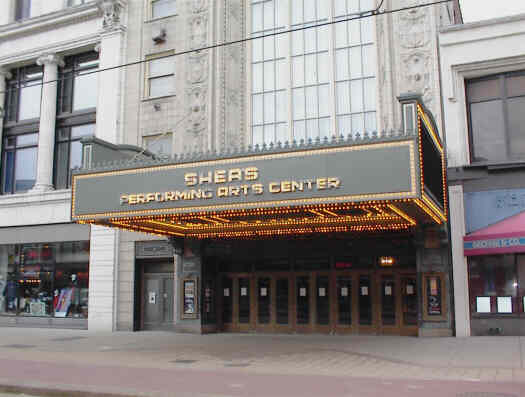 This is the main entrance to the theater. It recently received some major work over the last few years including an all new main window (fabricated in metal to match the original) and a new marquee (replicated from original blueprints to match the original 1926 marquee except for use of modern message boards). In between the windows to the left of the main facade, caps can be seen where the large I-beams holding the upright marquee had been cut after its removal many years ago.
Pearl Street Entrance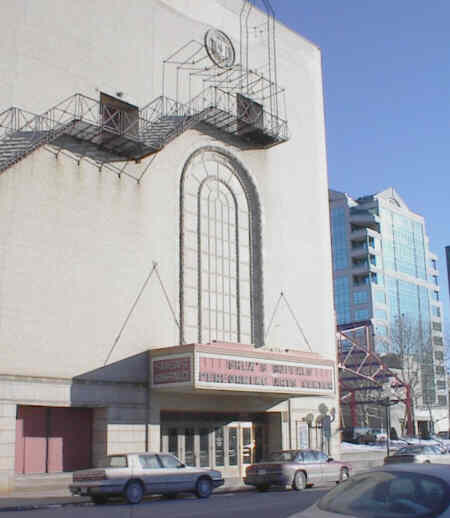 Although only conceived as a secondary entrance for patrons originally, due to the closing of Main street to vehicular traffic, has made it the choice entrance of patrons 74 years later! This summer the entire facade along Pearl St. will be re-bricked from ground up including new medallions and cornices, as well as fire escapes to replicate the original.
Stage House Cornice
This section of the building was raised during the recent stage expansion project. Due to preservation codes, all new cornices (fabricated in fiberglass) match the original ones which existed 15 feet lower.
New Dressing Room Wing
Originally the stage house featured very few dressing rooms off to the far stage left side of the building. During the expansion, the structure was extend to fill in a large alley way. Not only did the stage increase in double the depth, but also it gained this entire wing of dressing rooms along the back side of the theater. Seventy-five percent (75%) of the red brick from the back wall of the original stage house was cleaned and reused in the expansion project for the new additions.
Page Maintained by Joseph M. McCabe
If you wish to mail me: jmmccabe@acsu.buffalo.edu