Wurlitzer
of the
The Victorian Palace
5 Keyboards
80 Ranks of pipes

The Sanfilippo "Victorian Palace" is known worldwide for its magnificent collections of beautifully restored antique music machines, phonographs, arcade and gambling machines, chandeliers, art glass, the world's largest restored theatre pipe organ, the most spectacular European salon carousel in existence, street and tower clocks, steam engines, and other functional mechanical antiques, displayed within a spectacular French Second Empire setting.
The Magnificent Stage The Organ Console Sits On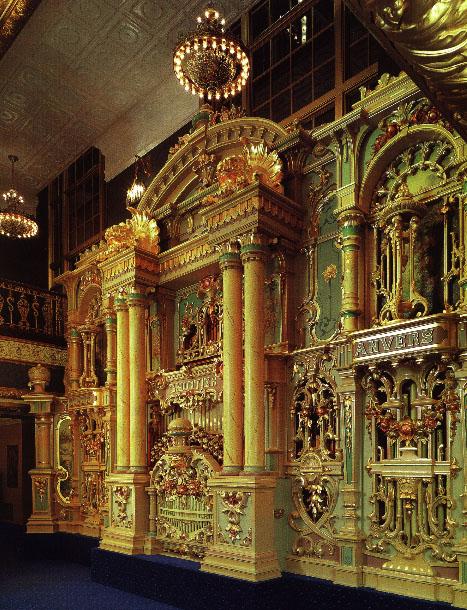 The dance organ pictured is an ornate 115-key Mortier Dance Organ with 825 pipes, percussions and 24 automatic registrations. It was built in Belgium in the early 1920s. It is in the back of the music room, on the lower level. It is one of SEVERAL in the house that are completely restored and fully functional.
---
Put your Theatre, Pipe or Electronic Organ on line! Email the Webmaster - Jerrell Kautz


You are visitor #
Since February 1, 1996
---
Return to the Theatre Organ Home Page
This page brought to you by:
VintageHammond.Com - We Buy-Sell-Trade Vintage Hammond Organs
TheatreOrgans.com operates KEZL-FM Culbertson, NE A Non Profit Full Powered Radio Station