Larry Goldings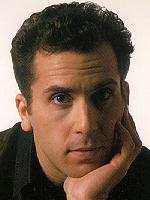 ---
Larry was first enamored with the B-3 thanks to Spooner Oldham's soulful Gospel-influenced playing on Aretha Franklin's classic Atlantic recordings. Ray Charles was another early influence, and later, Shirley Scott. Today, his favorite organ recordings are Jimmy Smith's Organ Grinder Swing and Larry Young's Unity.

Larry's first gig playing a B-3 clone came about because the bass player couldn't make it: he played a DX-7 with an organ patch. Based in NYC, he eventually caught the ear of funkmaster Maceo Parker, and played his first real B-3 on 2 of Maceo's albums. He went on to play for John Scofield, B.B. King, and James Brown's recent HBO special. One of the people he would like to play with is Stanley Turrentine.

Larry says he has a love/hate relationship with the B-3 (the cover of his latest CD is a picture of him with a B-3 on his back, another inside shows him sitting with a B-3 falling right above his head), and would like to mix it up more in his future projects, going back to the piano, and maybe the Clavinet. He does somewhat on his latest, Whatever It Takes (Warner), which is his funkiest recording as a leader. Guests include Maceo Parker, Fred Wesley, Joshua Redman & David Sanborn. They cover 2 Stevie Wonder tunes ("Big Brother" and "Boogie On Reggae Woman"), but the rest are mostly Goldings originals. Mainly straight Jazz, but some VERY funky grooves! If you're more of a "straight" Jazz fan, check out Larry G. on _Warner Jams Vol. 1_ with Joshua Redman, Wallace Roney, Kenny Garrett, Brad Melhdau & Peter Bernstein.

Larry has a new Warner release, Big Stuff.
---
Discography
Intimacy of the Blues (Minor Music, 199?)
with Peter Bernstein (g) & Bill Stewart (d)
Light Blue (Minor Music, 1993)
with Peter Bernstein (g) & Bill Stewart (d)
Caminhos Cruzados (Novus, 1993)
with Peter Bernstein (g) & Bill Stewart (d), Joshua Redman
Whatever It Takes! (Warner, 1995)
with Peter Bernstein (g) & Bill Stewart (d), Maceo Parker, David Sanborn
Big Stuff (Warner, 1996)
with Peter Bernstein (g) & Bill Stewart (d)

Jim Hall - Something Special (Musicmasters, 199?)
with Steve Laspina
Jim Hall - Subsequently (Musicmasters, 199?)

Braden, Don - Organic (Epicure, 1995)
with Jack McDuff

Parker, Maceo - Mo' Roots (Verve, 1991)
Parker, Maceo - Life on Planet Groove (Verve, 1992)

Potter, Chris - Pure (Concord, 1994)

Previte, Bobby (Weather Clear Track Fast) - Hue & Cry (Enja, 1993)

Scofield, John - Hand Jive (Blue Note, 1994)
Scofield, John - Groovelation (Blue Note, 1995)

Weiskopk, Walt - A World Away (Criss Cross, 199?)

Warner Jams Vol. 1 (Warner, 1995)
with Joshua Redman and Kenny Garrett
---