SCOTT FOPPIANO, is from Memphis, Tennessee, born in 1965. He began private study of the piano with Evelyn Maschmeyer and organ with John Hooker and Jim Brinson and started playing at the church of St. Paul the Apostle. In addition to his private musical study, he also began playing the Mighty Wurlitzer organ at Memphis' Orpheum Theatre while attending Christian Brothers High School. He entered the NC School of the Arts as a scholarship student of John and Margaret Mueller and his formal studies also brought him under the tutelage of Donna Robertson and Robert Glasgow. He holds both Bachelors and Masters of Music degrees in organ performance as well as the Service Playing and Colleague certifications of the American Guild of Organists. He continued private study with the late William Whitehead and also with Thomas Hazelton.
Critically acclaimed and sought after as a recitalist, theatre organist and silent film accompanist, he has played and recorded some of the greatest classical and theatre pipe organs in the United States, Canada and Europe. To data he has four solo organ CD's with future projects pending. In addition, he has been a featured artist for local and national conventions of the American Guild of Organists, the Organ Historical Society and the American Theatre Organ Society.
In 2001 he took his choir on a 14 day tour of Italy where they sang in the cathedrals of Milan, Assis and Florence and they sang the Solemn Latin Mass in St. Peter's Basilica in Rome under his direction and organ accompaniment.
He has served as organist and music director for several prominent congregations and has also held positions on the administrative boards of both the A.G.O. and A.T.O.S. at local and national levels. He is the Organist-Choirmaster and Coordinator of Liturgy at St. Louis de Montfort Catholic Church in Fishers, Indiana. In addition to his ecclesiastical duties, Mr. Foppiano maintains a very active schedule as a performer.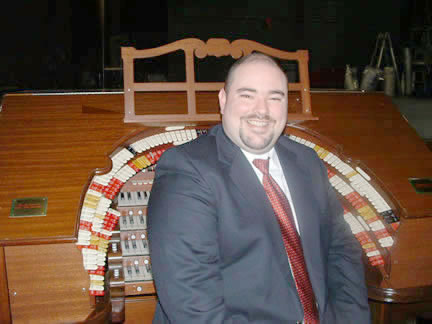 Scott at the Mighty Wurlitzer, Fullerton, CA